Music for the article
There are five basic Art style techniques in japanese animation here are some.
Bishonen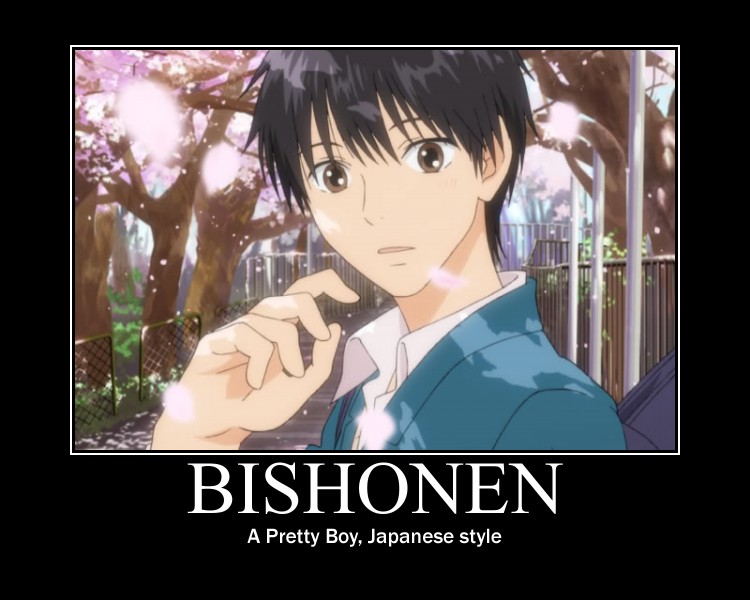 A popular Asian character type, the Bishonen, or "beautiful boy", is a male character that possesses elegant physical traits. He is usually tall, slender with almost no fat, little to no muscle, and no body or facial hair. Large, expressive eyes are almost a given, though eyes are also common in more serious examples. In anime, many bishōnen have startlingly deep, elegant voices instead. It is not uncommon for those at the more feminine end to be mistaken for women by other characters, or for savvier examples of the type to take advantage of such an assumption.
Bishonen can be found equally distributed between heroes and villains; bishōnen villains often develop devoted followings among fans. Bishōnen with white hair are almost always villains, no matter how they initially seem.
The psychology behind the concept is rather interesting. Why it appeals to females is disputed, but one theory is that a feminine man is less inherently threatening to female eyes, even if looks can sometimes be decieving.
It refers to a specific type of attractiveness that is found in adolescents. The cutoff for bishonen in the strict sense is around 20 years old. Beyond this age, the Japanese describe male attractiveness through terms like biseinen or bidanshi ("beautiful man") or ikemen (roughly "good-looking guy"). The affectionate is shorthand "bishie". Likely to have drawn on a moe aesthetic when they were younger, and have at least a loevly Mom or handsome dad where they get their looks from.
Bishoujo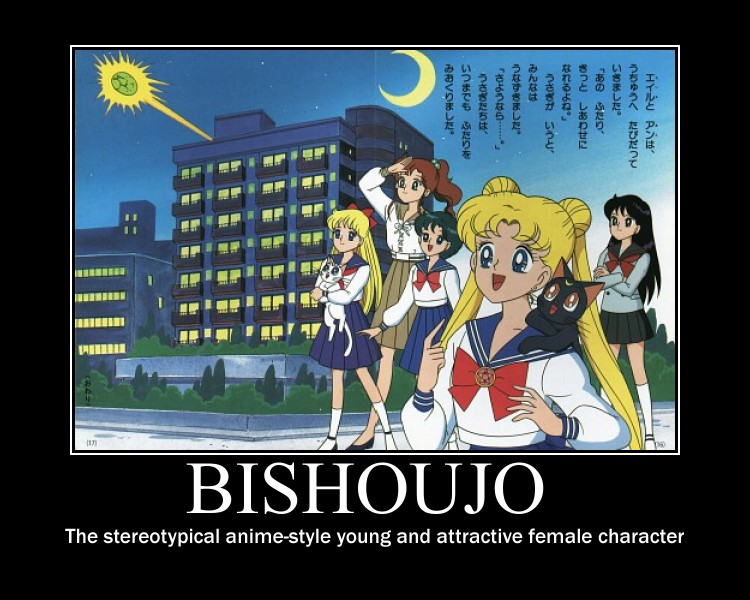 Bishoujo is Japanese for "pretty girl". In normal Japanese conversation, the word can apply to any girl from toddlerhood to late teens. In japanese animation, however, the word is Anime Fanspeak for attractive girls and young women, particularly those intended to appeal to a male audience. Although many more adult orient shows have included a variety of pretty ladies, the popularity of Moe and What Do You Mean, It's Not For Little Girls? shows since the late 1990s has translated into increasingly Shoujo-influenced character and costume designs for bishoujo characters.
Common elements of modern bishoujo design and costume art style include:
1.Young, usually teenage; older characters are likely to be Older Than They Look
2. An emphasis on youth and cuteness; "bishoujo" generally doesn't include sophisticated women like The Vamp.
3.Shoujo-influenced visual elements:
4. Big eyes with detailed highlights
5. Detailed hair in lots of individual tendrils
6. Fluttery costume elements (e.g. ribbons, swirling skirts)
7. Tendency toward light or pastel colors
8. Flowers and sparkles
Moe
Coined in Japan in the late '90s, "Moe" (Meaning "budding, to sprout/bloom"). While it's sometimes used to describe a series, it's more about a specific ideal or kind of character, similar to Kawaisa. When used as an interjection, figuratively, it's used to convey that "something blooms inside your heart".
A common definition is that Moe is the ability of a character to instill in the audience an irrational desire to adore them, hug them, protect them, comfort them, etc. To evoke a sort of Big Brother Instinct, in men and women.
Moe characters are, generally speaking, cute. Moe characters are implicitly youthful, congregating to high school age and below. Adult female characters who qualify are almost always in their low twenties. Any characters older than that have this fact unmentioned, or the character's appearance is altered as little as possible regardless of the actual time that has passed. Moe characters often take many characteristics, tropes and forms of appearance from the Bishoujo genre.
Their personality will reflect an "innocent" outlook on something vital, such as about romance. A related implication is that moe characters are virgins, though mostly in Japan, where virginity and purity still remains important to a girl's appeal.
The classical Moe character is highly associated with innocence, submission, helplessness and sympathetic characteristics, although this does not need to be always the case. In many other, more modern variations, there is also a trend towards more upbeat and extroverted personalities that are far more unique, noticeable and recognizable.
Chibi
"chibi" (Japanese for "small") is an artistic style in anime that is generally considered both "cutesy" and humorous, in which a character is rendered in a shorter, rounder form somewhat resembling a caricature of themselves as a plump toddler.
Although most commonly used in parody or as part of promotional material, it can be found in some shows at points of extreme comedy/slapstick, or when characters are seen to be acting extremely "cute" or immature. This use of Artistic Age can mask the true age of characters, making forty somethings and fourteen year olds seem the same age.
Also known as in some circles, although not just confined to Japan.
In older video games with small characters compared to screen, Super-Deformed style was used mainly due to graphical limitations so a head size wouldn't be just a single pixel. In newer games, characters in cutscenes or character portraits will still depict them in more realistic proportions.
Sometimes it's cartoon Like for example:
Minikui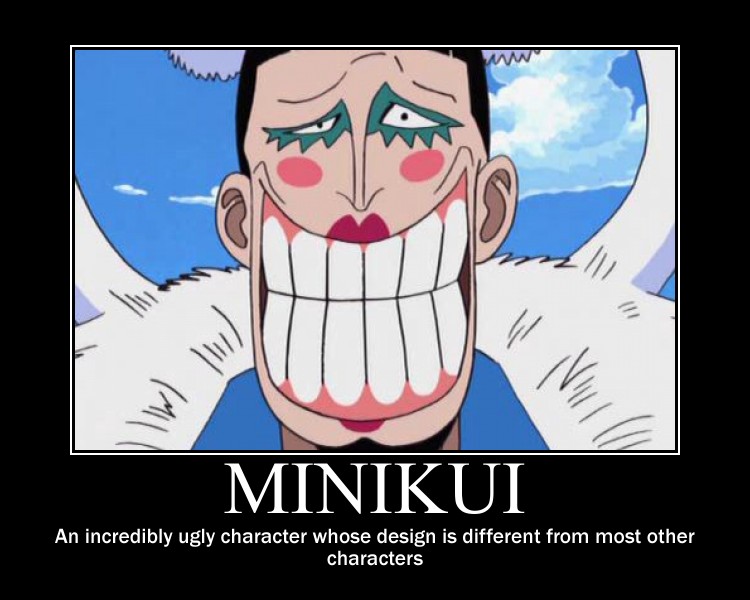 "Minikui" (Japanese for "Ugly") pretty much the only way in animation to make someone ugly or unusual looking is to do it deliberately and without subtlety. If a character is not attractive looking, they're usually absurdly ugly. The result can be extremely jarring if it deviates too much from the rest of the show's look, although it tends to be more tolerated in comedies and non-human characters.
Fortunally they are NEVER scary and usally harmless jerks at worse.
This type of character is also common in america and can look vastly different For example: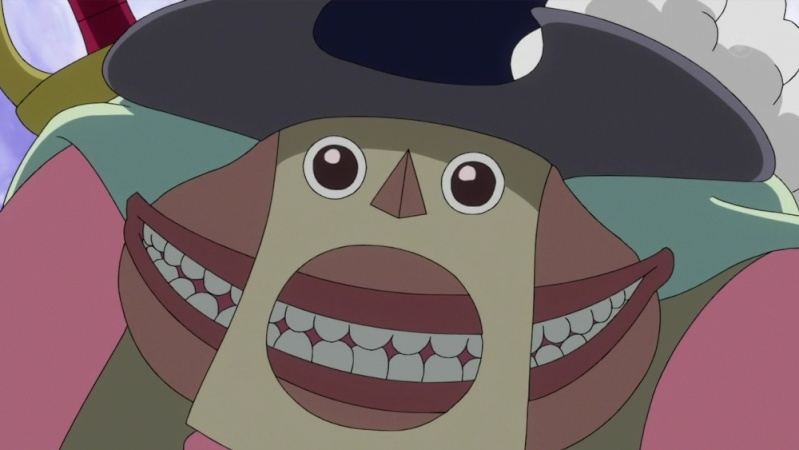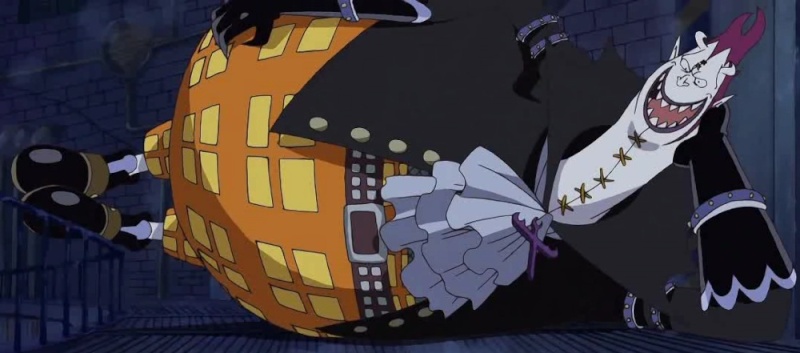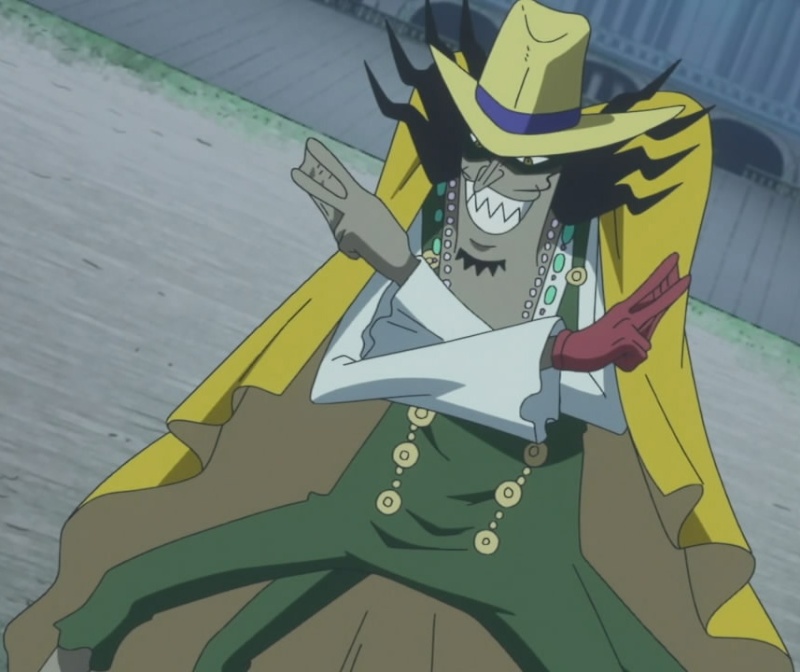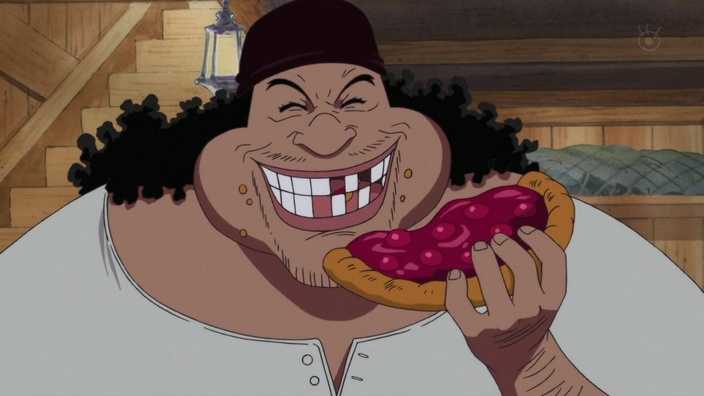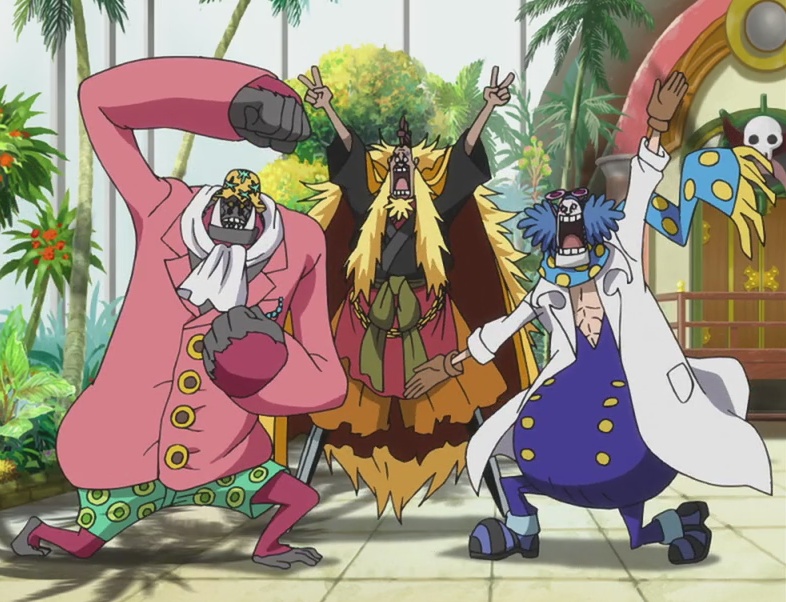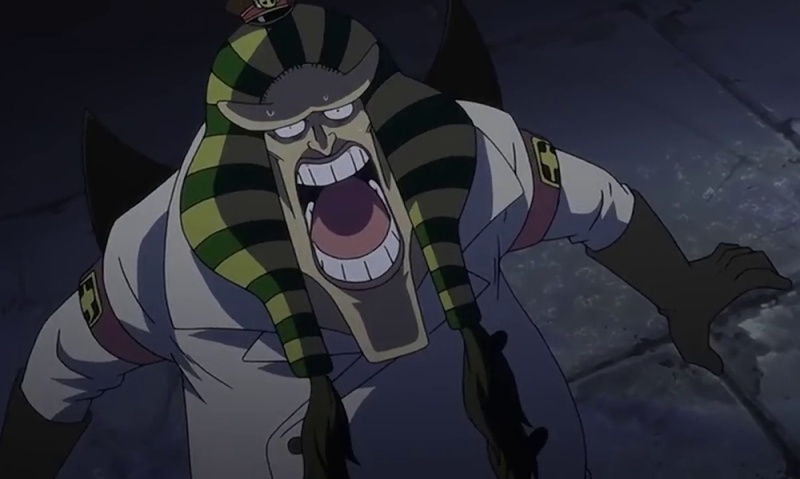 Here are some American examples: