Music for the First Half of the Article
Anpanman, by Japanese writer/illustrator Takashi Yanase, is one of the most popular series for young children in Japan. Yanase published the first proto-Anpanman story in 1969, and has been going strong ever since: he's written more picture books for the series than he is years old (we stopped counting at 100), plus a monthly manga (1976-1982) and a Sunday newspaper comic strip (1990-1994, reproduced in 3 volumes with parallel English translation). The television series, called Soreike! Anpanman, has been on the air in Japan since 1988 and has no sign of slowing down, with over 1,000 episodes, 23 theatrical films, and numerous Edutainment OVAs (as of 2011). The show has over 2,000 characters and is nominated for an entry in the Guinness Book of Records. Heavily merchandised, the Anpanman characters appear on virtually every imaginable children's product, including clothes, video games, toys and snack foods. Though famous in its country of origin and even having a museum (or several) of its own, the series is not known outside Asia.
Heroes
. Apanman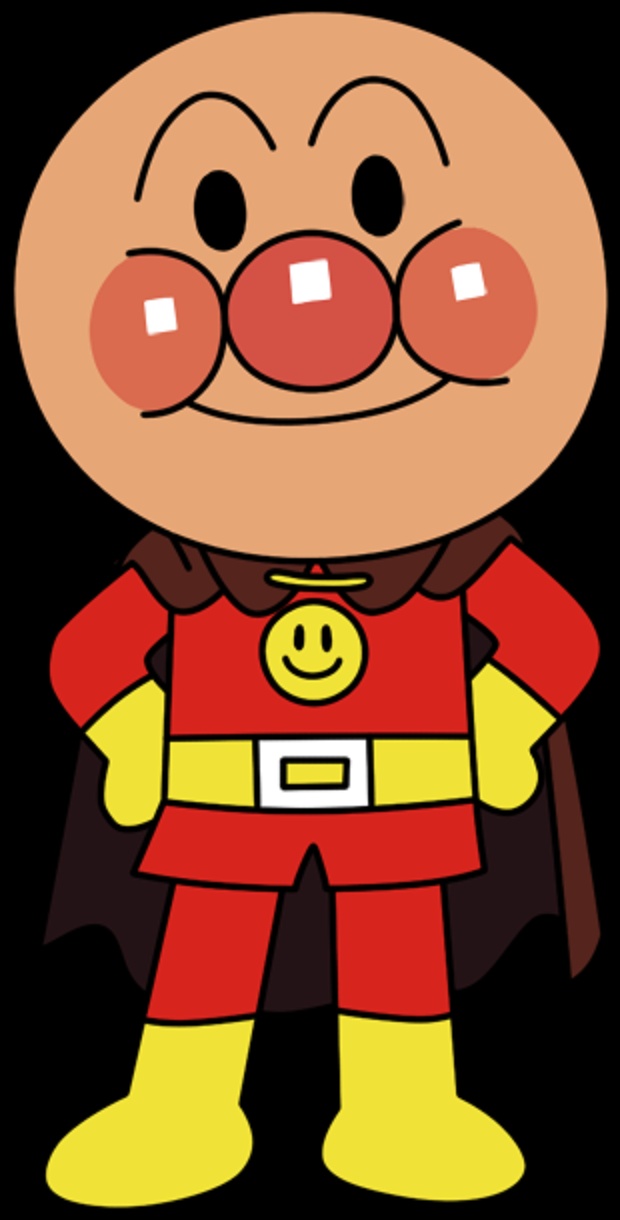 The main character of the anime, whose head is a bun made by a baker. His name comes from the fact that he is a man with a head made of bread that is filled with red bean paste called an anpan. The rhythm of the rhyming name might be loosely idiomatically translated in English as "Bean Bun Boy". He doesn't need to eat or drink to sustain himself and has never been seen eating, as it is believed the bean jam in his head allows him to sustain himself in this manner. His weaknesses are water and anything else that makes his head dirty (In order to prevent his head getting wet when underwater or in wet weather, he is usually seen with his head concealed inside a protective bubble in such situations). He regains his health and strength when the baker makes him a new head and it is placed on his shoulders. Anpanman's damaged head, with Xs in his eyes, flies off his shoulders once a new baked head is made for him by the baker. Anpanman came to life when shooting star landed on a bakers oven while he was baking. He has two special attacks: An-punch and An-kick (with stronger variations of both). When Anpanman comes across a starving creature or person, he lets the unfortunate creature or person eat part of his head. He also has super hearing in that he can respond to anyone that calls his name out in distress from anywhere in the world.
. Currypanman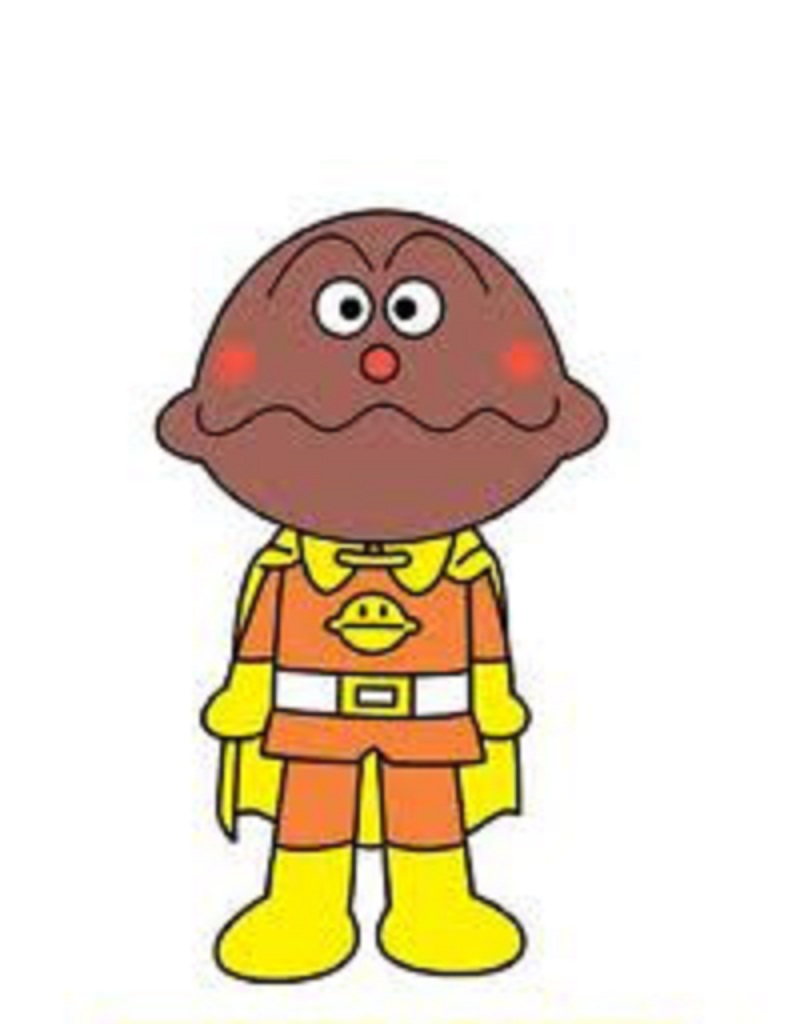 Another of Anpanman's friends. His head is made from currypan, a pastry filled with red-hot curry. He is quick tempered and hot-headed on the surface, but gives way to a kind and sentimental interior. Tends to be the strongman of the trio. Wields the Curry-punch and Curry-kick, which are similar to the fighting techniques of Anpanman's other sidekicks. However, he can also use the hot curry concealed in his head as a weapon, using it to burn villains.
. Shokupanman
A friend of Anpanman. His head is made from sliced white bread. He is handsome, intelligent, level-headed and kind, but narcissistic. Tends to be the smart guy of the trio. His job when not helping Anpanman is serving lunch to the schoolchildren. Dokin-chan has a crush on him. Wields the Shoku-punch and Shoku-kick, which are similar to Anpanman's fighting techniques. He also has a multi-functional delivery van known as the Shokupanman-go with many implements to help avoid trouble
. Melonpanna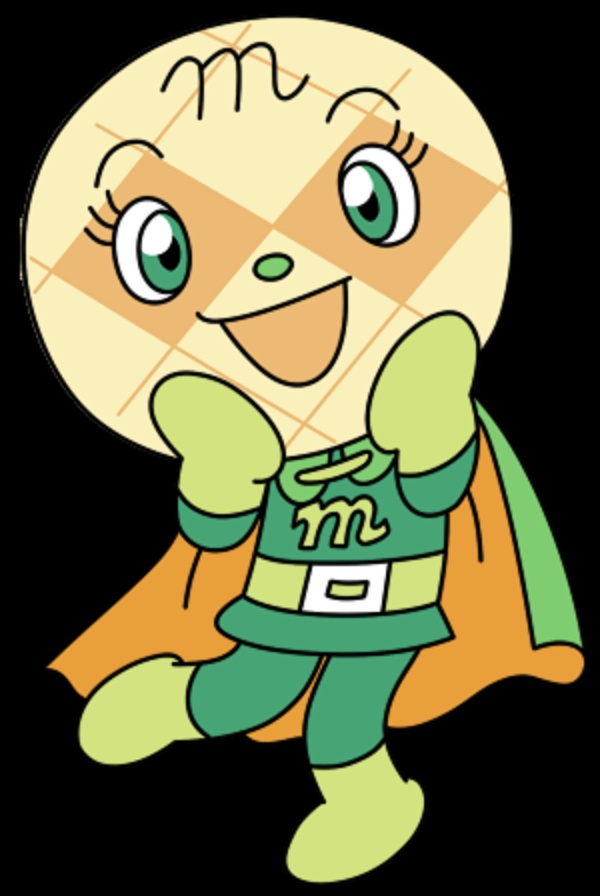 Anpanman's friend. Her head is made from melon bread. She is extremely softhearted, being caring and sensitive, and is sometimes clever. When she's in trouble, she usually needs Anpanman or somebody else to save her, or if there is no one available, she calls out for her sister, Rollpanna. Sometimes she likes hanging out with Cheese. Her special attack, the Melo-Melo Punch, makes bad guys woozy with affection or awakens others from deep sleep.
Antagonists
. Baikinman
Music for the Second Half of the Article
The Closes thing this series has to a main villian. He's from the "Germ Planet" and is the leader of the Viruses. His Japanese name means "Bacteria Man". His ambition is to destroy Anpanman and spread bacteria all over the latter's world, yet he is perfectly content to play tricks, steal, and bully those weaker than him. He and Anpanman were born at the same time, making them physical representations of moral dualism. He has a weakness to soap, which shrinks him to the size of a fly. He constructs machines and thinks of intricate plans to counteract Anpanman's strength. His two famous phrases are signature cackle, "Ha-hee-hoo-hey-hoo!"; and "Bye-baikiiin!", which he utters out whenever he's sent flying by Anpanman or another character.
Baikinman can somewhat be somewhat harmless, although he has some slightly sadistic moments and uses violence. He never seems to really want to kill anyone, though situations make it look like he wants too, so that someone can be saved by the heroes. He also never becomes the REAL Big Bad since the monster or robot he controls usually becomes independable and also hurts Baikinman. Since Anpanman will probably kill the monster/robot, they try to make it as blank as can be. The monster/robot has no feelings nor personality, so you won't feel bad about it.
On the Other hand Baikinman trains A LOT, but physically he's nothing compared to Anpanman. He kinda finds this out himself after they switched bodies and Anpaman (in Baikinman's body) tries to punch Baikinman (in Anpanman's body). 'Gee, Is this all I can do? I can't feel anything.' He also get his but kicked by Dokinchan, but he probably doesn't want to hurt her, so he doesn't fight back. Baikinman does know his opponents weakness, and will use that every time. (Water or mold will cause Anpanman being unable to fight. Having a bit out of his head will him make weaker and no match for Baikinman.) Since Baikinman knows he's no match in a hand to hand fight, he uses his UFO or sometimes a robot mecha. But when Anpanman has a new fresh head, it doesn't matter that Baikinman still tries to attack him.
. Dokinchan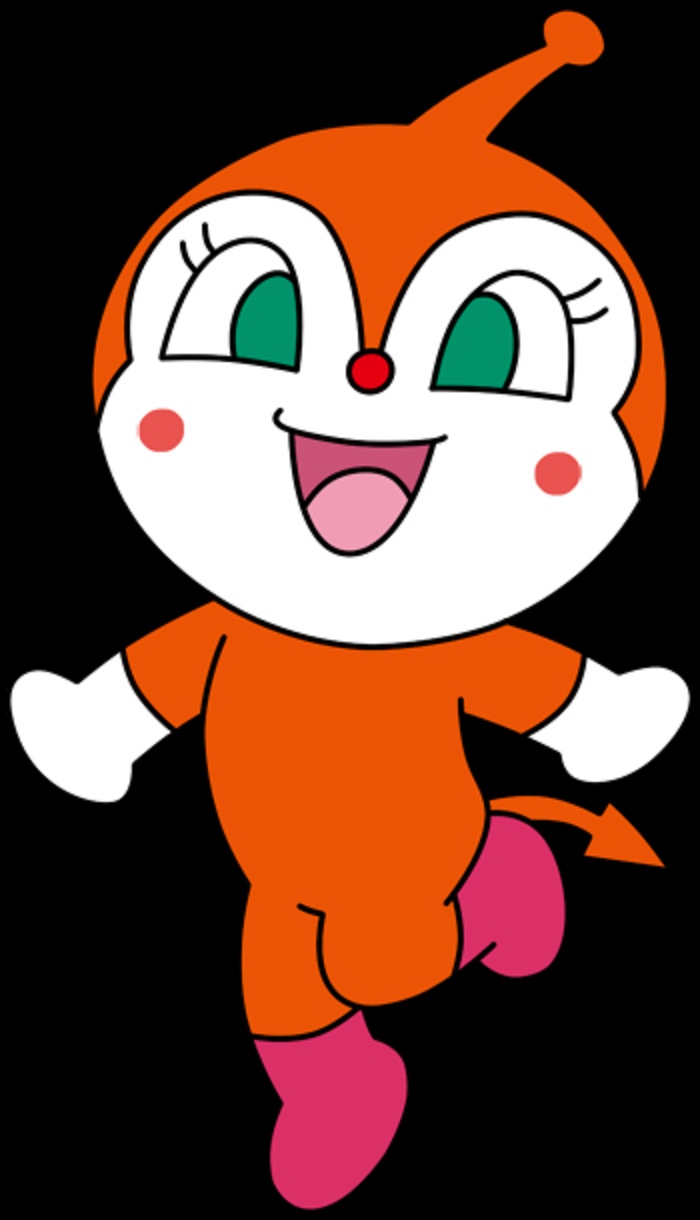 Music for the Third Half of the Article
Baikinman's female partner in crime. She is selfish, demanding, childish, Has Tsundere tendencies and greedy, but sometimes shows kindness. She has a crush on Shokupanman. Though Dokinchan is a really nice person to everyone else, her behaviour to Baikinman is really mean. Ofcourse, 3/5 of the episodes she's just a nice companion to him and they act as duo. She is happy and says 'thank you' when he obtained or did something for her, but when he doesn't, she doesn't even want to hear why or what happened. And he really get's in a lot of trouble for trying to do or get what she wants. She should just thank him anyway for trying so hard. And besides, she should actually be told HER OWN mistakes far more often. She clearly has a tsuntsun and deredere side, but she uses both personalities for different people. The problem with this is that usually you use both sides for a person on occasions, yet she seems to change personality with her surroundings. She is Tsuntsun towards Baikinman (and Horrorman) though these people really do a lot for her and seem to care for her. She beats them up frequently, and also calls Baikinman an Idiot often. To Shokupanman, her love interest, she is very deredere. Weird thing is, to other people she is just really nice, but she changes into a demanding greedy bastard when she is around Baikinman. That is, if she wants him to bring her something. (Like honey she needs for a cake) She does seem to care for Baikinman on occasions, but it's totally unclear what she means by it, since she doesn't seem to care for him in a romantic way. He on the other hand does seem to consider her a friend, but aren't shown that regulary.
. Horrorman
Music for the Fourth Half of the Article
A very friendly skeleton who often works with Baikinman and Dokin-chan. Although he seems scary on the outside, he likes seems to have fun with that, though being a very nice guy, but he has to have some trait of villainy, is very weak and often falls to pieces, and can magically put the pieces back. He is neither a hero nor a villain. His special attack is the Bone Boomerang, where he takes off one of his bones and throws it. Horrorman does housework around Baikinman's castle and occasionally helps with evil schemes. However, he is still well-received among the other characters, and often apprentices himself to various people in an attempt to win Dokinchan's love. He is also in love with Dokinchan and often stalks her. However, all Horrorman wants is to make Dokinchan happy and love him back.
Intermission
https://www.youtube.com/watch?v=PWu9iQLwrC8
(We See Horrorman walkdown the streets)
Horrorman: Let's see I need to get some cleaning products for Baikinman and I could get some candy hearts for Dokinchan to show I care about her, I sincerly hope that it makes her happy.
https://www.youtube.com/watch?v=ydL4TrO-51A
(Horror man walks quietly he hears some one behind him.)
Horrorman: Is someone following me?
https://www.youtube.com/watch?v=Gl9XfgV-PEA
Voice (off screne): Hey Sk- Oh wait you're not him.
(Horrorman turns around to see a little guy he looks like this)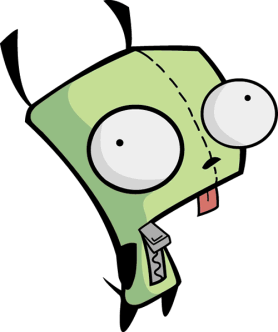 Horrorman: Eh?
GIR: OH I'm sorry I mistakened you for someone else.
Horrorman: Could you describe him for me?
GIR: OK he's a skeleton like you only taller, wore a santa costume, and has an orb shaped head.
Horrorman: Sorry I don't know him.
GIR: Well see you round.
(GIR leaves and Horrorman looks confused)
Horrorman: Well that was weird.
THE END