Music to accompy you through out this article
Created by Japanese company Sanrio and Yuko Shimizu.
This little cat has been marketed in America just as long as she has been in Japan. For many of us, this was our first taste of anime chibi art, and we didn't even know it yet.
According to the character biography for Hello Kitty, her real name is Kitty White and she was born in the suburbs of London, England on November 1. Her height is described as five apples and her weight as three apples. She is portrayed as a bright and kind-hearted girl, very close to her twin sister Mimi. She is good at baking cookies and loves Mama's homemade apple pie. She likes to collect cute things and her favorite subjects in school are English, music and art.
Hello Kitty is portrayed surrounded by a large family who all go by the last name White. Her twin sister Mimmy is described as "shy and very girly," interested in sewing and dreaming of marriage. While Hello Kitty wears a bow on her left ear, Mimmy wears hers on the right. Their Father, George, is described as dependable, humorous but also absent-minded. Mother, Mary, is portrayed as a good cook who loves doing housework. Grandfather Anthony likes to tell stories and Grandma Margaret likes sewing.
Dear Daniel is Hello Kitty's childhood friend. Sccording to his profile he was born in London on May 3 with the real name Daniel Starr. He travelled with his parents and was away from Hello Kitty for a long time. He is portrayed as fashionable and sensitive, good at dancing and playing the piano, with an interest in photography and dreams of being a celebrity.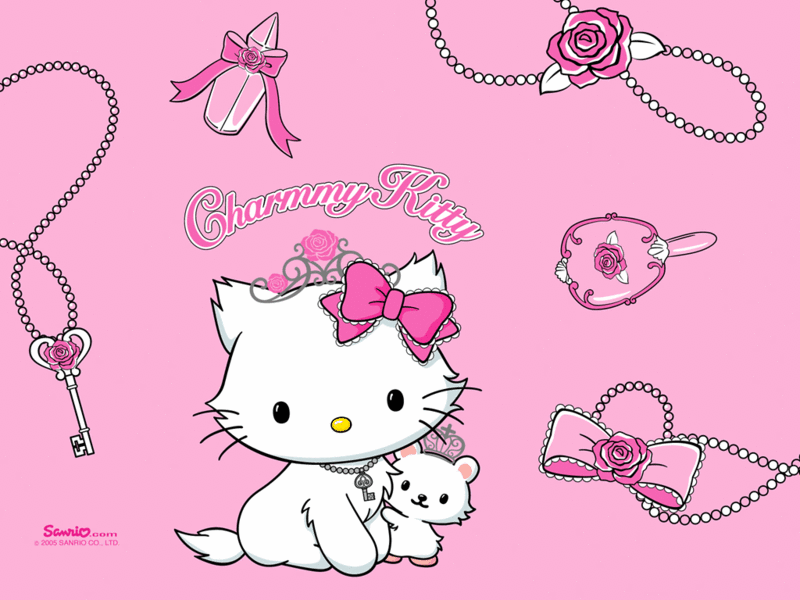 Charmmy Kitty is Hello Kitty's pet, a white Persian. She is described as docile, obedient and fond of shiny things. Her necklace holds the key to Hello Kitty's jewellery box. Hello Kitty also has a pet hamster named Sugar, who was a gift from Dear Daniel.
Unlike most of her Western quasi-counterparts like Snoopy, Mario, Garfield, Jack Skellington, GIR, Invader Zim or Mickey Mouse, she started out as a marketing icon, with actual media such as a few cartoons and Video Games, including an MMORPG all coming later.
Contrary to popular belief, she actually does have a mouth, it's just that it's very small and not drawn often.
She has a total of 6 official voice actors in Japanese and 4 in English:
Japanese
. Fuyumi Shiraishi
. Mami Koyama
. Akemi Okamura
. Yuko Kobayashi
. Kyōko Hikami
. Megumi Hayashibara
English
. Tara Strong (The Voice Actress for Bubbles from the The Powerpuff Girls)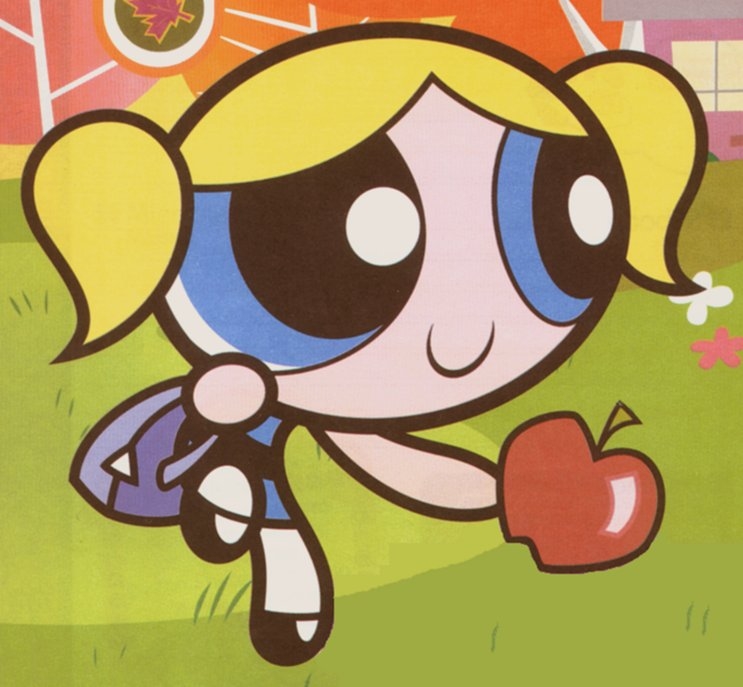 . Karen Bernstein
. Monica Rial
. Melissa Fahn (The Voice Actress for Gaz, Dib's Sister from Invader Zim)
If you want to see a clip from one of the cartoons click
Here