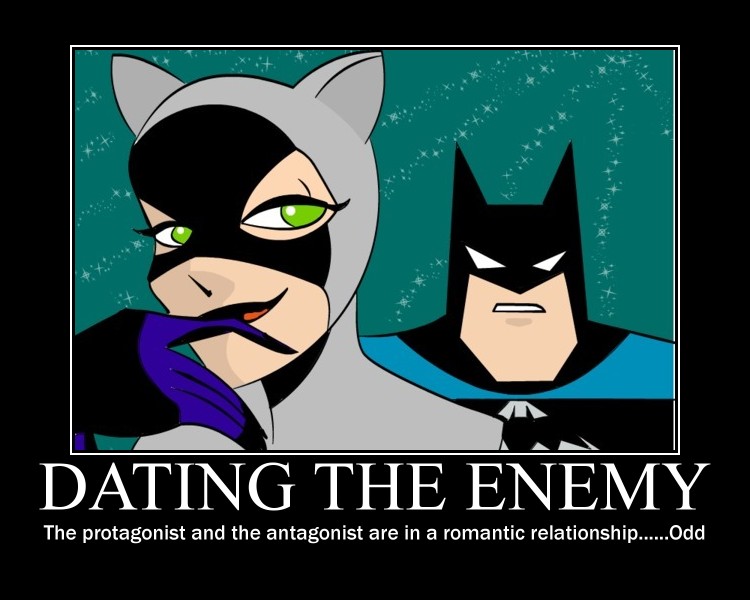 Not to be confused with the british TV show.
When the hero of the show and one of the antagonists have a romantic tone right out in the open. This allows a degree of tension into the relationship, and as long as you make sure the antagonist is less of a "villain", we're allowed to root for them and are portrayed in a sympathetic light.
Their slightly different senses of morality will conveniently keep things from progressing too quickly out of the Author's grasps: and sometimes they won't move much at all, since the character may not be as fun if they go straight. The same concerns about getting rid of the dramatic tension that fuel many TV reality shows.
The Hero often meets this troubled enemy After a time skip of several years, it's shown that they got married and have children. In many cases the relationships contribute to reforming, they don't show it much, but they actually care.
Kind of makes you wonder what happens if one finds out about there secreat identies.
This has actually happened in real life
Surprisingly, this has in fact happened. Of course, neither person was evil. American political strategists Mary Matalin (a Republican, and quite conservative) and James Carville (a Democrat, and liberal enough) faced each other across several elections in The 1980's, culminating in the 1992 campaign (in which Carville engineered Bill Clinton's winning strategy), still regularly appear across from one another on political debate shows, and call one another arch-enemies. They not only dated, but got married in 1993 and the proud parents of two daughters. They're a happy coulpe but they understandably do not talk politics at home.
They say love can do many crazy things to people but I never knew it was this crazy.