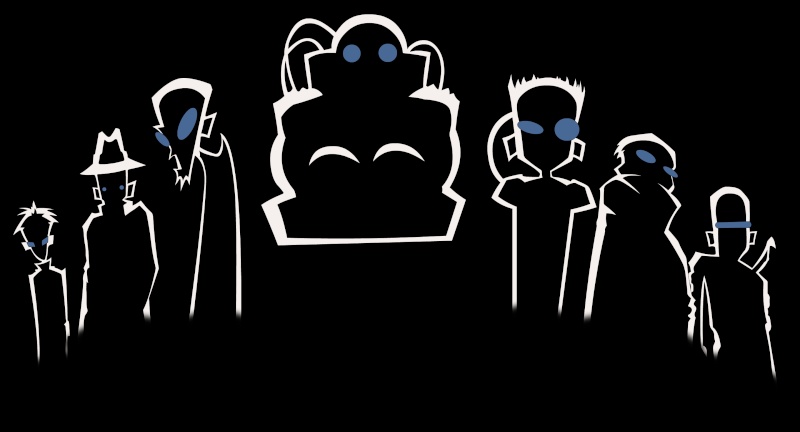 Music for the Article
A regular or Recurring Character that is never seen on screen.
There's been a lot of buildup around him
Despite his human-looking silhouette, some people refers to him as the "Strongest Monster in the World", with The Hero even wondering if he's really a human or not.
He's one of the more enigmatic figures of the story. The deepest insight we have to his character comes from a man, who called this person the strongest "creature" in existence. Not man, "creature" which makes you wonder what he looks like.
He seems to have dozens of underlings, allies, and islands under his control, like an Emperor.
This guy was willing to disrupt the state of the world at a chance of grabbing power from the Big Good; made One Character loose all hope by destroying his entire , turning One character into the Jerk he is today; and has a temper so legendary that another character gives everything up in order to get him to leave. There hasn't been one redeeming thing mentioned about him, at all.
He isn't concerned about logic or emotion. He saw an opportunity to grab power, and he tried to take it by attacking anything standing in his way consequences unconcerned
He is responsible for truly bizarre inventions and discoveries, such as presumably having the creations of bio-weapons, turning a character into a cyborg, then making an army of cyborgs based on that character and then turning the animals of his island into cyborgs. AGINST THEIR OWN WILL IN THE NAME OF SCIENCE
He is evil so horrifying he cannot be shown on screen. Used when nothing the art department could come up with could possibly be horrifying enough. Or because you have no budget for effects, and need an easy out.
In some cases the he is eventually shown on screen, perhaps because the heroes are finally at the end of their journey and need something tangible to oppose. These cases usually end in disappointment, and prove the original decision not to show anything correct
He is seen only through the creatures he posesses, so this is the closest we get to see him