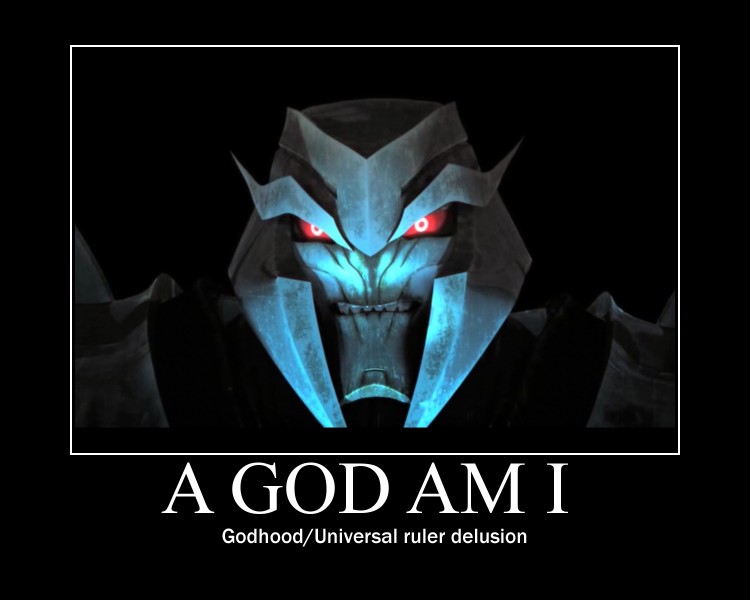 Music for the Article
When a character or villain gains superhuman abilities thanks to Green Rocks, nuclear power, Transhumanism, going One-Winged Angel, being a person who now having the power of Creating Life, or just achieving whatever his dream is, he is left less than sane and often gains delusions (or, in some cases, perfectly accurate assessments) of godhood at the same time.
He will often give an over-the-top speech emphasizing just how far beyond ordinary humanity he has evolved, and how lowly they are compared to him. Cue the villain becoming a Narcissist who is Drunk on the Dark Side and declaring that they will Take Over the World.
But you know what they say... pride comes before the fall. If he's declaring himself to be a god right in front of a real God, then he's a goner.
The character may declare that he has transcended morality as well, and is Above Good and Evil, but the tropes do not have to coincide.
There is an alternate form of this trope, in which the protogod character gives a speech that is insightful, cryptic, or both, expressing his discovery of his benevolent and distant new place in the order of things. He then vanishes entirely from human ken, never to be seen again.
Aiming for godhood by rewriting the rules of the world is In Their Own Image.
A Real life example is Empedocles a Greek Scientist & Philosopher, 490-430 B.C.
Because of his accomplishments and contributions to science of That light travels at a speed, That Earth is a sphere, Centrifugal force, That air is a substance, An (admittedly very crude) theory of evolution, The Italian school of medicine
However he had a God Complex and To prove his immortality to his understandably skeptical peers, Empedocles announced that he would jump into a volcano--Mt Etna--and pop back out unscathed.
He got rosted in the Volcano though