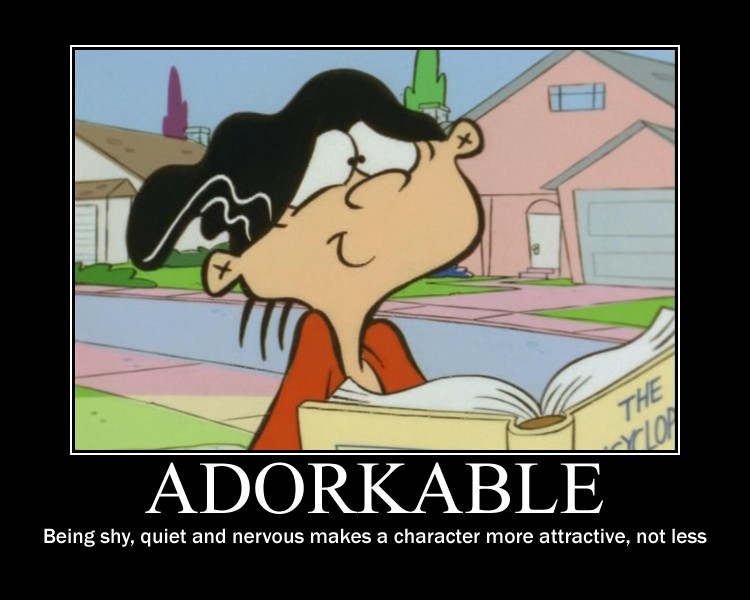 Music to got with the Article
The word "Adorkable" is a portmanteau of "Adorable" and "Dork." Adorkable characters are odd in some fashion. Maybe they're socially inept or shy. Maybe they're really clumsy. Maybe they have some really, really conspicuous character tic that tends to earn them weird looks. Maybe they're just so darn sweet, that it borders on embarrassing. Heck, maybe they're just an out-and-out Nerd. However, rather than making them an outcast, these quirks give the character an endearing vulnerability.
This character type is usually male, but can be female as well.
While societal norms would seem to suggest that this is the opposite of the "Male Ideal", in reality, many people find these characters appealing: Rather than an over-the-top caricature, these characters are enjoyable and relatable because they're not absurd supermen.
They are the COMPLETE OPPOSITE of the Characters in Workaholics
This is because they are Kind, Polite, Sweet, Selfless, Intelligent, Shy, Adorable, Generous, Sweet-Natured, Caring, Friendly, and Dedicated to what he likes
There are Some People like this in Real Life for example:
• Jeffrey Combs
• Matt Smith
• David Tennant
• Mark Hamill
• Troy Baker
• Aaron Dismuke
• Tom Kenny
• Cristina Valenzuela, in addition to many characters she voices
• Mary Kay Bergman
• Natalie Portman
• Sir Paul McCartney
• Ringo Starr
• Martin Freeman
• Most of the models from Victoria Secret
• In fact, you could make that arguement for a good number of models. Some of them seem to genuinely see modelling as a form of art or self-expression. Even if you don't view it the same way, you really have to admire their enthusiasm