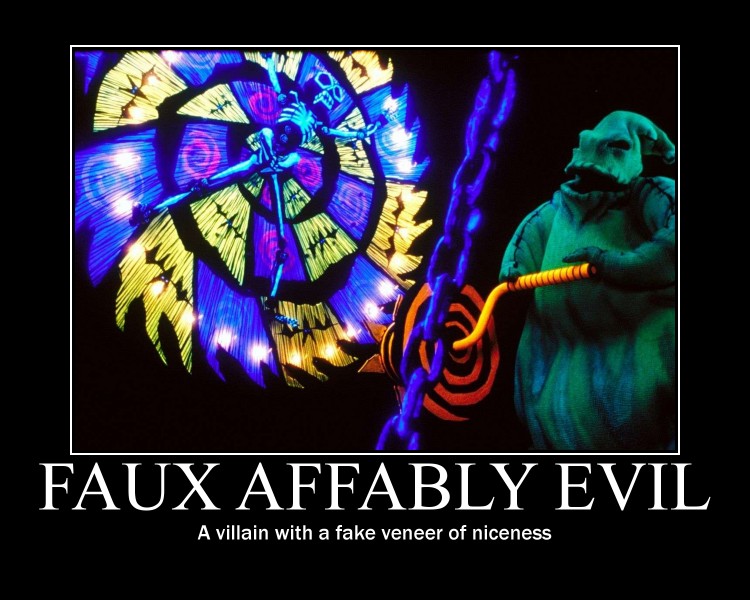 Music for the First Half of the Article
If you're looking for people or even villians who have are actually friendly and not using facades I'm sorry to inform you that you're at the wrong place.
This is a villain whose polite mannerisms only serve to enhance their evil. They lack a villainous demeanor, yet they are truly, wholly, and unrepentantly evil regardless. This kind of villain maintains a friendly, courteous mask even as they commit incredibly heinous acts. Unlike Affably Evil characters, whose niceness is genuine, Faux Affably Evil villains adopt this pleasant persona. An Affably Evil villain will treat The Hero like a friend, and will be reluctant to mark them as an enemy. A Faux Affably Evil villain will treat The Hero like a friend, even as they are brutally injuring them.
He carries a subtle reverb in his voice that becomes noticeable whenever he is dripping with sickly-sweet sarcasm or he completely loses control of his temper
He is rather respectful towards people during ironic moment such as harming or betraying people.
he incredibly calm yet he radiates a sense of terror, most people are in mortal danger by literally just being in the same room as him because of his utterly vicious personality.
you see, when he talks to his enemies in a calm and friendly manner, that's to get someone's guard down before he attacks them
He always wears a confident smile on his face while being friendly to mocking and harming people in a heartbeat. All while still wearing the same smile on his face
A Faux Affably Evil character's demeanor is an act. At heart, they're utterly soulless, but they mask it with a pleasant, polite, "normal" attitude, perhaps because they have social standards to live up to or because their pleasantness reflects their sheer enjoyment of evil. They might engage in friendly-seeming banter with one of the main characters, whose grandfather he brutally destroyed. It's anyone's guess what this kind of villain will do if they suffer a mental breakdown.
Most of these guys tends to be extremely sadistic, cunning, scheming, and intelligent
Faux Affably Evil villains when funny are presented at first as little more than a thoroughly incompetent and incredibly obnoxious jerk who is stricken with comically bad luck but loves being evil so much, that he becomes enjoyable in his loudness and crazy antics. Then He stops being funny when he attacks the hero when said hero is completely defenseless at the moment.
This person is guilty of some genuinely vicious and monstrous things, all the way up to destroying a solar system, harming the Hero's love interest, Harming his own men, and lastly his goal is to create an empire spanning the entire world and doesn't care what lines he'll have to cross to do so. but is characterized as silly, empty-headed and child-like man. As such, a villain is taken as being less threatening than his actual deeds would qualify.
this guy possesses malice against his opponents, despite very clumsy, short tempered and prone to  act like a teenager enjoying an adrenaline rush, complete with much smack talk and "woo-hoo"ing and behind the façade lies a He is a psychopathic monster.
Although they are often used as a popular way of characterizing villainous characters in the more light-hearted story, if a complete monster played seriously would ruin the mood.
While many Faux Affably Evil villains are also funny, However there are just as many Faux Affably Evil villains that are DEAD SERIOUS, not to mention even when funny they tend to be darker and more psychotic than Laughably Evil villains.
He has a terrifying personality with a cold heart and is in fact the most evil member of the Villain Group. His treats his employees not as comrades and tends to see them as disposable or force them if they do not work properly. In contrast to this, he speaks in a formal speech, but with ironic undertone, making his character even sneakier.
To him, anything that holds no value must be destroyed, including humanity, friendship, love, and life itself. When he goes to Earth he destroys an entire city because he sees it as worthless.
he still puts up a polite and suave façade even when destroying an innocent in cold blood to obtain what he wanted
He will destroy his own minions when he sees no more use for them.
He enjoys manipulating people and crushing their dreams just because he can.
He has incredible charisma and manipulative skills, but has no concern for anyone if they don't prove to be profitable
This is a person who is quite happy to let the entire planet go to down the tubes if that means he can be King. He's also pretty up-front that he wants the job for the power, and refuses to even acknowledge that he's supposed to have duties and responsibilities to go with them
Incase you're wondering how evil they are at best they come dangerously close to crossing the line and at worst they are simply a Complete Monster that pretends to be a charming, laid-back guy, but in reality, they're just being condescending; other people are insignificant insects to them and he doesn't hesitate to tell them this, when he doesn't need them anymore, all we know is when they are about to loose the Mr. Nice Guy -act goes right out the window.
They often demonstrate traits such as being Vain, Power-Hungry, Cruel, Jealous, Ruthless, Scheming, Cunning, Persuasive, Brutal, Impatient, Cowardly, Uncaring, Unkind, Arrogant,  Sadistic, Abusive, Proud, Vengeful, Manipulative, Arrogant  or Greedy.
In short he has no loyalty to anyone but himself and his psychotic ego
Music for the Second Half of the Article
Here are some examples of this type of villian in a Police lineup: