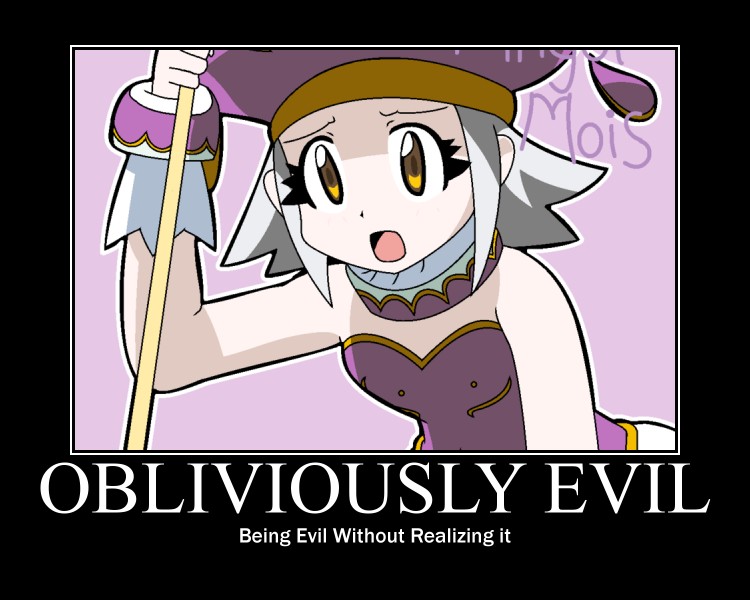 We all Know about Complete Monsters. But do you Know what's worse than a Complete Monster? A villain who is convinced that his actions are acceptable or even helpful. These villains aren't justifying their wrongdoings. They aren't compelled by unnatural forces. They just don't comprehend that they're doing anything wrong. This can be achieved in several ways:
Their perceptions could be tainted with somekind of mind altering substance.
• They could have a legitimate but completely alien value system.
• They could just be NUTS.
• They could just be stupid.
This can be quiet scary at times. It places the heroes into a situation where they can't even try to reason with the villain. It can also be used to underscore that the villain is indeed a tragic figure, as he or she (or it) may never have actually intended to harm anyone. Alternately, this can be used to make a creature sympathetic. You give it a valid reason for doing the things it does, and once it has that reason, it won't see what it's doing as wrong.
1. They are dangerous. The character is quite capable of causing tyranny, tragedy, chaos, destruction, etc., and has done so on numerous occasions.
2. They have no idea that they're doing anything objectionable. In their eyes, their actions are either good or simply harmless. Even if they recognize that something is wrong, they won't realize that they are the problem.