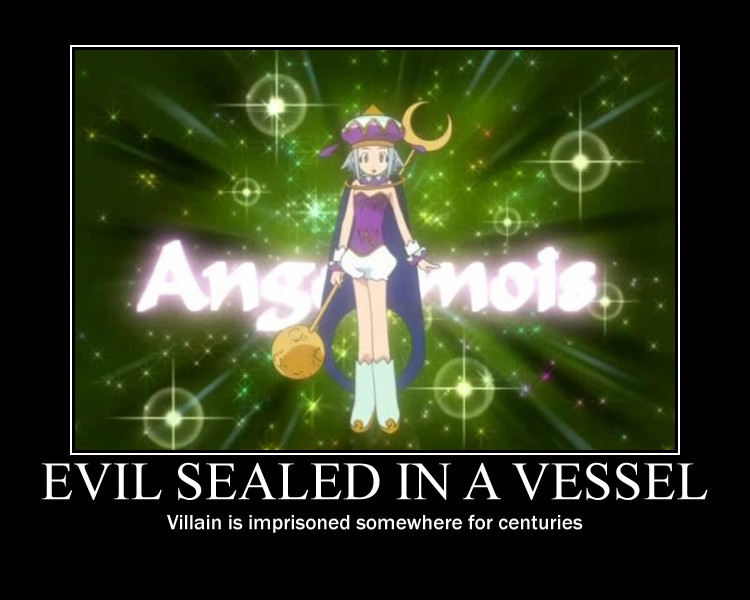 Music to listen to as You read the article
Long ago, An Ancient People faced a terrible evil. Using various methods, they bound the evil into a prison from which they thought it could never escape.
Sadly It eventually did.
Sealed Evil In Vessel, as the title suggests, is a way to introduce a villain suddenly, especially one that is legendary and powerful. It also explains why the villain hasn't done anything up to that point: It just now escaped.
Sometimes, the Big Bad's plan is to unseal the can of some ancient God of Evil; hoping they'll get some of that great power as a reward. If they succeed, it almost always turns out that the Sealed Evil was manipulating them into freeing them, making the Sealed Evil the true Big Bad. Sealed Evil™ almost never rewards those who release it. It may act like the malevolent flavor of a Jackass Genie, twisting their releasers' wishes back on them, or it may simply decide that You Have Outlived Your Usefulness. Remember: Evil Is Not a Toy.
The primary question is usually "Why did they just seal it, as opposed to KILL it?" Well, the answer tends to vary; but usually it's a variant of Punishment (for both the sealed and everyone else), Maybe it can't die so sealing is the next best thing. However the simplest answer to the question is the fact that the people who sealed this thing weren't strong enough to Destroy it.
The Earliest example is the story of Pandora's boxThe box iself is an unusual case, as it was created and given to her for no other reason than Zeus felt like being a Jerk, after seeing all the atrocities emanating from the box, Pandora quickly shut it, leaving only one thing inside — Hope. This was all according to Zeus' plan.
The Vessel is often a gemstone or box
You can use Snails as a vessel for example: