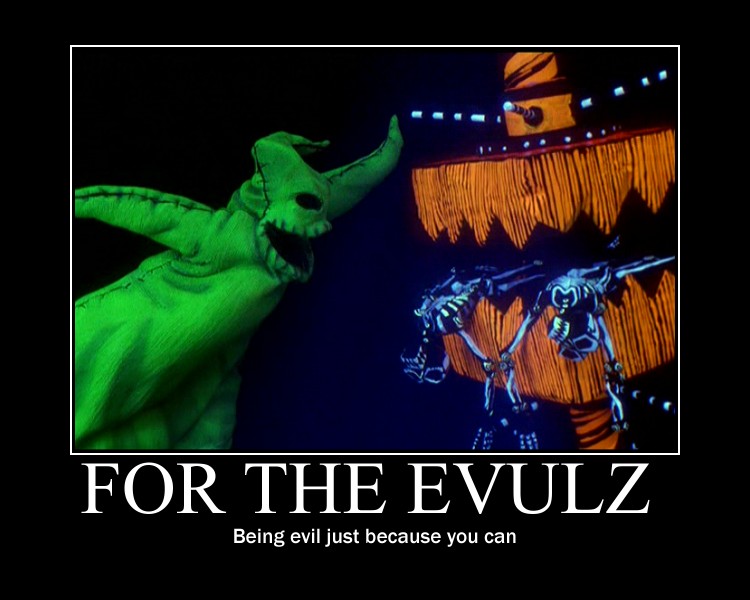 Music to listen to as You read the article
Most villains have logical motivations for most of their reprehensible actions and intentions. Ambition, greed, zeal, fear, love, hatred, revenge, a troubled past, the desire for utopia and other warped "ideals" can all drive people to evil in ways that you and I understand and may be personally familiar with. If a villain's motivations can just be understood, they can be reasoned with.
Some villains, on the other hand, cannot be reasoned with because there is nothing reasonable about their reasons for acting... .ell, evil. Unlike the amoral motivation they often say "It Amuses Me", which may lead to evil in the pursuit of attachment-free amusement, someone whose motivation is For The Evulz acts evilly because they enjoy it. It's not that they don't know or don't care about the morality of their actions - they know and appreciate the difference between good and evil - so much as they enjoy the evil of it all. To them, evil is not a bad means to a good end or even a bad means to an evil end; to them, evil is an end in itself. The evil of an act is all the motivation they need for doing it and their resultant amusement is to them a justification in itself. Generally speaking, and eschewing better and more specific adjectives, the more evil something is the more amusement they derive from it. In many cases, they will outright pride themselves in evil.
Basically "For The Evulz" is a term used to describe when villains commit acts of evil that go beyond the realms of cruelty and verge on outright stupidity or spite - such as gleefully using henchmen as human sheilds that would be more helpful alive, planning the destruction of the entire world or use every single chance they get at attempting to fatally injure the Hero's Love intrest, even though she has done and is doing NOTHING to them.
Despite it often being seen as a flaw a villain who uses such brutal tactics can also easily inspire fear and horror, even in other villains - making them especially dangerous "allies" that even other villains tend to avoid.
A villain whose defining characteristic is this motiveless destruction is almost without fail a Complete Monster, with the Complete Monster being defined by, well, being completely monstrous - needing no justifications for evil acts and having no humanising or sympathetic elements whatsoever. Other villainous personality types which dabble with For The Evulz include the the Psycho for Hire (who is very likely to be Dangerously Crazy), the Nietzsche Wannabe, a Sociopath and a Chaotic Evil person. Please note, Chaotic Evil is not the same thing; it's a likely alignment for someone with this as their motivation, but Chaotic Evil encompasses anyone else who is clearly more evil than good and more chaotic than not. This means that realistically, even if someone is Chaotic Evil, they still can and likely do have more logical motivations than For The Evulz. Furthermore, it's possible for a character Neutral Evil or even Lawful Evil and be in it For The Evulz.
THESE PEOPLE MAKE ME SICK!!!
They Are However always defeated by the Heroess and are destroyed without any signs of mercy from the Good Guys.
GOOD RIDDENS!!!