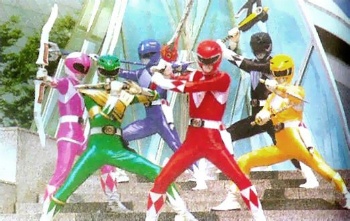 Kyōryū Sentai Zyuranger (Dinosaur Squadron Zyuranger ) is the sixteenth entry in the Super Sentai franchise, which aired from 1992 to 1993.
170 million years ago, humans lived in peace with dinosaurs, until the evil witch Bandora appeared, killed the dinosaurs, and began to attack humanity. The Guardian Beasts, great gods in the form of prehistoric-animal-shaped Humongous Mecha, sealed her away on the stray planet Nemesis.In modern times, astronauts exploring Nemesis accidentally release Bandora and her followers from captivity, and she again starts to attempt to kill humanity, starting with the children. The ancient wizard Barza, in disguise as a landlord, releases five warriors from the five prehistoric human tribes to fight Bandora's forces alongside the Guardian Beasts.
This series was later adapted into the very lame show, "Mighty Morphing Power Rangers."
The Members are:
.Geki, Prince of the Yamato Tribe/Tyranno Ranger: The Hero. The "Warrior of Justice" who takes charge in the fight against Bandora and her minions
.Goushi, Knight of the Sharma Tribe/Mammoth Ranger: the smarty guy. The "Warrior of Wisdom" who aids Geki in leading the fight against Bandora. He has a grudge against Bandora for causing the death of his sister.
.Dan, Knight of the Etof Tribe/Tricera Ranger: the big guy. The "Warrior of Courage" who rushes off to battle using great power.
.Boi, Knight of the Daim Tribe/Tiger Ranger: The "Warrior of Hope", and the youngest, who uses his speed as an advantage.
.Mei, Princess of the Rishiya Tribe/Ptera Ranger: The "Warrior of Love" who holds her own against evil with her bow-and-arrow and disguise power!
.Burai/Dragon Ranger: The "Warrior of Power" who joins the team after an arc where he antagonizes the Zyurangers, specifically his brother Geki
The Villians are The Bandora Gang are merciless (but hilarious) minions of darkness who were sealed away for causing evil to mankind until they are released thanks to the carelessness of two astronauts. Bandora and her minions were located at the Bandora Palace, which was on the Moon. Though their intent was making Earth a wasteland, they also caused mischief for the Zyurangers until they were sealed again in the finale.
.Bandora: The "source of evil" in the Zyuranger world. An Evil Overlord and Witch who likes to target kids in particular.
.Grifforzer: The Commander, An armored winged warrior who leads Bandora's minions into combat.
.Pleprechuan: Affably Evil, Evil Genius, Mad Artist. Source of almost every Monster of the Week.
.Totpat and Bukbak: The Tagalong Kids.
.Lamie: A female warrior loyal to Bandora who is married to Grifforzer.
.Dai Devil: The true villain of the story; a floating head who wishes to cause nothing but destruction.