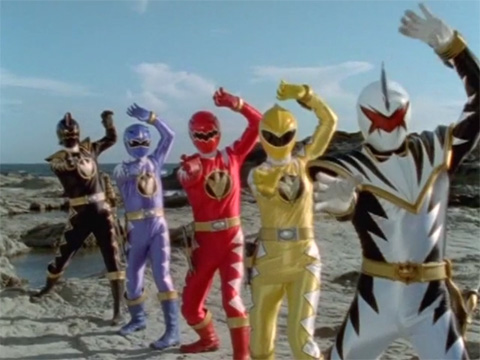 Bakuryū Sentai Abaranger (Burstosaur Squadron Abaranger ) is the twenty-seventh program in the Super Sentai franchise, airing from 2003 to 2004.
In the backstory of Abaranger, the meteorite that killed all the dinosaurs in the distant past actually split Earth into two parallel worlds: "Another Earth", the world as we know it where the dinosaurs became extinct, and "Dino Earth", where dinosaurs lived on alongside humans and eventually evolved into "Bakuryu" and "Ryujin" respectively.
All is well in Dino Earth until the awakening of the evil Evolian and their god, Dezumozorlya. Dino Earth soon falls to the Evolian, and a lone Ryujin warrior called Asuka flees through an interdimensional portal to Another Earth. There he seeks human allies with the ability to harness a powerful inner energy called "Dinoguts", and fight against the invading Evolian before they conquer Another Earth as well.
He soon finds three: Ryouga Hakua, a young father with boundless optimism; Yukito Sanjyo, a cold and cynical chiropractor; and Ranru Itsuki, a keen tomboy mechanic. Together they gain the partnership and power of three Bakuryu, and fight against the Evolian as the Bakuryu Sentai Abaranger.
Asuka soon recovers from being Brought Down to Normal and joins as the fourth Abaranger, only to have his resolve tested as he is forced to fight Jeanne, a vicious Evolian general who shares the appearance of his lost love. Later on, a powerful Evil Counterpart appears in the form of Mikoto Nakadai, an amoral genius who uses a Super Prototype of the Abaranger technology to become "AbareDestroyer", a nemesis that challenges the Abaranger's belief in the basic goodness of humanity.
.Ryōga Hakua / AbaRed: An environmental protection investigator from the US. An easygoing Nice Guy.
.Yukito Sanjyo / AbareBlue: A charismatic chiropractor with legendary skills. is very Stoic
.Ranru Itsuki / AbareYellow: A genuine mechanic... with formal idol training.
.Asuka / AbareBlack: A denizen of Dino Earth. Knowns about his dimension and is VERY ignorant about ours, although it could partly be his unfamiliarity with everything in Another Earth.
.Dr. Mikoto Nakadai / AbareKiller: An Evil Doctor who's bored out of his wits until he saw the Evoliens invading Earth, but was disappointed that the Bakuryu are used for good. Guess what happens when he got his hands on his own Bakuryu.......However he later reforms and becomes a good person before being destroyed by the main villians.
The Main Villians are The Invasion Garden Evolien are the foes of the Abarangers in the Super Sentai series Bakuryū Sentai Abaranger. They are the Wicked Life Clan (Jameizoku), that came from Dino Earth. They dwelled within a castle-like structure, the Invasion Garden Palace, before Dezumozorlya turned it into its final host to battle the Burstosaur with while evoking another 200 Days of Darkness. The fortress was destroyed when AbarenOh and MaxOhJa seemingly sacrificed themselves (with Ryouga and Yukito inside both respective cockpits), but survived by burrowing underground.
.Dezumozorya: The Big Bad; Evoliens' God. He is a Complete Monster. a parasitic entity that was held in the meteorite that crashed to Earth. When Earth was split, Dezumozorlya's essence was divided between the two earths, and took one being of each world as its host and transmigrated itself through the host's descendants. It is said that because of its very presence that war and famine broke out and some of its hosts have wreaked havoc throughout the course of human history. In the time of Abaranger, Mikoto held the essence of the inactive Earth-counterpart, and the Dezumozorlya of DinoEarth was originally the Tree of Life until it found a mobile host in Lije through Mahoro. But once Lije became Lijewel, Dezumozorlya entered a dormant state until it came in contact with its other half during the Killer Giganoid event. Dezumozorlya's goal is to assimilate all life, to that end it must obtain a new body and rejoin its other half in Mikoto even if it means killing both Mikoto and Lijewel in the process.
When it was purged from Lijewel, Dezumozorlya sought stronger inhuman hosts, merging Mikela and Voffa as a temporary vessel to obtain Bakurenoh as a new body and absorb Mikoto. But both attempts failed with the death of the other half and Dezumovorla's demise. To that end, Dezumoryla re-entered the Tree of Life, using it as a medium to transfer its primal urges throughout the entire Garden Palace and remake it as its final body. From there, Invasion Garden Ultimate Form DezumoGevirus intended to invoke another 200 Days of Darkness on Another-Earth. When Asuka rescued Mahoro, they were attacked by DezumoGevirus, who was formed in the image of what both Mahoro & Asuka feared: the Cursed Armor. Dezumogevirus was fatally injured by the Burstosaur combining their powers to kill it, but it attempted to take them down it. Abaren'oh and MaxOuja seemingly sacrificed themselves to stop this, but were later revealed to have survived by burrowing underground.
.Rije: Apostle of Dawn, and later, Queen of the Empire. Finally revealed to be Asuka and Mahoro's daughter.
.Jannu: Femme Fatal and brainwashed later revealed to be Mahoro.
.Mikela: The painter-themed Monster maker, from combination of a plant, an animal and a man-made appliance.
.Voffa: Also a Monster maker, but with a musician-theme. He creates giant monsters directly, named after classical music pieces.