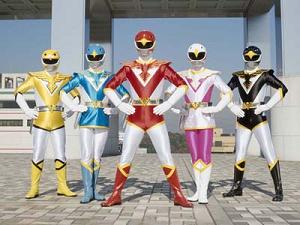 Chōjin Sentai Jetman (Aviator Squadron Jetman) is the fifteenth Super Sentai series, running from 1991 to 1992.
An international army, Skyforce, is working on a project to create superhumans by infusing them with "Birdonic Waves". Five of the best Skyforce officers are chosen to receive the treatment. Unfortunately, right after the first officer, Ryū Tendō, receives the treatment, extradimensional invaders known as the Vyram attack Skyforce's orbital base. The remaining four Birdonic Waves are scattered around Japan, where they strike four random civilians. Even worse, one of the candidates, Ryū's lover Rie Aoi, is sucked out into space. Ryū and the project's leader, Chief Aya Odagiri, must now find the four civilians struck by the Birdonic Waves and recruit them to fight the Vyram.
the Members are:
.Ryū Tendō / Red Hawk: The Hero who's still misses his deceased girlfriend. He then finds out that she's Not Quite Dead and that she's with the bad guys.
.Gai Yūki / Black Condor: The Number 2, he's a type 2 Anti Hero who dispite being snide has a heart of gold.
.Raita Ōishi / Yellow Owl: The Big and Smart Guy. He just wants to be a normal farmer.
.Kaori Rokumeikan / White Swan: The Load and The Ojou.
.Ako Hayasaka / Blue Swallow: the Tagalong Kid. Starts off as a tomboyish and athletic Ordinary High School Student. Is a bit of a High School Hustler at the beginning of the series.
The Main Villians are The Dimensional War Party Vyram appears as a clan of outer-dimensional nobles, who conquered many worlds in the Back Dimension, and are now moving on to Front Dimension, ours. They boast about having achieved godhood, while they despise humans and see them as stupid and worthless. Their base of operations is the Vylock, a brain-shaped castle capable of traversing dimensions and sending its forces to Earth due to its Dimensional Transfer Machine. After their leader got lost in the Back Dimension, its four leading members compete in a game to defeat the Jetmen with the prize being full-leadership. Tran eventually becomes powerful enough to assume command, but is deposed by Radiguet, who leads Vyram up to its destruction.
The Members are:
.Count Radiguet: Treacherous Subordinate and Commander-in-Chief at first, becomes the Big Bad late in the series. Later develops a feud with Tranza. He's A Complete Monster. In Fact he is without question the worst Complete Monster in Super Sentai history, Radiguet is a Sadistic and Destructive maniac with megalomaniacal fantasies of ruling the Vyram under an iron fisted Dictatorship, When Juza his boss and the true Big Bad Arrived he planned to overthrow her but that failed when it looked like he would become good because of a sick girl who became his Morality Pet while he had amnesia whom he cured unknowingly he turned her offer to turn good by destroying her and this was all because she believed he could feel love, he's also the one who brainwashed Rie into being Maria for no other reason For kicks, his most repulsive moment was when he slayed her after she snapped back to being Rie, there's also the part where he electrocuted Tranza till he became NUTS and was left at the door of an Hospital.
.Tran: Evil Tagalong Kid with an annoying laugh. Later rapidly ages into Tranza, starting an Enemy Civil War with Radiguet... and almost wins
.Grey: The Commander, Worthy Opponent, Noble Demon. Enjoys wine, women, song, and cigarettes despite being a robot. His rivalry with Gai is almost friendly
.Maria: Weird Minion who turns out to be a brainwashed Rie Aoi, Ryū's supposedly-dead sweetheart.