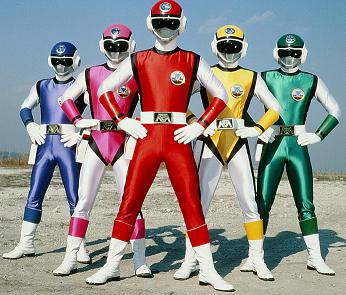 Chōshinsei Flashman (Supernova Flashman) is the tenth Super Sentai show, airing from 1986 to 1987.
Twenty years ago, the Reconstructive Experiment Empire Mess authorized the abduction of five kids for the purposes of their experiments. The benevolent beings from the Flash Galaxy saved the kids, and took each of them to a different planet of their solar system. With the abilities they gained from the training on these planets, the now-grown kids return to Earth to fight the Mess as the Flashmen. There's just one problem: since they've been away from Earth for so long, the planet's atmosphere has become deadly to them, so they can only stay for a year; otherwise, they die of the Anti-Flash Phenomenon.
.Jin / Red Flash: The Smart Guy and the hero
.[color=green]Dai / Green Flash:color] The Big Guy and the Number 2
.Bun / Blue Flash: The Tagalong Smart Guy
.Sara / Yellow Flash: The Smart Girl and the Load, who possesses a sharp, analytical mind for exposing enemy weakness.
.Lou / Pink Flash: The Big Girl, who possesses the best leaping skills of the team.
The Main villians are The Reconstructive Experiment Empire Mess takes over planets, using their lifeforms as fodder for its experiments. Their goal is to transform its leader Ra Deus into the strongest being in the universe
The Members are:
. Great Emperor Ra Deus: Mr. Big Bad and a Complete Monster. He has a messiah complex and will do anything, including destroying countless unarmed planets just so he can become the ultimate being.
. Great Doctor Lee Keflen: The Evil Genius and a Complete Monster. He will sacrifice anything for his experiment, even the other members lives just for science and will try to conduct expirements on anything, he even tried to conduct an expirement on FIVE CHILDREN.
. Ley Wandar: The Zebra-Striped Commander
. Ley Nefel: The leopard-like Femme Fatal
. Wolk and Kilt: a pair of Femme Fatals
. Ley Galus: The Brute
.Kuragen: A squid monster summoned to bring the monsters up to size.
.The Alien Hunters: The Quirky Minion Squad, led by the quite-competent Sir Cowler. They were the ones who abducted the Flashman team when they were infants.