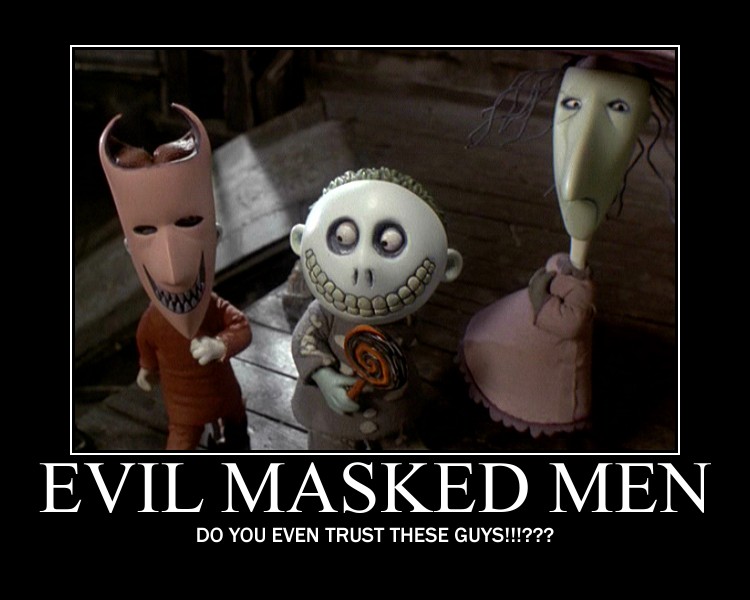 A group of people wearing masks is never a good sign, unless it's a Super Hero. Maybe it's the anonymity, or decades of horror movies ingraining a deep sense of distrust about someone wearing a mask outside of a Masquerade Ball (or even in one, if it's kinda creepy). It's because of this dehumanizing aspect that masks are often used by villains, their Gas Mask or Faceless Minions. Though some heroes do go about wearing masks, they tend to be Anti Heroes, or at least a little edgy.
Here are a lIst of max;
.Cowls and Hoods: Not exactly a mask, but used commonly enough to merit mention. A simple bag or cloth over the head, may be creepy or may be worn by an altogether nice Super Hero
. A Domino Mask, one that covers only the eyes, is a traditionally heroic mask. The Ghost Who Walks and The Spirit being two classic examples. However, it may also be worn by comedic criminals
. Ski masks worn anywhere other than on the slopes in winter are often associated with criminals or terrorists. Masks that cover everything except the eyes are also associated with Ninjas, and can be either good or evil
. If the mask covers the top half of the face, it emphasizes the mouth which is never a good sign. Unless of course, it's to show a huge chin
. If it covers a symmetric side of the face (left or right) then it's fairly neutral... except for the part where it is likely hiding the identiy of the "Phantom of the Oprea"
. Masks that cover the lower half of the face are likelier to be worn by a NUT CASE, or someone whose lower face is likely very damaged. They're also frequently worn by bandits in the Old West (possibly to keep out dust), as well as by ninjas who don't do full masks