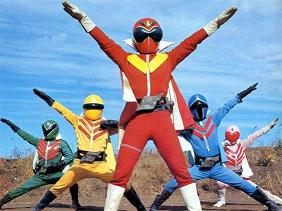 Himitsu Sentai Gorenger (Secret Squadron Gorenger) was the very first entry in the Super Sentai franchise (although it and its direct successor J.A.K.Q. Dengekitai were simply recognized as the plain "Sentai Series" until years later) , airing from 1975 to 1977, lasting 84 episodes and a movie (longer than any of its successors).
The evil army known as the Black Cross Army is threatening the world, so the Earth Guard League (EAGLE) is set up to defend it. The Black Cross Army destroys EAGLE's bases in Japan, but five secret agents survive, using superpowered battle suits to become Gorenger, and take revenge against the forces of evil.
The Gorangers are:
.Tsuyoshi Kaijō / Aka Renger: The Hero. A master tactician and soccer player.
.Akira Shinmei / Ao Renger: The Number 2. A cowboy and marksmanship instructor.
.Daita Ōiwa / Ki Renger: The Big Guy as a judo master. He is a mathematician and engineer, making him Brains and Brawns. Loves curry rice. Temporarily replaced by Daigorō Kumano until Kumano was executed by the Black Cross Army.
.Peggy Matsuyama / Momo Renger: The Load, she is a demolitions expert and a chemist.
.Kenji Asuka / Mido Renger: The Tag a long Kid, The hotheaded youngest member.
The Main Villians are the Black Cross Army An international terrorist society led by the supernatural entity known as the Black Cross King, their goals are the total eradication of the human race and the absolute domination of the world. They utilize advanced technology and magic to create an army of superhuman operatives to attack EAGLE and Gorenger. Most of the Black Cross operatives are "remodeled" humans who have been enhanced through surgery. They had various secret bases across the globe, the main headquarters being the flying Black Cross Castle which orbited high above the Earth.
The Members are:
. The Black Cross King: Mr. Big Bad and a Cosmic Abomination, The Black Cross Castle in reality is his ENTIRE BODY
. Sun Mask: The First Commander and very cowardly.
. Iron Man Mask General Temujin: The Second commander.
. Fire Mountain Mask General Magman: The Third Commadner
. Commander-in-Chief Golden Mask: The fourth Dragon and a Mummy