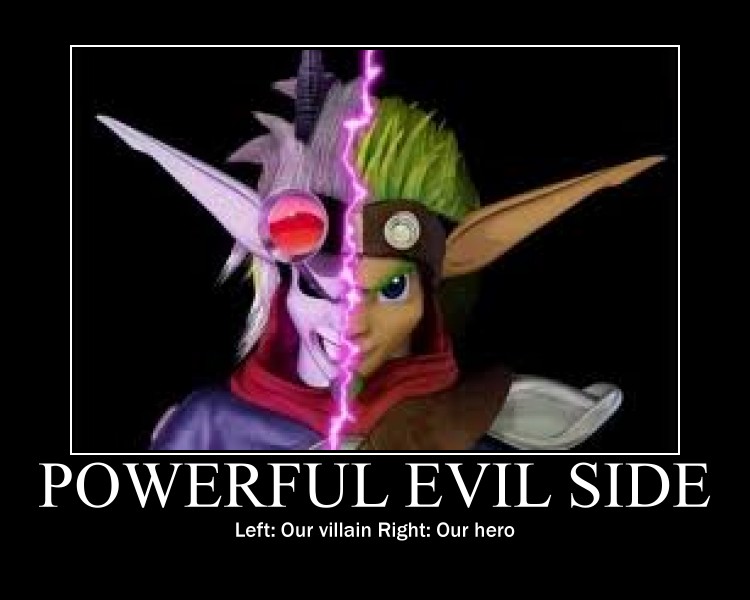 Picture this. The fight's not going so well for our hero. He's wounded and at the end of his strength, and his barely scratched opponent looks down at him and sneers. And then the hero somehow managed to control a massive superpower and manages to destroy his opponent.
It's not exactly the hero any more, though. He's got glowing eyes, some odd facial markings, different way of talking, some new clothes, and a lot less compunction about sparing his opponent. Basicaly his evil side has taken over him and has gained more power.
Interestingly, the name notwithstanding, this character isn't necessarily evil- they just seem like it because a superpowerful version of a normal person who has no compunctions about destroying things randomly objectively registers as "evil" on most people's scale. To be technically accurate, this is more of a Superpowered Alter Id or the inaccessible part of one's psyche, which contains one's primary instincts. This personality is the physical manifestation of the character's basic drives, but is consumed by his own selfish desires.
However, Similarly, this character isn't necessarily super powered either. Often times the liberation from morality make it so the character can go all out. He doesn't need to pull his punches since he's not concerned about his actions and thus much more of a threat.
Keep in mind, of course, that once the Id is out of the subconscious it's not likely to want to go back in.
Fortunaly, he returns to normal in the end