Weak But Skilled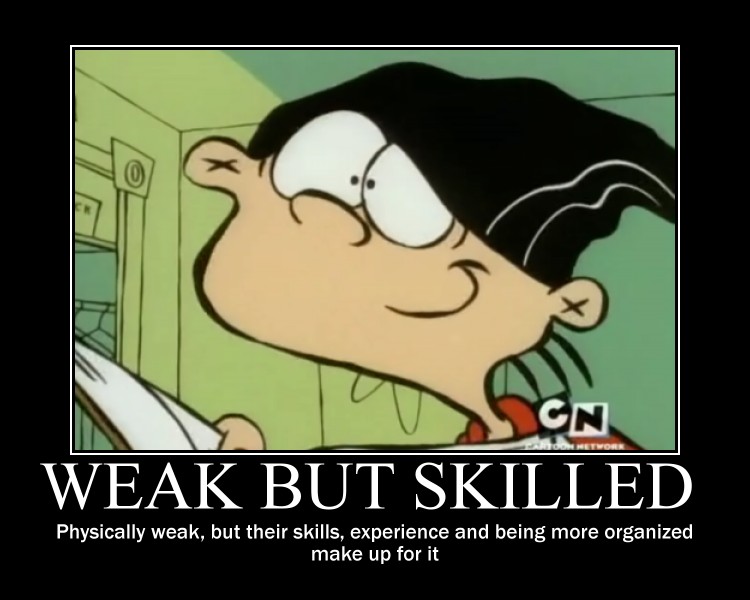 Music for the First Half of the Article
Some characters have it easy. They're a Born Winner with magic Sword making them an Invincible Fighter, and never have to train because they're just that good. The Rival will be frustrated and driven to ever more extreme Training, but it doesn't help them beat the smug snake.
Who should come along to challenge this powerhouse but a totally bland, if not small, unassuming opponent in a ski hat who seems no stronger than a typical Innocent Bystander. The powerhouse laughs and says there's no way they could ever hope to beat him... and they do!
This is a character who, despite being physically weaker than their opponent, is able to beat them because they are amazingly skilled. They'll prove Hard Work Hardly Works is a false premise, and even exploit the stronger opponents' sloppy technique and Pride to win.
If the Weak But Skilled character is the protagonist, they will usually be an expert at Dodging Deadly projectile weapons, a fast thinker, and generally win through cleverness and strategy that uses their opponent's weaknesses and the environment to win. If they aren't the protagonist, then they're very like a Mentor, The Rival, or The Number 2, they'll usually start out much stronger than the hero overall but won't keep up once the hero starts gaining skill himself in the use of his powers. They'll occasionally bail out the protagonist but force them to finish their battles, and urge them to actually train their power to stop the bad guy, whom this character can't take out because the bad guy is both strong and skilled.
A character who grows old and weak will often become this, having decades of experience to compensate for their lack of youth.
Unskilled, but Strong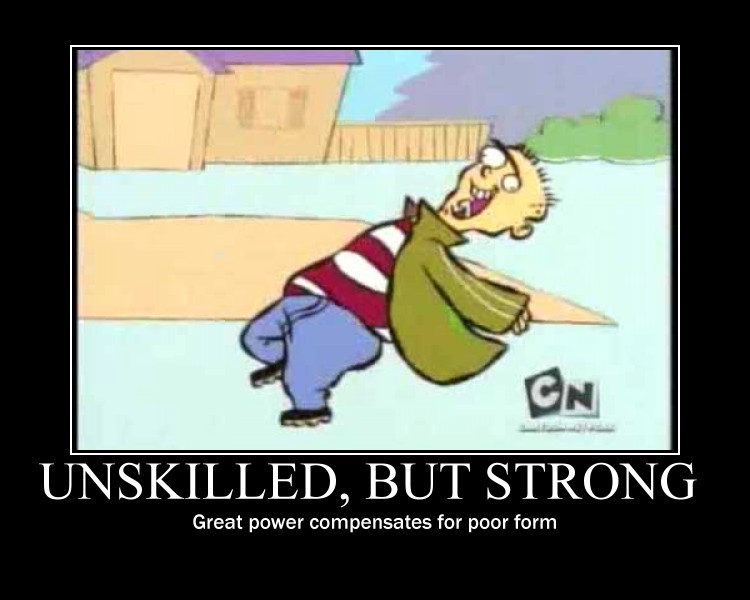 Music for the Second Half of the Article
As the name implies, this is the inverse of Weak, but Skilled.
A character who is Unskilled, but Strong lacks the refined technique of formal training, but compensates in various ways through raw power. They may eat anti-tank missiles the way a glutton goes through an all-you-can-eat buffet. They may be so strong they kick tanks around like footballs or have the firepower to crush the US, China and Russia in a conventional conflict. They may make a Jet look slow or waltz through a point-blank fire of projectile with ease that makes an Agent envious. However it is, they are so very naturally talented they don't need skill. They tend to have the attitude that if brute force doesn't work, it's just because they didn't use enough of it.
When seen in a protagonist, their lack of skill is typically only because it's the first episode and they've only just discovered their powers. The initial stages of the series, if not the series as a whole, will then focus on improving the protagonist's innate talents. It also gives the series a justification for why a complete newbie to whatever power they've uncovered is able to fight with or against people who have more experience, or why they can come along in training relatively quickly.
In an antagonist, an Unskilled But Strong character is commonly either the very first foe the protagonist faces or one of the last. In the former case, they're a Starter Villain and may be fond ofBoasts but prove all talk in the face of the much more skilled protagonist.