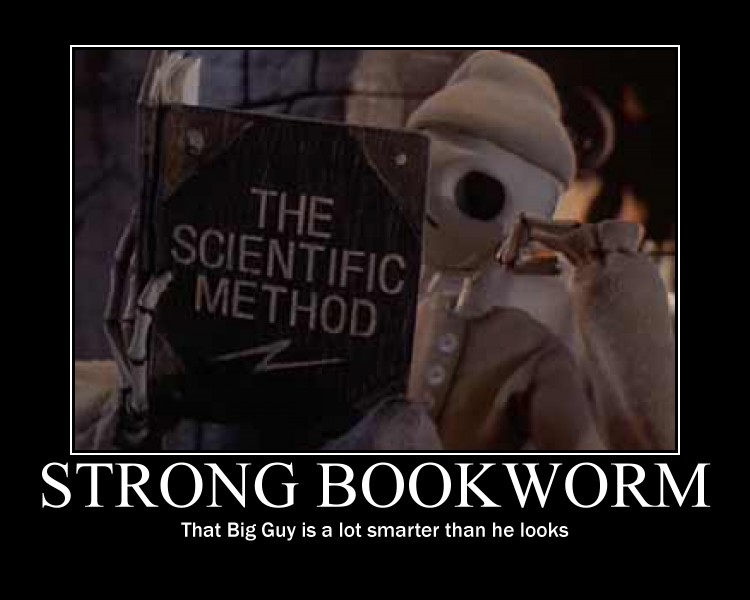 Music for the Article
This character is either a quiet guy or girl who is physically unimposing, but with actually has formidable physical and practical skills or a quiet guy or girl who is physically strong, but actually is highly intelligent.
The reason they are not scary at first because he is really a nice guy and they behave in a polite, classy, charismatic and elegant
Their physical abilities might result from simply undergoing vast amounts of physical training from some kind of martial arts.
He keeps a library in his house that he actually reads and spends most of his time studying and analyzing
He attempts to master the magic of Christmas by studying it, taking notes, and various forms of scientific research, and while his methods fail, the logic he employs suggests a strange sort of genius at work.
In All cases this character is surprisingly strong, if not one of the MOST powerful solider the good guy group has ever produced.
He came up with the idea of making himself temporarily immune to attacks by surrounding himself with a suit made of very strong pieces of armor.
His physical skill and abilities make him dangerous enough unarmed.
Almost all of his fights involve him showing surprising quickness to dodge his opponent's attacks all the while analyzing their every move and then deciding always on the correct counter strategy. Characters go through some pretty serious, near-fatal injuries in battle, yet to date, the Strong Bookworm most severe battle-related injury that we know of has been...a broken finger.
This is a person smart enough to keep up with a opponent's intellectual thoughts and capable of figuring out his opponents weak spots.
He also is hard to intimidate and is fully capable of combating horrifying creatures.
...........Yet, if it weren't for meeting some people and befriending them, he'd probably just be sitting in his house, reading a book all day........
In The end Think twice before attacking this man or harming someone he cares about, unless you want to have the snot beaten out of you
As an added bonus they probably imagined the following playing in their head whenever they do something awesome, click
here