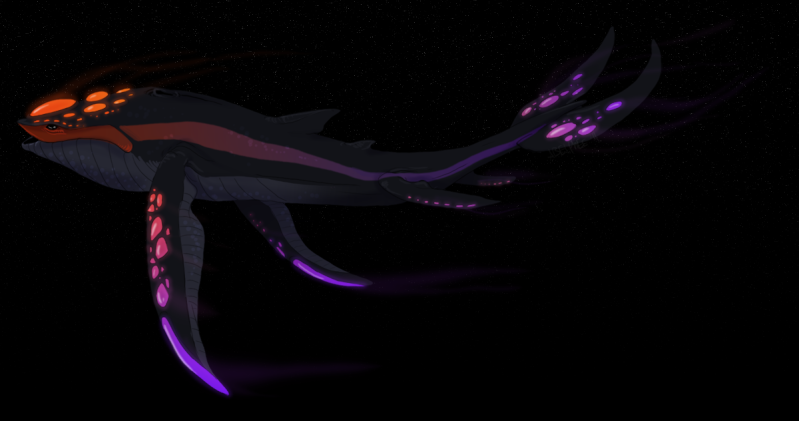 Music to accompy you in this article
Somehow, at some point (probably in the 1970s), the ideas of space and whales became permanently interwoven in the collective unconscious. Why? No one really knows, but here is some wild speculation:
• In 1971, scientists aroused interest in whalesong, which is sufficiently eerie and psychedelic. It's an otherworldly sound that combines well with visuals of galaxies and false-color nebulae.
• Space and whales also made great blacklight posters.
• They're already really big, so why not scale up?
• Pictures from the deep ocean also look kind of like space. Or at least something you could describe as "alien".
• It'd be a shame not to have gigantic creatures making endless voyages through the void, wouldn't it?
• Whales become even more interesting when they are Recycled In Space.
Some might traverse the entire space-time continuum. They are an exceedingly rare treat to see, considering the chance of one existing could only happen in a near-infinite space; naturally.
Some are giant living armored spaceships that evolved from alien whales. They live off interstellar gas and other species use them as transports and warships.
However be warned they might eat people if hungry enough.
What do you think of this?