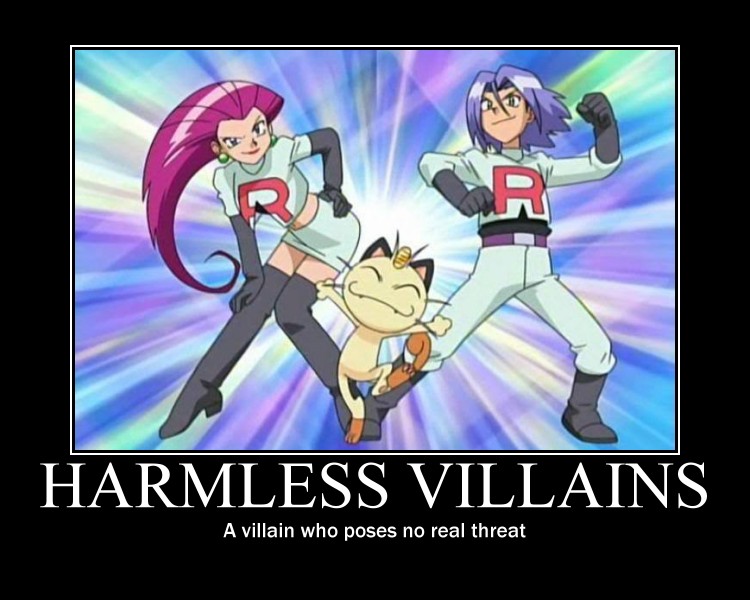 Villains are vile, ruthless, merciless, and bloodthirsty; any pretension of civility is just a smokescreen to hide a really twisted Big Bad. Not exactly kid-friendly, is it? So what are kids shows and movies supposed to do, if the original source's baddy eats humans? Why, make them a Harmless Villain of course!
Their goals can be as grandiose as any other villain's, but the way they go about their plans makes one wonder what they'd do if they ever win. Instead of putting the heroes through a Death Course, it'll merely be an obstacle course strewn with riddles. Rather than threatening to use Snake Venom in the heart of London, they'll use sleeping gas to get away with a heist. If they capture the hero, expect only the most benign of Death Traps (usually with a tub of Mr. Pibb instead of a Shark Pool); and instead of outright harm, they'll use feathers to tickle the hero into submission. Or, they may say they're trying to do something truly evil, but they will fail, every time.
Specific evil plots will usually include amazing magic devices that mildly inconvenience people and get the hero involved; often, these plots are of such a scale and intricacy that if someone gave this guy a business corporation, they'd be so rich, they wouldn't need that giant Gold-only Orbital Magnet to steal the world's supply of gold.
But, then again, where's the fun in that?
The only people "seriously endangered" by them are the Innocent Bystanders and Distressed Damsel that they occasionally capture, and they end up no worse for wear than if they'd spent the afternoon in a Time Share seminar, which is usually far less entertaining at that, and the villain will probably even provide far better snacks, along with room and board!
The Harmless Villain might possess an impressive array of power but have a glaring and easily exploited weaknesses that bring them to their knees just in the nick of time.
Personally if done right they can be one of the funniest characters in the show.
Here's another example: