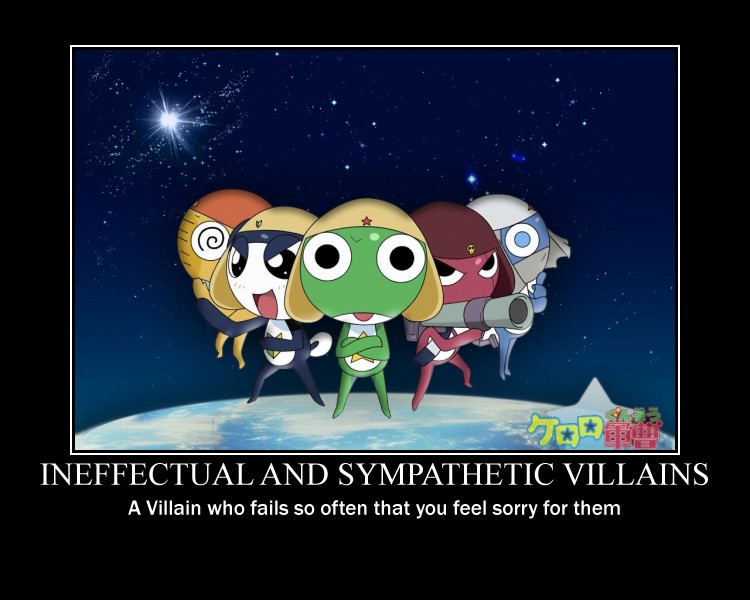 Music to listen to while you read this article
A potential villain who is consistently a failure or never gets the respect that he thinks he deserves, and may even be angry that the heroes don't take him seriously.
He may not necessarily be inept or have a laughably mild idea of what counts as villainy. This is sometimes a relative situation, and the hero's Rogues Gallery just happens to include people more showy, better financed, or just plain scarier than him.
This does not mean that he doesn't bear animosity aginst the good guys.
He's probably jumping at the opportunity to outdo his rivals and the hero. But there is something about his perseverance or attitude about the whole thing that is just short of sympathetic.
He tries to be evil, but his evil plans usually involve things like stealing the King's leather pants, asking to borrowing a Child's Puzzle and not returning it for three weeks, and pushing him off a boat and into the sea. And on top of that, he is very easily distracted.
His schemes to conquer Earth always seem to end in disasters of some kind.
He is the kind of guy who wants respect from other, and just wants to beat up The Hero for the sake of it, which is why he buys weapons and monsters online from Mr. Big Bad. Of course, The Hero always wins the day, so our Ineffectual and Sympathetic Villain never gets the respect he wants. To be fair, he isn't really all that bad, he's just kind of stupid, misunderstood, and a completely incompetent half-wit.
Here are Some Silly moments