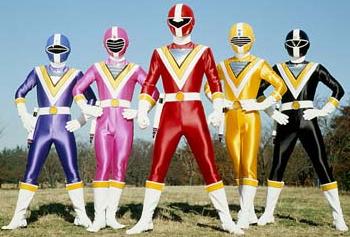 Chikyū Sentai Fiveman ("Earth Squadron Fiveman") is the fourteenth installment of the Super Sentai franchise, which aired from 1990 to 1991.
The scientist Dr. Hoshikawa is working on ways to bring life to barren planets. Just when his labors seem to be bearing fruit, the planet he is on is attacked by the Galactic Empire Zone. His five children escape the planet safely, thanks to their robot, Arthur, but Dr. Hoshikawa and his wife do not manage to get away from the planet.
Twenty years later, the children have grown up, and are now elementary school teachers when Zone comes to destroy Earth. The children use their father's inventions to fight against Zone and save Earth.
The Members are:
Gaku Hoshikawa / Five Red: The Smart Hero and Father Figure. The eldest of the Hoshikawa siblings at age 27 and a kendo master. He continues his father's scientific studies and teaches science.
.Ken Hoshikawa / Five Blue: The Big Lancer. The second Hoshikawa child, age 25. A physical education teacher and judo master.
.Fumiya Hoshikawa / Five Black: The Smart Guy. The youngest of the Hoshikawa brothers, age 20, and karate master. Very childish. A Japanese language teacher who can communicate with extraterrestrials.
.Kazumi Hoshikawa / Five Pink: The Smart Girl and Team Mom. The elder Hoshikawa daughter and the middle child, age 23. A math teacher and fencer.
.Remi Hoshikawa / Five Yellow: The younger Hoshikawa daughter and the older twin sister of Fumiya, age 20. A kung fu fighter and music teacher.
The Main Villians are Silver Imperial Army Zone who are an alien army plotting to rule the entire Milky Way, it flies across universe attacking worlds with its Galactic Warriors. Earth will be its 1,000th destroyed planet, at which point Meadow will gain eternal life. They operate from their ship Vulgyre and can send smaller battleships called Vulgols. They use the Galactic currency Dolyen which is said to be equal to 100 Japanese yens.
The Members are:
. Empress Meadow: The Big Bad. A floating head who wishes to gain immortality by destroying 1000 planets. Earth is the 1000th. An illusion, the true Big Bad is Vulgyre, Zone's ship. The real Meadow is the woman whom Vulgyre once loved.
. Captain Galois: Commander-in-Chief, nominally subordinate to Meadow but acts in her stead. The Rival to Gaku.
. Doldora: The Evil Genius. Creates most of the Monsters and acts as The Strategist.
. Billion: The Brute
. Saza: The Weird Minion, Doldora's servant.
. Dongorosu: A space merchant, speaks with a Kansai Regional Accent.
.Chevalier: New Guy, bored from a life of luxury, he decides to work for Empress Meadow. Is promoted to The Commander when Galois fails one too many times.