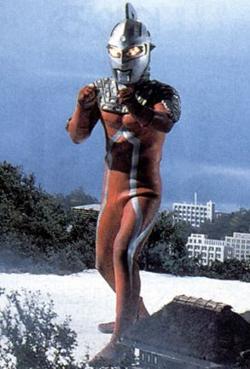 Height: 40 Meters
Stationary Post Observer (or Agent) # 340 from the M78 Nebula was surveying the Milky Way one time. He flew down to planet Earth when he saw a selfless mountain climber named Jiro Satsuma do a heroic sacrifice to save his friend on a mountain climbing journey. Agent 340 rescued Satsuma in the knick of time, and was so moved by the man's courage that he decided to stay on our planet and patterned his human identity on Satsuma's, going by Dan Moroboshi. People would come to know him as Ultra Seven, champion of Earth against alien attacks.
This show, the third entry in the Ultra Series, is more serious, had very sophisticated writing and plotting, and its style is purely Science Fiction, as opposed to its kid-friendlier predecessor. Ultra Seven is an iconic character, in fact so successful that he (and actor Kouji Moritsugu, who played Dan Moroboshi) has appeared in many subsequent shows and movies, even starring in Ultraman Leo seven (no pun intended) years later.
Ultra Seven was not only visually different from the first Ultraman (being mostly red with a removable crest/weapon and more 'boxy'-looking eyes), but often faced numerous moral and ethical dilemmas. On one occasion, he was forced to break a promise Dan had made to a young boy who was undergoing an operation in order to protect the hospital from a monster. On another occasion, he was forced to battle the sole survivor of a small planet that was destroyed by a careless weapons test, making him wonder if he was fighting for a worthy cause. On yet another occasion, as Dan, he desperately tried to contact the inhabitants of a space faring city before it was destroyed by the Ultra Garrison, to keep it from crashing into Earth.
His son is Ultraman Zero who we will see later.
Also, Ultraseven did not possess a mortally injured human to use as his host but instead used his powers to scan a brave human that he had saved from being fatally injured and used that human as a template to create a human form for him to shift into. Thus, Dan Moroboshi literally IS Ultraseven while the original Ultraman would instead merge into the body of Shin Hayata to make two beings into one. However the consequence of Ultraseven transforming into a human form is that catastrophic injuries he receives as Ultraseven can and will pass on to his human form of Dan Moroboshi. This was especially shown in episode one of Ultraman Leo when Ultraseven was badly beaten by three monsters and then one of the monsters breaking his right leg. After he reverted to his human form, the injuries were still there and as a result of the injuries as well as the severe energy drain he suffered, Dan was unable to transform back into Ultraseven and his Ultra Eye was damaged in the process. Ultraman Leo, Ultraman 80 and Ultraman Mebius also used their powers to create a human form to transform into and thus they also would share this same weakness as Ultraseven........i don't know which is better method of disguise though.
The Members of The Ultra Garrison are:
Commander Kaoru Kiriyama: the captain of the Ultra Garrison. A no-nonsense but kind leader. He is from Tokyo.
Shigeru Furuhashi: a rotund, strong, trigger-happy member of the Ultra Garrison. Many years later, he would find himself a high-ranking TDF commander and one of Ultra Seven's few allies. He is from Hokkaido.
Anne Yuri: the only female member of the Ultra Garrison, and also the youngest. She is the team's communications operator and nurse, but is still effective in action. Has feelings for fellow member Dan Moroboshi. She is also from Tokyo.
Soga: Ultra Garrison's expert marksman. He is easy-going, but fierce in battle. He is a friend of Dan Moroboshi. He is from Southern Kyushu.
Amagi: the twitchy stragegist. He is from Nagoya.