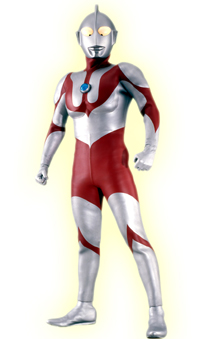 Height: 38 Meters
Age: 20,000 years old
Ultraman is a Sci Fi Super Hero television show in the Japanese Kaiju tradition, which aired on Tokyo Broadcasting System (TBS) from July 17, 1966 to April 9, 1967, with a total of 39 episodes (40, counting the pre-premiere special that aired on July 10, 1966). It was created by Eiji Tsuburaya from Tsuburaya Productions, a pioneer in special effects who was responsible for bringing Godzilla to life in 1954.
It is the one of the first in Ultra Franchise and the first to have an Ultraman.
The storyline begins in the near "future," established in one episode as the early 1990s. As with the Kaiju movies, e.g., Godzilla and his various oversized playmates, Earth is under the near-constant threat of attack by sinister aliens and giant monsters, most of them focusing, for obviously convenient reasons, on Japan. The Science Patrol, a special international police force, is the only organization on Earth capable of handling this barrage of threats, although even they are consistently overmatched. But little do they know, the second-in-command of the Patrol's Japanese headquarters, Hayata, can transform secretly into the giant super-humanoid from "a billion miles away," Ultraman.
The series begins when Hayata, flying his plane on a routine mission, inadvertently crosses paths with a red sphere of light (called a "ship," but more resembling a red crystal ball) containing Ultraman, who is pursuing an alien monster. Hayata is killed in the crash, and out of remorse, Ultraman merges his life essence with Hayata to resurrect him. From then on, Hayata serves as Ultraman's human form, and depresses a button on a cylindrical device called a Beta Capsule to transform into Ultraman in times of need — almost always at 19 minutes into each 24-minute episode.
Upon first transforming from Hayata to Ultraman, a large disk in the center of his chest, his Warning Light (a.k.a. the Color Timer), shines a steady blue color. However, as he exerts himself, the Warning Light changes to red, then blinks with increasing rapidity, and a helpful narrator informs us, "The energy that Ultraman receives from the Sun diminishes rapidly in Earth's atmosphere. The Warning Light begins to blink. If the Warning Light should stop, Ultraman may never rise again".
The Members of the science patrol are:
Captain Toshio Muramatsu: The Science Patrol's leader.
Daisuke Arashi: The Science Patrol's rotund tough-guy marksman.
Mitsuhiro Ide: The Science Patrol's somewhat comical inventor. Although he sometimes feels that Ultraman's intervention makes his role useless, his inventions have occasionally been critical in saving the day such as helping the superhero defeat particularly formidable monsters.
Akiko Fuji: The Science Patrol's radio/communications operator, and ostensibly their token female member. However, in most adventures, Fuji proves to be the most level-headed and capable member after Hayata.
Isamu Hoshino: A little boy. The Science Patrol's unofficial mascot, he gets to hang out with the full-fledged members and is even issued a uniform later on. He often gets into trouble, and sometimes Ultraman would have to save him.