(NOTE: DISPITE THE IMAGES AND THE TERMS I USE, THEY CAN BE OF BOTH GENDERS)
The Dogged Nice Man
A nice man is madly in love with a Woman. The Woman doesn't seem too interested, so Man keeps trying, hoping that she will change her mind.
If "Ed" and "Susie" are strangers or distant acquaintances when he falls for her, after the first confession that was turned down, he will show his affection in more and more spectacular ways to prove his serious intentions. Sometimes, the people around them will expect that Bob will eventually get together with Susie. Once Ed's displays of affection convince Alice to change her mind about him and give him a chance, the two will be portrayed as a normal couple.
If "Ed" and "Susie" are either long time friends, or strangers who just got into a Just Friends relationship, Ed will take a more low-key route. Ed will likely begin by saying that he has his hopes for a more serious relationship, and he hopes Susie will eventually feel the same. He's content to be Platonic Life Partners until that time comes. From here, he may remind her of his unrequited love every time he sees her, or he may never mention it again. Susie might refuse the Relationship Upgrade because she doesn't want to ruin this friendship, or else believe that Bob just has a schoolboy crush he'll get over. If Susie is in a relationship, Ed might try to accept it for Susie's sake.
In some recent works, a more cynical take on this sutiation might be used, to point out some ways this type of thinking could backfire. Type 1 might irritate the object of their affection by treating them like a video game sidequest, where more gifts and displays of affection will equal more attraction. It can also have implications of a Stalker with a Crush situation, if Susie truly dislikes or fears Ed. In Type 2 Ed tragically mistakens for not recognizing that Susie still only feels like they're like brother and sister and reacts with extreme disgust to romantic gestures.
However, In traditional straight examples, as long as Ed is an honestly nice guy, or at least a decent guy, both of these two attitudes are usually expected to result in success. Susie will always realize over time, that she really happens to love him back.
The Hated Admirer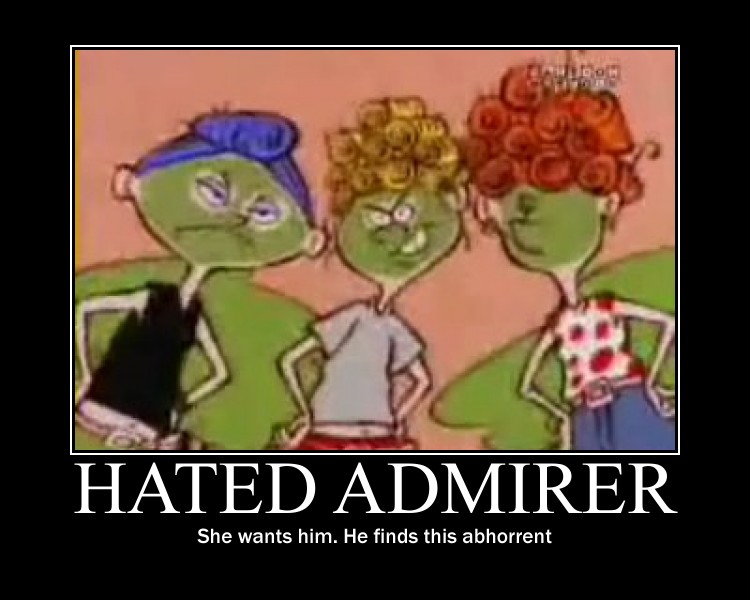 An ugly Woman is noticeably attracted to a male protagonist. Maybe she's even a little forward about it. The protagonist realizes this, and is profoundly uncomfortable with the whole idea, but the female character either doesn't realize he's not interested or is undeterred. Yet the character is not just uncomfortable; he's shocked, horrified, or disgusted. Even a wave and a smile from her will be treated as a fate worse than death for the recipient. This is played for comedy.
In some cases, the point of the joke is that the protagonist is too nice to say anything, thus allowing the situation to come up repeatedly. In others, just portraying the protagonist's reaction — which may be closer to mortal terror than awkwardness — is considered enough of a punchline on its own.
The Hated Admirer differs from more sympathetic characters in one key respect: the audience is expected to find her both unattractive and extremely unsympathetic, and is supposed to feel sorry for the protagonist because she has him in her sights and just won't take a hint or proves resistant to the clue-by-four.
These characters tend strongly to be female rather than male
the hated admirer and the protagonist end up together, which becomes funny