https://www.youtube.com/watch?v=WF3Ci1Qt0kw
(We see Ed, Double D and Eddy somewhere)
Eddy: Wow a whole new universe we ended up in after one of my latest scams involving that one device, I wonder who we can scam here.
Double D: Well it appears that we ended up somewhere in the middle of nowhere.
Ed: MMMMMM Rocks, who lives here Double D?
Eddy: First I'm going to use a water park and then build my own city, then were going to build a mansion with all the money I made
Double D: GUYS!!! I don't think anything lives here.
https://www.youtube.com/watch?v=GcVFHgpmy3k
Eddy: WHAT!!!??? How am I going to collect some money.
Double D: Let's Just see who's in charge of the place and-
Eddy: Or I could overthrow the ruler of this place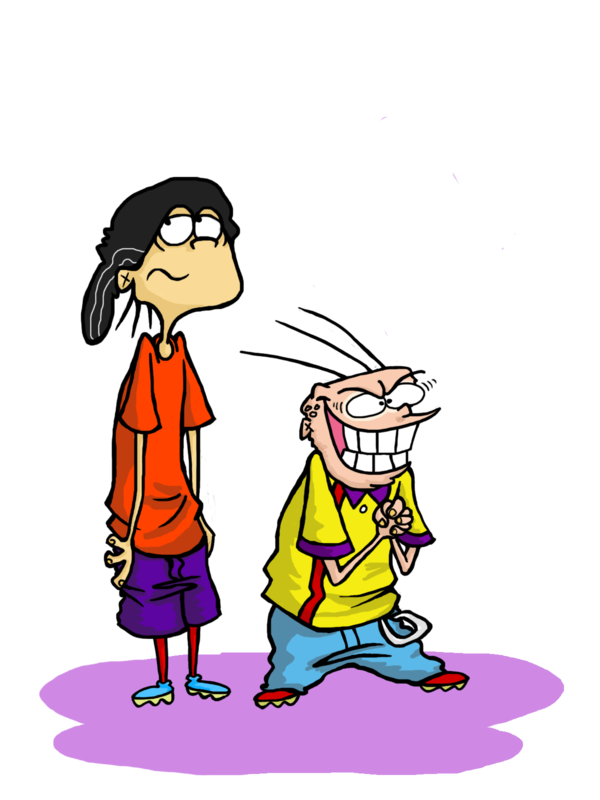 Double D: Why Do I Have the Feeling this is going to be a bad Idea.
Ed: OOOOO, I Want to fight the evil zombie king!
(We see Static)
We now return you to you're usual program
Music for the First Half of the Article
Puella Magi Madoka Magica The Movie Rebellion is a 2013 feature length film produced by the studio Shaft
At the end of the original anime, Madoka sacrificed herself and made a wish that changed the world. Instead of witches, magical girls now fight a different kind of monster known as "Nightmares" which are more harmless. In this new world, Mami, Kyoko and Homura protect the city of Mitakihara, but Homura cannot forget the old world and dreams of seeing Madoka again. And then Madoka and the deceased Sayaka both appear in front of Homura when they should have not existed anymore Will Nagisa Momoe, the new magical girl with a mysterious secret unknown to most.
Everyone sucked into a dream world is brainwashed into living their ideal life. This is especially apparent with Homura herself and Kyoko, who lack the darker elements of their personalities until they become aware of the fake world. However, as Madoka entered the dream world consciously and took Sayaka and Nagisa with her (with Sayaka retaining all of her old memories), it seems that the three were just playing along in order to fool the main villain.
Music for the Second Half of the Article
Turns out this new world is inside Homura's Soul Gem Mental World. Mami and Kyoko are real, however, as Homura's imaginary world somehow sucked them in. Additionally, Madoka, Sayaka and Nagisa (the latter two being dead magical girls Madoka brought along as backup), also entered this world to help Homura. According to Kyubey, those who get sucked into this world get to live the lives they longed for.
Most of the characters, except Homura and Kyubey, lack most of the characterization that they are known for in the main series because  most of them are creations of Homura's subconscious, and those who aren't either have had their minds and memories altered in order to live their ideal lives, with many of their defining characteristics and backstory elements being erased  or are playing along in order to fool Kyubey.
On one hand everybody lives, Kyubey plan completely fails, Kyubey is in a worse state than was the last time this happened, and Homura attains her goal of saving Madoka after failing beforehand. On the other hand, Homura essentially becomes an Evil god, destroys the world that Madoka created, suppresses her goddess powers, and is most likely going to be Madoka's enemy.
Music for the Third half of the Article
Homura essentially fatally wounds Kyubey after the credits. It really emphasizes how Homura is in control of the new universe, with the Incubators' efforts now benefiting her. Though there are implications of Homura taking over Madoka's role and taking her power and memories from her for an admittedly selfish purpose.
For the first time in trillions of years, millions of innocent girls from thousands of planets, and COUNTLESS time loops, the unthinkable FINALLY happened. Kyubey LOST. Until this point, he either straight-up won or walked away relatively unscathed, even if he hadn't gotten precisely what he wanted. But this time, the little fiend has been left with nothing. The fact remains she finally, finally, FINALLY beat him outright. And best part is that just like last time, he has nobody to blame for it but himself.
As an added bonus if you want to see clip of the movie click
here