Night, City Streets
https://www.youtube.com/watch?v=mSusobmGYbQ
(We see Eddy walking down the City Streets carrying a huge bag of Something.........he then pauses)
Eddy: Is this a good idea? I better ask my conscience.
https://www.youtube.com/watch?v=uJd2-Was_VE
(We see a pair of Demons on both of Eddy's shoulders they look like this.)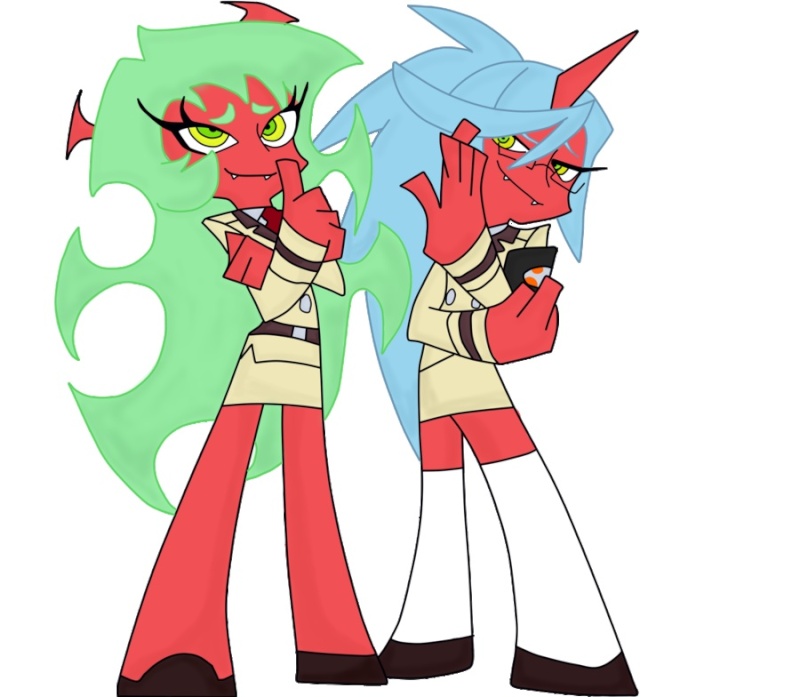 Demon 1: Look what you got us into, now our father's going to be ticked off at the fact that we did manage to capture those guys who made a Faustian bargain with us!
Demon 2: What the French Toast are you talking about, you were the one who suggested we have the guy make the Faustian bargain with us in the first place!
Eddy: Um Guys.......................
Demon 1: Whatever I just my nails done.
Demon 2: Well Mother always liked you best!
Eddy: I am right here Guys!
(Both Demons ignore him. The First demon shows he teeth to her sister in an attempt to intimidate her but it fails completely.)
https://www.youtube.com/watch?v=PWu9iQLwrC8
Eddy: HEY GUYS!!!!
Demon 1 & 2: Yes Eddy?
Eddy: Am I doing the right thing.
Demon 2: Yeah anything you do is right Eddy.
Demon 1: Live an indulgent life style it won't hurt anyone.
Demon 2: Crush anyone if you need to.
Eddy: Go it.
(We see a silhouette watching them with a pair of binoculars)
Silhouette: *Evil Laugh*  
(He Trips down a flight of stairs)
Opening Theme:
https://www.youtube.com/watch?v=bVJQf0wv4Bg
Pool Toy Story
Double D'S House, outside, day
https://www.youtube.com/watch?v=u3ak_il8E8E
(We see Double D walk outside and admiring a weather in peace until he notices something odd.)
Double D: A pink surfboard? This belongs to Nazz, I really need to return this to her.
Meanwhile............
https://www.youtube.com/watch?v=fAault4iGdQ
(We see Ed eating ice cream as Eddy shows with a huge bag of something.)
Eddy: Hey Ed I need you to help me with my latest scam are you willing to do it?
Ed: Well I guess as long as it doesn't harm anyone.
Eddy: That's great mono-brow I need to you to help me assemble a stand to sell all my items.
Ed: Can We have rotten cheese with that?
(Eddy just stares at Ed in complete confusion, he then whacks Ed, causing Ed to see stars.)
Nazz's House, day, inside
https://www.youtube.com/watch?v=vMaFN6NoNvI
(We see Double D ring the door bell, Nazz shows up and Hugs him, causing him to blush.)
Nazz: Hi Double D, it's great to see you!
Double D: Nazz, I found you're surf board lying in on my front yard. Do you have any idea what it's doing there?
(Nazz stops hugging and pauses)
Nazz: No, why?
Double D: I have a sinking feeling that Eddy might be behind this, Nazz.
https://www.youtube.com/watch?v=fHn19IgXpq8
Stand, day
(As Double D and Nazz approach the Stand they see Eddy arguing with Rolf, as Ed plays with a game boy.)
Rolf: Rolf Has has enough of you're tomfoolery, give Rolf back his watering equipment!
Double D & Nazz: What's going on.
Rolf: This Ed-boy has stolen Rolf and his family's watering equipment in his half baked scam.
Double D: Eddy, What are you doing?
Eddy: Selling sprinklers and pool toy's.
Rolf: You have disgraced my family Ed boy!
https://www.youtube.com/watch?v=CajW-EWsn3A
(Suddenly an angry mob of kids stand before Eddy armed with pitchforks and torches.)
Eddy: So what I stole pool toys,big deal, Anthony Hopkins did the same thing and he got an Oscar for it.
Double D: Eddy, Anthony Hopkins is an actor not a criminal.
Eddy: Really?
(The Mob proceeds to take all their pool toys back as the other two Eds help them leaving Eddy Behind.)
Eddy: How could this get any worse.
Later....
https://www.youtube.com/watch?v=tPuTtvC-WBk
(We see Eddy spying on everyone and sees that Ed, Double D, Nazz and Rolf are having a pool party without him.)
Meanwhile........
https://www.youtube.com/watch?v=70RyMADHqJ4
(We see a  kids eating ice cream suddenly a silhouette looms over him smiling. It's the same one from ealier)
Kid: Who are You?
Silhouette: I am the shadow of the moon at night, I am the surprise in your cereal box-
Kid: What's you're name
(The Silhouette pauses.)
Silhouette: Oh................Wait why should I tell it to you! That's Classified Information! Soon one day I shall rule the world you live on.
Kid: You're crazy.
(the Silhouette responds by slapping the ice cream out of the kid's hand in anger.)
Silhouette: I'm the best around, oh yeah! Who's Bad, I'm Bad!
(The Kid punches the Silhouette in the stomach and runs off, the silhouette notices the pool party going on.)
Silhouette: Those Kids could pose a threat to me, I better think of a plan. *Pauses* Wait.................................why am I worrying, I have more important things in mind. Mostly conquering this planet and the inhabitants that live on it.
End Credits:
https://www.youtube.com/watch?v=-Tdu4uKSZ3M
THE END
TRIVIA
. The title is a spoof of toy story
. Anthony Hopkins is a real actor, he played Alfred Hitchcock in the biographical film "Hitchcock"
. the Silhouette quotes the Nightmare Before Christmas