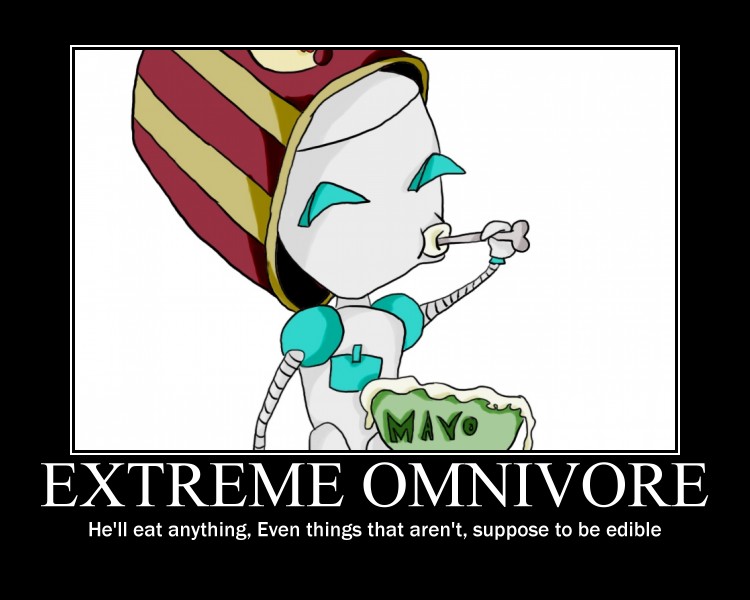 Music for the Article
The Extreme Omnivore will eat anything out of hunger or curiosity, so long as it looks like food. And sometimes when it clearly doesn't. They don't fear if their own food is rigged with Deadly Nightshade, and you will never hear them ask "I Ate What?".
In more realistic cases, he spits the bad stuff back out. In less realistic cases, he digests it with few ill consequences.
A milder form of The Extreme Omnivore is a character who is willing to eat things that may be perfectly nutritious, but are considered unhygienic (e.g., it fell on the floor, or another character has been eating it), or taboo (e.g., insects). He may be indifferent to, or ignorant of, the social norms that keep most people from eating these things, or he may be from another culture or species where such things are accepted.
He can (and will) eat anything. ANYTHING. For example, he can swallow a cannon and fire it at will, and at one point he eats TWO OF HIS OWN GOONS, AND SPITS THEM OUT then combines them into a four-armed super-flunky, though they're just wearing one costume while one stands on the other's shoulders. HE even manages to EAT HIMSELF in order to slim down enough to fit through a narrow door. LIVING PEOPLE AND SCENERY INCLUDED IN EXTREME CASES OF THIS DIET!!!!
Some animals can do this in real life:
Microbes in general. If you name a material, something actually, or with evolve to be able to, eat it. For example, Halomonas titanicae eats iron, and its colonies can be seen growing on metal shipwrecks in the deep ocean, such as the Battleship Bismarck and the RMS Titanic.
Many species of catfish will eat anything that they can fit in their (rather large, for body size) mouth. Aquarium keepers have to keep this in mind if they intend to keep catfish, as any smaller fish get eaten whole.
Hyenas in general, and it's not just bones and fur they take, there have apparently been reports of them dining on aluminium cookware (though they later regurgitate the pellets).
Many dogs have been known to eat their own excretement, basically anything they can put in their mouths. From an evolutionary standpoint, eating their own waste was a way to keep predators from following them.
Sharks tend to bite first and ask questions later, whether it's their normal prey or not. Tiger sharks will eat anything. License plates have been found in the stomachs of actual sharks, along with tires, pieces of medieval armor, and even other kinds of metal.
Rattus norvegicus or the common brown rat. They will eat anything edible and have survived in deserts eating cacti and in the Antarctic, stealing penguin eggs. In fact they will even eat paper, plastic, soap, metal, brick, wood...is it any wonder they breed like crazy? It must be noted, however, that rat teeth grow at a constant rate and must be constantly used to grind them down. Not everything that rats chew on is actually eaten — rats in captivity will reduce wood to sawdust without swallowing it.