Knight Templar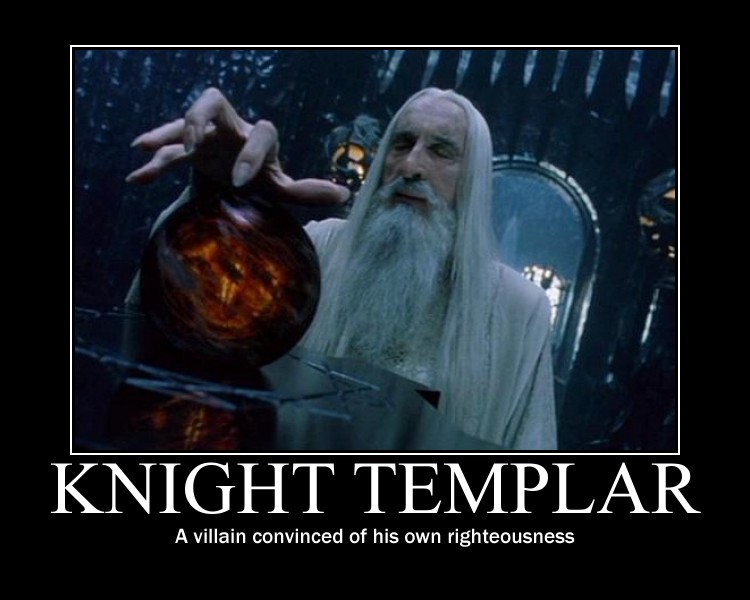 Music for the First Half Article
Sometimes, the Forces of Light and Goodness get too hardcore. In a deadly combination of a Fundamentalist, and the phrase He Who Fights Monsters, they get blinded by themselves and their ideals, and this extreme becomes tyrannical sociopathy. It's not the Forces of Darkness' fault, but they are laughing their butts off. It doesn't mean that they won't still fight to their own demise, but they take great satisfaction in the fact that they were right.
Usually, the Knight Templar's primary step (or objective) to his perceived "utopia" is to get rid of that pesky "free will" thing that is the cause of crime and evil. Many Knight Templar types are utterly merciless in dealing with those whom they consider evil, and are prone to consider all crimes to be equal. The lightest offenses are met with Draconian punishments such as full imprisonment, deastruction or brainwashing. Note that the "minor offense with staggeringly out-of-proportion punishment" is jaywalking. If you're in a story like this, don't jaywalk.
It's important to note that despite being villains/villainous within the context of the story, Knights Templar believe fully that they are on the side of righteousness and draw strength from that, and that their opponents are not. Trying to reason with one isn't much good either, because many Knight Templar types believe that if you're not with them, you're against them. Invoking actual goodness and decency will have no effect, save for making Knights Templar demonize your cause as the work of the personification of Evil. After all, they are certain that their own cause is just and noble, and anyone who stands in the way is a deluded fool at best and another guilty soul to be "cleansed" or evildoer to be killed at worst, and doing so is not even Dirty Business.
The Knight Templar is the ultimate incarnation of Light is Evil, and in series where Dark is Good, you can count on this guy being the villain who believes that the "dark" characters are evil and must be destroyed. If they are still nominally good, expect them to be a Hero Antagonist.
The Evil Equivilant of the Well-Intentioned Extremist
Well-Intentioned Extremist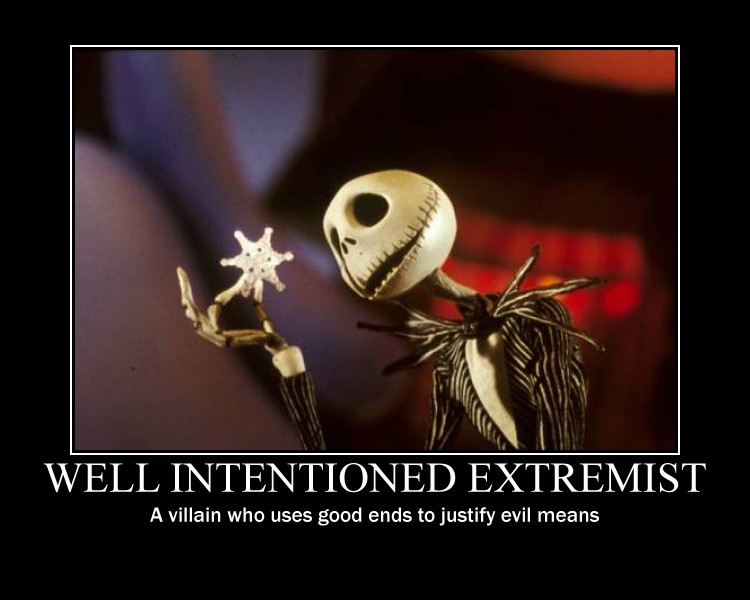 Music for the Second Half Article
A villain who has an overall goal which the heroes can appreciate in principle, but whose methods of pursuing said goal (such as mass destruction and havoc) are problematic; despite any sympathy they may have with his cause, the heroes have no choice but to stop him. Taken to extremes, he may want to create a Utopia but have very destructive methods of creating it. Such an idealistic extremist will eaiter aim For Happiness or For Great Justice.
Other times, the villain may be out for simple revenge against a person or corporation or other entity that has undeniably wronged him. Again, the heroes may sympathize with his plight, but are obliged to stop him because he cares not who gets in the way of his planned revenge. However, the heroes will often investigate the villain's grievance themselves and will complement stopping the villain with taking down the offending party as well.
Often a Tragic Hero that became an Anti-Villain, and sometimes a Worthy Opponent or even Reluctant Warrior.
The total opposite of this is the Knight Templar who fully believes that they are in the right and the best way to save the world is to remove free will.
They regret the havoc and destruction they cause and they often reform and become better people.