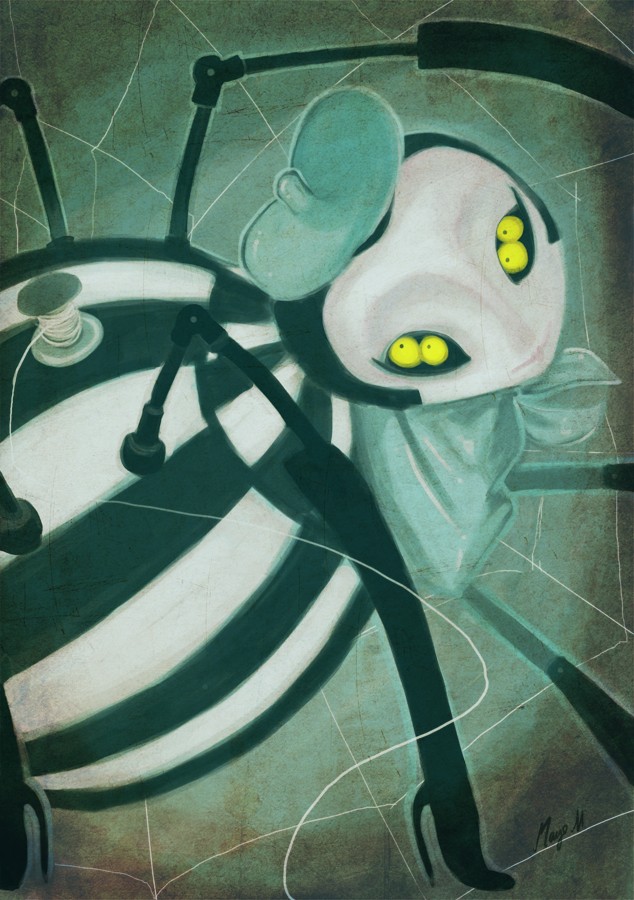 Music for the first half of the article
There are many people in the world who fear Spiders.
Arachnophobia is probably the second-most popular phobia, and even non-arachnophobes have to admit that spiders can be pretty freaky.
Because of this when people use Giant Invertebrates the most common are Spiders.
The bigger they are, the less likely there are to be more of them, but they're almost all so big that they logically shouldn't be able to move or breathe? Huh.
Needless to say, they can be a bit of a problem for viewers that really are arachnophobic, especially in video games with them as a featured enemy. Many games get around this by making the spiders look cartoonish, or not having them correspond to any real life spiders. However, they can still be freaky due to the sheer nature of being giant spiders.
They usually have little personality, beyond vague malevolence. Some of them can talk, but they're rarely very loquacious. Sometimes, they're just ordinary spiders who meet up with a protagonist who is small, although it amounts to the same thing.
The Most Famous one is Ungoliant from J. R. R. Tolkien's The Silmarillion.
Music for the Second Half of the Article
Unlike a real Spider, Ungoliant is a lot more horrific than anything that exists in the real world to quote J. R. R. Tolkien:
"Then the Unlight of Ungoliant rose up even to the roots of the Trees, and Melkor sprang upon the mound... and their sap poured forth as it were their blood, and was spilled upon the ground. But Ungoliant sucked it up, and going then from Tree to Tree she set her black beak to their wounds, till they were drained; and the poison of Death that was in her went into their tissues and withered them, root, branch, and leaf; and they died. And still she thirsted, and going to the Wells of Varda she drank them dry; but Ungoliant belched forth black vapours as she drank, and swelled to a shape so vast and hideous that Melkor was afraid. "
To Put this into perspective Ungoliant later attempts to eat Melkor. She would have succeeded, too, if the Balrogs hadn't saved him in the nick of time. Yes, really. This is Melkor, Boss of Sauron, Strongest of the Valar (powers of the world/god-like beings/Angels), and only equal to Eru (the creator/Super-God/The God) himself.
It gets freaker because She is said to have "descended from the Outer Darkness, maybe, that lies in Ea beyond the walls of the World" (Outer Space for the simplier terms). After breeding with other... things (Giant Insects? Maia? Monsters created by Morgoth? Who Knows.) Doing this in a valley that became so corrupted by her presence that, 400 years later, Beren is the only mortal to have passed through it and survived, she just... wandered off. "Some have said that she ended long ago, when in her uttermost famine she devoured herself at last." Eaither way they Never Found the Body.