The Evil Guy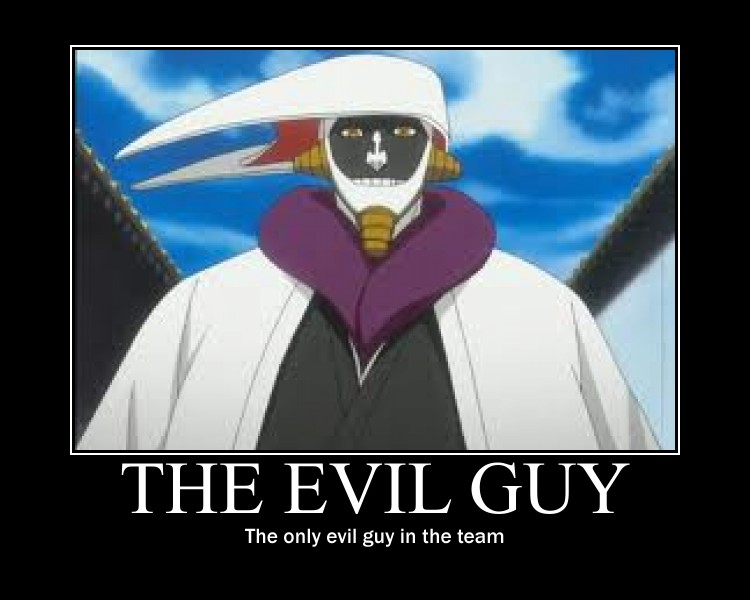 Music to with the First Half of the Article
Just because the main characters are fighting to oust Mr. Big Bad doesn't mean they're heroes... at least, not all of them. In a team composed of good or morally pH neutral members, there will often be one Evil Man. Ruminatively, this character can serve as an entertaining and pragmatic foil to his more strait-laced colleagues, giving Wisdom from the Gutter and serving as a useful whenever the heroes start veering too close to Honor Before Reason and self-destructive heroics, and might even act to solve difficult moral dilemmas.
Sometimes they will begrudgingly admit that they like their teammates, or at least find them less intolerable than they say, and frequently they find their association either lucrative, entertaining, or even enjoyable. If it's pointed out by somebody that they're not as bad as they make themselves out to be though, they'll generally tell them to shut up, or to take it back. This can be done in a very loud, very rude way.
If they do betray their teammates, expect The Hero to tighten their Fist and use various threats like Death Glares to bring them back in line. Why don't they kill him or at least kick him out? Because sometimes you just need the firepower, and they can "do more good than harm".
Some variations include:
•Sometimes a Tragic or Sympathetic Villain joins the heroes to fight a second villain who's worse, but is still evil on the side.
◦Outright villains who do this are more the bag of a Strange Incident, since the team ups are rarely stable enough to outlast the episode. Still, it's not unheard of for some to reform not long after such team ups.
•They're in it for the money. Or the opportunity to loot, pillage, and plunder. Bribes and financially based threats keep them in line.
•B.E.F. (Best Evil Friend): Maybe there's a hero who's a friend or family, and they stick around to help loved ones out of duty. But don't expect them to be too helpful for anybody else.
◦Sometimes, the friendship is established during the show, at which point the purely money or power-hungry evil guy will "tip his hand" and save his friend rather than get the idol.
•The evil friend is The Treacherous Subordinate and sees the heroes as the best way to topple Mr. Big Bad.
•The Poisonous Friend who blindly believes he's doing right is a member of the group, willing to do anything for his buddy's ideals.
•They were recruited because they have skills, talents and a general attitude that the heroes know will be useful, even if they don't like having them around.
•They have an ulterior motive for joining the heroes, and the heroes' plans will further their own agenda.
•Sometimes they're just in it because they want to. The hero is on an exciting, heroic quest that will save the world, but it also involves a lot of destruction, and they've got nothing better to do right now. They want to cause chaos and rain down carnage, and this is the best way to do it.
•In a setting where a Balance Between Good and Evil matters, or just any setting with Gray and Gray Morality, having people keeping the "heroes" in check is sometimes a perfectly good idea, even if they might find it annoying or inconvenient.
The Good Guy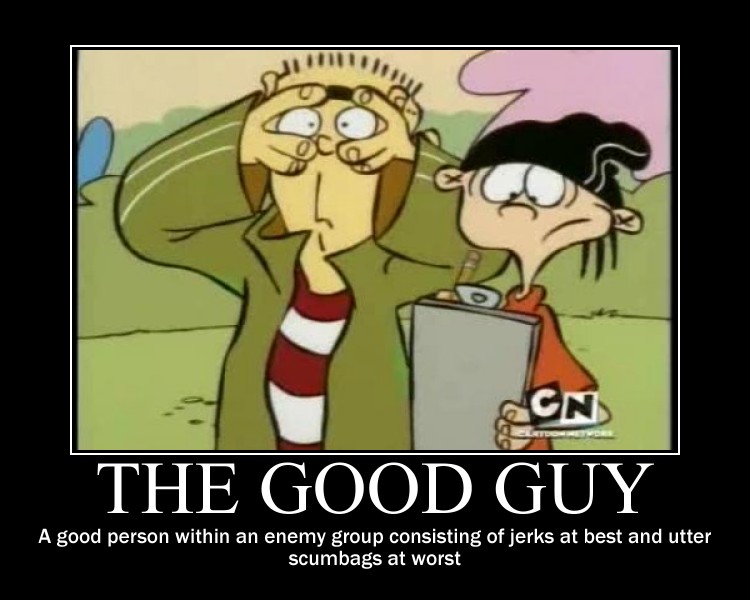 Music to go with the Second Half of the Article
A Good Guy is someone whose greater principles do the same. A typical example might be a Justified Criminal forced to go native among real criminals, perhaps because of deliberate persecution or simple error by The Government.
Despite his high moral standards, he is not listen to in the party, as he may not be interfering with their questionable activities. Though he can be, reminding the others (or teaching them for the first time) that there is more at stake than money, power or personal vendettas. Alternately, he may be someone who simply holds himself aloof from the "debauchery" of other party members. In extreme examples, he may become disliked by his own allies as he tries to foist his ideas on others, becoming a terribly annoying Commander Contrarian.
He will likely have struggles between loyalty to the True Companions and his conscience, creating inner conflict and conflict with his teammates, but sometimes a Good Guy can also inspire the team to rise above themselves by the idealism they show.
If both he and the Evil Guy are in the same party (and you know authors won't want to miss the chance) there will be at least one huge display of verbal fireworks per episode.
Alternatively, though, a Good Guy can be found amongst a group of dastardly villains, in order for the show to make sure that the antagonist side does not go too black in terms of morality. Perhaps this character shows restraint in doing atrocious evil, or is forced against his/her own will to be a bad guy (due to a hostage or some other leverage held by the bad guys, for example), or has other goals that are noble, but require him/her to be on the bad guys' side, or is merely just following orders from the higher ups that he/she has sworn loyalty to (high honor standards can cause such). This character has a high chance to become a sympathetic Anti-Villain that the audience can root for. They may also be the Team Face by virtue of not being an jerk. The other members will trust him more than each other and have him talk to the muggles when needed.
He might of sided with the bad guys because he wants to protect his family and people of his homeland
He might also a double agent working for the Revolutionaries, the Authorities, the Heroic Antagonist, The Big Good or The Good Guys