"You're overpowered, you don't have a hook, and quite frankly, you're boring."
-Unknown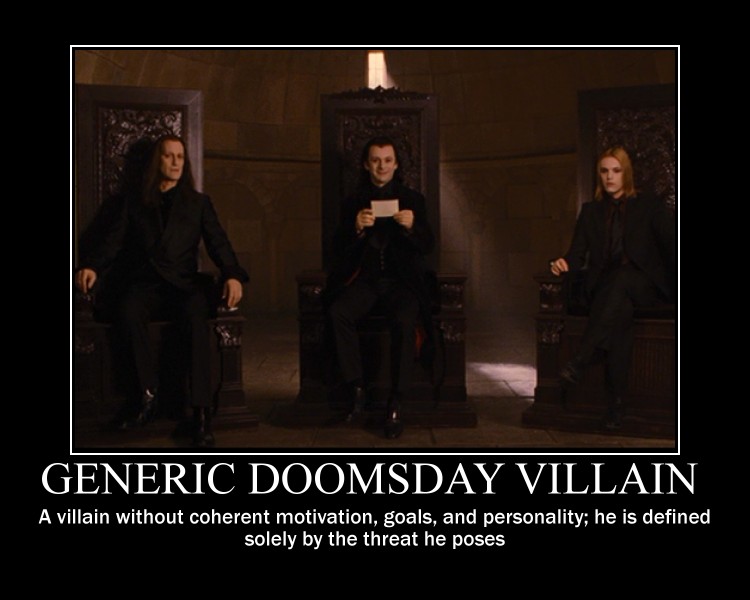 Music to acompy you through out the Article
The Generic Doomsday Villain is an overpowering antagonist without a believable goal, motive, Evil Plan, or otherwise any believable characterization. They do not fancy themselves to be doing the right thing, they're not Driven By Envy, they have no personal vendetta against any of their victims, they are not in it for the money, they're not seeking Revenge for any real or imagined wrong done to them, and they're not even trying to satiate their excessive Pride. Why are they evil? Because they're spreading destruction and misery.
And why are they spreading destruction and misery? Because... they're evil.
WHAT!!!???
From an out-of-universe point of view, this sort of character seems to make perfect sense: The story needs a villain to drive the plot forward and to give the heroes something to foil. This villain needs to be powerful enough to stump the protagonists at least for An Arc, which is why they're often introduced as powerful enough to be undefeatable outside of divine intervention.
But on an In-Universe level — the level on which the audience relates to the story and suspends disbelief — what matters is whether the character is consistent and coherent and has a compelling reason for what they do. Just like a good hero, a good villain is someone we care about, either because they're someone we empathize with or someone we Love to Hate. A Generic Doomsday Villain is none of these things. They're all power and no personality.
A villain can still come off as this type of person even if they do technically have motives, goals and plans, but these come off as a Hand Wave rather than a believable reason. If a motivation is sketchy or could lead to a thousand more reasonable conclusions other than "destroy everything" or is conveniently detached from "our" plot so it can't be fulfilled or thwarted or otherwise come into play, that motivation is probably not pulling much weight on the character depth front. You know you are dealing with a Generic Doomsday Villain, when you can imagine them replaced with a natural disaster and the plot pretty much still working the same way.
Surtr, the fire giant who is responsible for the end of the world in Norse Mythology, is probably the first example in history. He doesn't appear in any myths except the one that tells of Ragnarok, where he and his armies invade Asgard, he kills Freyr, the god of rain and engulfs the world in fire, and even that myth gives him little description or characterization. Still, while he may not appear, he is referred to in numerous other tales of both the Poetic Edda and the Prose Edda.
There are Many of these types of Villians from Twilight:
the first example are Victoria and Laurent (the Rastafarian Vampire), Meyer seems to believe that Victoria can carry the weight of "unseen menace" in these stories. I am not sorry to inform her that she is very, very mistaken. Victoria still has zero characterization outside of "that woman that was with James the vampire who tried to eat Bella". We never saw any sign that she was threatening in the text, so we don't believe all of Bella's sudden wailing that she's a deadly force of nature. There's really nothing else to say about her character, so I'll just move onto Laurent. Laurent, unlike Victoria, got further characterization—which was completely contradictory to what we saw in Twilight. Laurent was hanging out with James and Victoria strictly for convenience in Twilight and had zero attachments to them. When we last saw him, he expressed a desire for permanence and said he wanted to try the animal diet. Then we see him in New Moon, and he's suddenly all-out evil, talking about how he enjoys cheating on the new diet, is obviously still fairly nomadic, and is good enough friends with Victoria to come scope out the area for her despite having no attachments to her. He is the exact opposite of what we last saw in Twilight strictly to cause some drama and inform the audience that Victoria still exists and wants to kill Bella now. They are pointless as villains.
The Volturi are this to a greater extent. these are our villains that are supposed to go beyond "villain of the week". This series's counterpart with Voldemort, if you will. Unfortunately, they fail, and hard. The only three worth talking about at all in terms of characterization are Aro, Caius, and Jane, considering everyone else was either a nonentity or the same copy-pasted villain that is evil for no reason at all (and painfully over-the-top about it, too. not even For the Evulz). Jane is little more than a blander repeat of James, the emotionless killer that Meyer is completely unable to write, because when Jane doesn't get her way, she quickly devolves into a tantrumy little girl who just destroys mindlessly. Caius is a contradictory, impotent ruler who fusses about rules all while making it clear that, just like all of Meyer's villains, he's apparently doing it all because he is Evil, and don't you forget it. As for Aro, he apparently does it all for the Evulz but that what Meyer want's you think, his actions really are simply out of complete stupidity. His goal is to collect vampires, but Meyer failed to give him a proper motivation. These villains fail for the same reason all of Meyer's villains have failed thus far—they have goals, but they have zero motivation for them, and so the goals make no sense. When the goals make no sense, the villains make no sense. And when the villains make no sense? We don't buy them as villains.
Sometimes, a writer will use this intentionally, making a villain who is literally like a force of nature or a natural disaster — not really intended to be a character in their own right, just something that happens which the heroes have to deal with, or just being too alien.
THESE GUYS STINK!!!
I HATE THESE GUYS!!!
What do you think?