Team Mom
there needs to be someone to hold this Gang together before they kill each other or wander off into the woods or eat harmful chemicles. Almost always a female, Team Mom basically acts as the mother figure for everyone else in the group, regardless of age or family relations. In many cases, she actually is a older sister to at least one other character.
Not always The Leader in action or adventure, but the leader the team needs in everyday life and practical matters. Quells fights, makes sure everyone cleans behind their ears and eats their greens. Can be pretty bossy. Usually, they're gentle, cute, kind, and capable of stern mothering.
Often enough, she's The Medic. May be a Nice Girl, or a Messiah-like figure. If she's a more physical fighter, expect her to be a Lady of War (and maybe an Action Mom, if she's got her own kids aside of the group members). They are by definition never the loner, and will in fact tend to be the one who pulls them into the cast's orbit as a New Guy. If anyone can break through and bring about a reform it's the Team Mom.
While they tend to be less combat capable than their teammates, Whatout for the Nice GIrl most definitely applies, if any of her surrogate children or siblings are threatened, she can snap into unhinged mode and kick butt. Their absence (be it emotional or physical) will most certainly put the team on edge as their ability to function as, well, a team, comes into jeopardy. Thus these instances serve as a reminder of her value when the team grows complacent. And by the way? Villains should NOT threaten or harm her. Ever. Her family will not be pleased.
Often has a Romantic Relationship with the Team Dad
Team Dad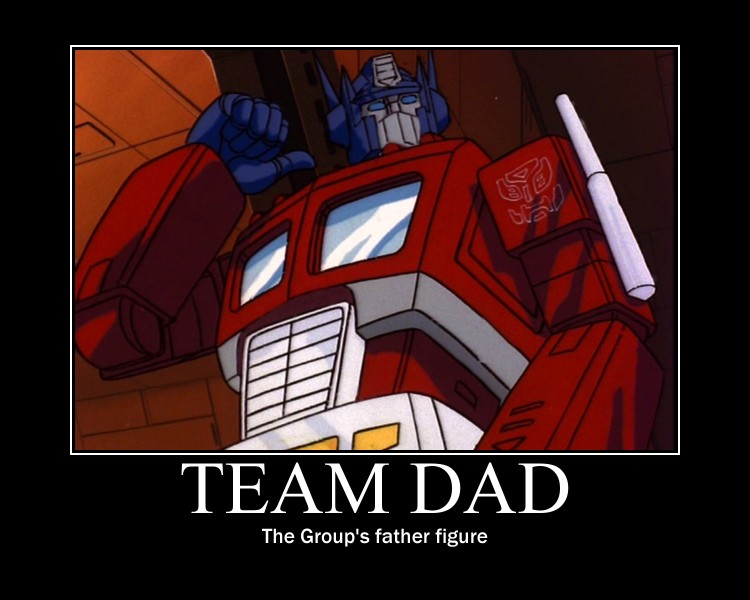 The opposite number to the Team Mom, more often than not the disciplinarian, lead-by-example-kind of character in contrast to the warm, nurturing tendencies of a Team Mom. The Team Dad is almost always the oldest member of the team and if he isn't The Leader, then he's definitely The Mentor, and in family-based teams, he is the big brother of at least one member. He tends to be strict and gruff, but he never hesitates to put his life on the line for his team members.
If a team has a Team Mom and a Team Dad, expect them to either play a Good Cop/Bad Cop routine on the rest of the team or come in conflict over their "parenting" philosophies. Cue "Mom and Dad are fighting" jokes from the "kids" if Team Mom and Team Dad aren't a couple, quickly followed by "It's not like that, we swear" from them (but they're very likely to end up together, anyway).
Often has a Romantic Relationship with the Team Mom