One Winged Angel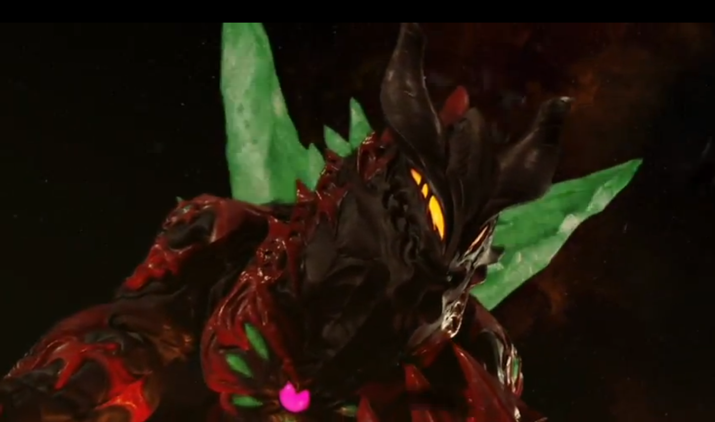 Music for the Article
Classic Big Bads have the tendency, when push comes to shove, to turn into massive monsters. A mad scientist in a fit of urgency might down his own mutagen, or a cyborg turns his body into a living explosive, or a mild-mannered enemy reveals her terrifying true form. Bets are good they'll become way more bloated, ugly, or plain disfigured. Sometimes this is more subtle, and the character will look perfectly normal (or even attractive) save for a few glaring monstrosities that give them a scary face.
This shows the villain means business and it's time for the heroes to end it. And for those with firmer morals, this qualifies the villain as a monster, making it fine to destroy him.
Named in honor of the song your listening to.
Some Stories in general absolutely adore having their main villian do this, even when their original form is scary enough anyway. In fact, it's gotten to be somewhat of an arms race: thanks to the popularity of Frieza in 1991, three-form villians are now somewhat common, and those games going for "epic" will sometimes go for even more.
Sometimes the heroes never even fight their human form at all and they immediately turn into a monster......oh well.
Did I forget to Mention that Disney (Film company) and Square Enix (RPG Video Game Company) LOVE doing this.
Sadly, this transformation can often be anti-climactic, as it telegraphs to the audience that the villain will most likely face his final defeat soon. Outside of video games, it is quite rare for a bad guy to invoke this and actually WIN. This might be because the less human a character looks, the more "acceptable" it is to kill them.
However this isn't a bad thing for the aduence as much as it's used, you'd be hard pressed to complain when they turn into something awesome
TO Get you a better idea how serious things turn listen to this
Ripped Wing Angel
The villain (perhaps after already going into another One-Winged Angel form and still losing to the heroes) shape shifts into an ultimate Super Mode. So awe inspiring is this new form the very skies turn red, so terrifying that it combines the power of every monster, and the hero and his love kiss each other goodbye. Problem is, the new super form is made more unstable by any of a number of things, be it an unstable Power Source, built up side effects, or a 'plain old' physical Meltdown once the heroes poke him.
The results ain't pretty.
BOOM
The Day is saved.
This is a Ripped Wing Angel
However it can be cool because but getting to use all the heroes powers on it at once on top of the Awesome Music makes it a glorious finish to the battle.
It can also be cool because final form is huge, looks awesome, and isn't too difficult to fight, meaning you can relax (after the fairly tricky Reflect the villians attacks to win and the downright annoying Collapsing lair run) and just enjoy the music, scenery and general feelings of epic awesome.