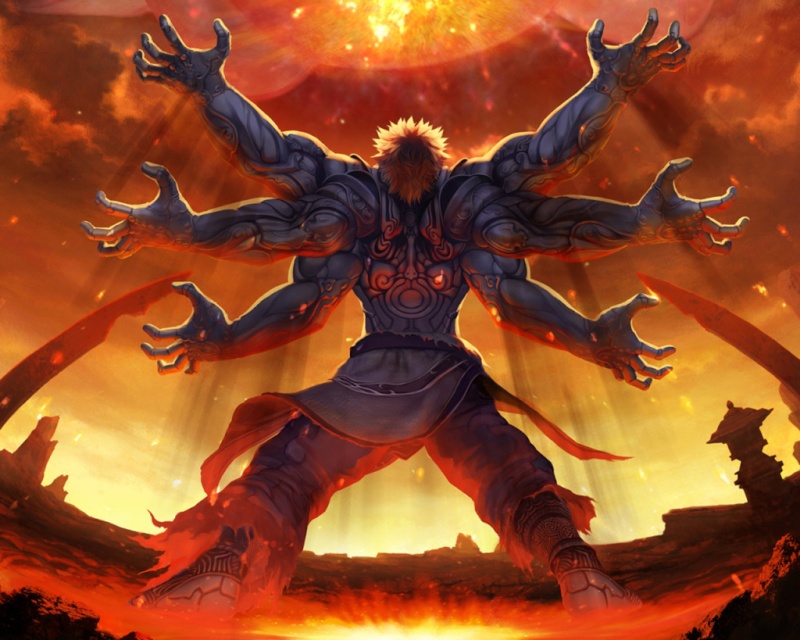 this goes the opposite direction. Are you a bad enough dude to take on the gods?... or their angels? or even that evil Supreme Deity?
Well good news for the planet The heroes have a grudge with the this Evil Supreme Deity who is running the show, and have capacity to do something about it.
THESE STORIES GET EPIC FAST!!! Here are some examples that I have though of:
Not only do the heroes destroy the main villian's henchmen are bigger and more powerful with each one, The first villian's might become bigger than the planet Earth and tries to crush the hero to death with his finger! The rage just keeps getting hotter, as our brave heroes destroys the rest of the his henchmen one by one. The storyline ultimately concludes in the last battle where Our Hero assaults The Evil Supreme Deity's immense fortress (bigger than entire galaxies) and punches him out
They eventually Destroy This Evil Supreme Deity, in the most awesome way ever to destroy someone. They summon something even bigger and punch him into the sun. THEY BEAT GOD BUY PUNCHING HIM FROM THE END OF THE MILKY WAY INTO OUR SUN!
The effect is his SOUL IS DESTROYED
The Day is saved when they free the heroic creator deity and set free and everyone can live in peace again.