"Thus concludes the Bard's Tale. Finally the end....I thought I'd never be rid of him. Never ask me to read this half-wit's story again, please!"
—Narrator, The Bard's Tale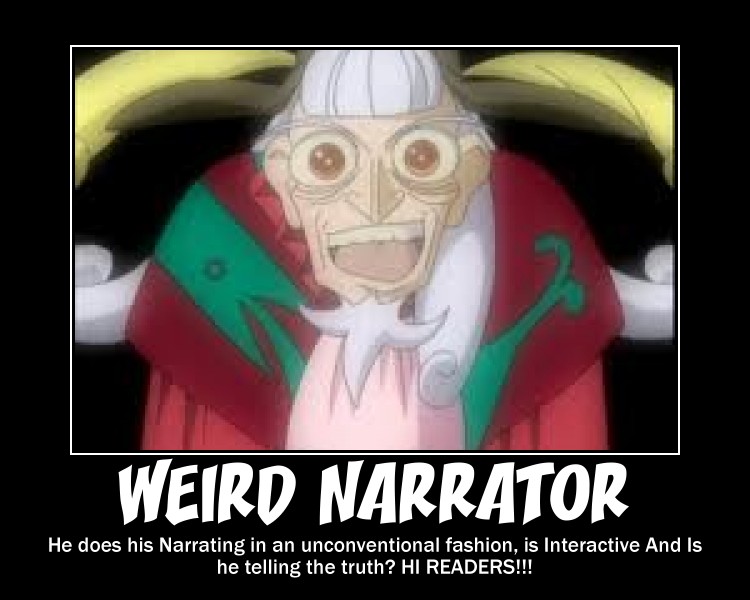 You have your normal third person Narrator who rests comfortably beyond the story or show your watching, is reliable and is able to tell his story in peace Simply put, a third-person Narrator who narrates in an eccentric, bizarre, or otherwise unconventional way. This may involve expressing opinions about the story's proceedings, going off on asides from talking to the aduence Like "Hi, readers", Pointing out things that are irrational, snarking, choosing to focus on unusual details or just describing things in an odd way.
He also isn't so lucky because he exists "off-camera", the characters of the story are fully aware of his narration and are able to interact with him. the narrator in question is particularly snarky or critical of the characters' actions. This often results in the narrator arguing with the characters and extends to comedic examples of disgruntled villains attacking or abducting the narrator and attempting to take his place in order to make life miserable for the heroes.
This Narrator also may actively hates the show he's in and only does to promote himslef.
Not to Mention he often has somekind of odd speech patter such as having a fancy old-british-voice despite hating upperclass people or has a sweet, kindergarten-teacher-voice despite shouting foul language.
He also may try to insult characters of his story and make fun of them behind their backs
In rare cases he may be unreliable and it is unclear weather or not this actually happened