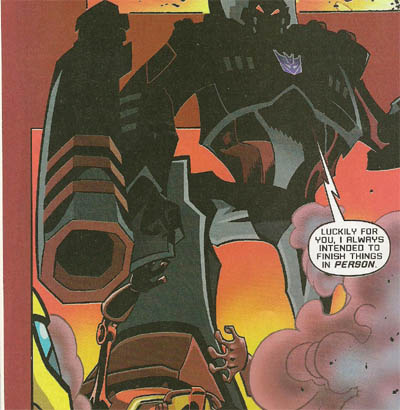 Fig. 1 The Show and it's heroes
Fig. 2: The Main Villian
A villain is introduced (usually the Big Bad, but may also be The Commander of the series.)
Okay, so you have a villain, who is legitimately intimidating and frightening. Maybe he tries to destroy all positive emotions, or maybe he turns people into twisted shambling abominations, or maybe he's plotting to destroy the entire universe. Point is, he's actually a fairly creepy villain. The irony is that he's stuck in a very goofy story.
As one could probably tell, this trope is about villains in normally lighthearted shows that are so disturbing or even terrifying on some level that they kind of clash with the tone of the story. Because of this type of villain's ability to ruin the mood of the story he/she/it is in and is not like the bumbling and comedic villains the heroes have faced before.
This villain's arrival is usually heralded by a sudden decrease in humor, as well as several scary moments up to and including destroying recurring characters to show the audience this guy means business. In other words, a catalyst for a drastic change in mood toward the dark and dramatic. He's either A Complete Monster, a Cosmic Abomination, or both at once. The fact of that he exists in a goofy and lighthearted story makes him even worse.
It should be noted, however, that the story doesn't have to have overarching plots and the Serious nature brought about by those characters only lasted for their specific story arcs, being more or less forgotten about once their arc is over (not to mention that their story arcs don't have to be entirely humor free either).