Music to listen to as you read this article
Intelligent Ditz
This character would be nothing more than a Ditz, except they have one area of expertise in which no one can beat them. When that skill or talent is needed, they suddenly switch gears from airheadedness to hyper-competency. Sometimes they don't even know that they're doing it.
He is a bit of a moron most of the time...but a near encyclopedic knowledge of B-grade horror and sci fi movies, an unusual talent on the flute, some of the odd non-sequiters he says are rather profound and he saves friends from a thug not by beating him up, but by pulling the pin holding a hinge together, causing the door to slam on goons head, knocking him out.
Ditzy Genius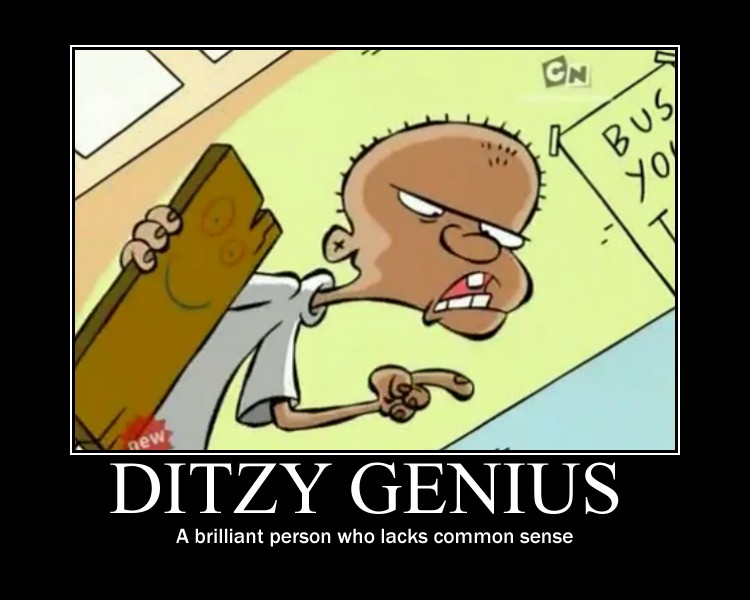 Contrasting with the Intelligent Ditz, who, while usually foolish and moronic, has flashes of insight or hidden talents, we have the Ditzy Genius who, while very intelligent and talented, has absolutely nothing in the way of common sense, logic, wit or tact.
This can occasionally be shown as naivete to the point of stupidity, and/or nigh Overconfidence / inability to see the danger in what they're doing. In any case, these characters end up landing themselves in trouble more often than not.
The primary difference between a Ditzy Genius and a Intelligent Ditz is that a Ditzy Genius has high general intelligence but is highly inept at something more mundane than their intellectual interests (social skills, for example) or lacks common sense, whereas the Intelligent Ditz usually seems dumb or clueless but is in fact highly proficient in at least one fairly specialised skill or field of knowledge.
Sometimes this is a deliberate characterization decision made to give a highly intelligent character a Fatal Flaw, or make them come across as weird, or any number of other reasons.
It really neat when you think about it.