Music to go with this article
Sometimes, the Anthropomorphic Personification of a beloved holiday just can't take the stress anymore. This may simply lead to shameful behavior, or it might end in a full-blown rampage. Alternately, there may be an impostor bringing shame to the red suit. Or maybe an ordinary Mall Santa is just a Jerk. Either way, we have a Bad Santa Claus on our hands.
For children brought up with the 'commercialized' form of Christmas, Santa Claus can be seen as something of a symbol of divine judgment as well as a jolly child-friendly icon, making the Bad Santa almost like a combination between the Knight Templar and the Monster Clown. It isn't uncommon for the Bad Santa to herald his appearance with a twisted form of the 'naughty or nice' list - usually with severe penalties for whoever is on the 'naughty' list.
He might be a depicted as an Affably Evil slave driver who keeps his elves as a work fource.
this Santa apparently has put a superhero on the naughty list for being too generous with people through his powers, thus giving Santa nothing to do.
However, He might be a Well-Intentioned Extremist.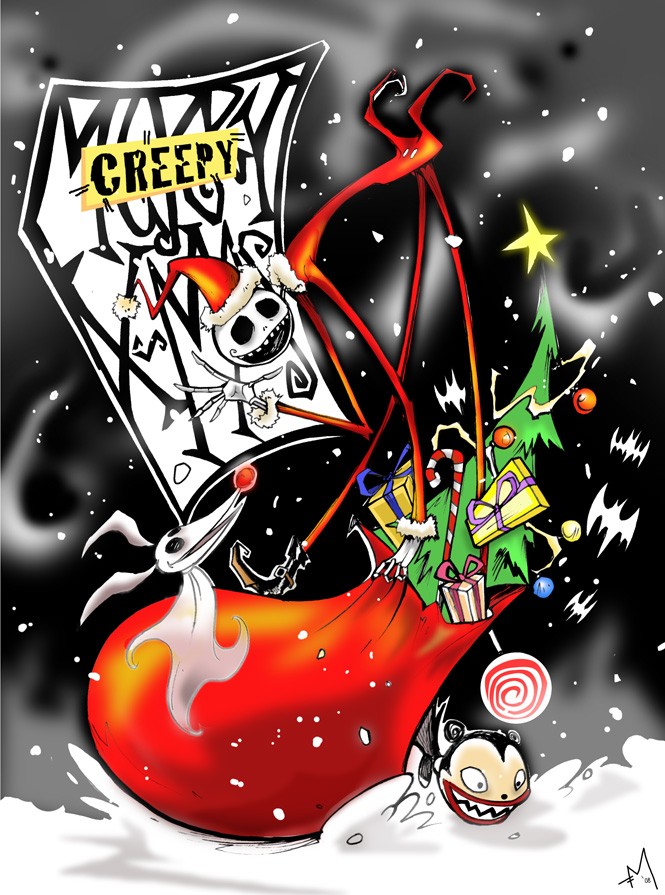 Although he genuinely wants to bring happiness, makes for a frightening Santa. His notions of merriment and cheer tend to be a bit... nightmarish.
This is not out of actually being evil, however, and more out of not really...knowing how Christmas operates, leading to him making such "decorations" as bats and pumpkins in the middle of town square in addition to Christmas lights. Just Like Jack Skellington from the Nightmare Before Christmas
A tragic example is the Horror Manga Presents, Santa Claus as being able to see how the future will be affected by giving what a child most wants on Christmas. The scenarios we see all involve the children growing up to be criminals, horribly negligent people, or (in one case) instigators for nuclear war. Santa responds to these cases by doing things that......................YOU DON'T WANT TO KNOW!!! TRUST ME!!! Unlike some other examples here, this Santa is sometimes doubtful if he did the right thing. It does nothing to lessen the horror.