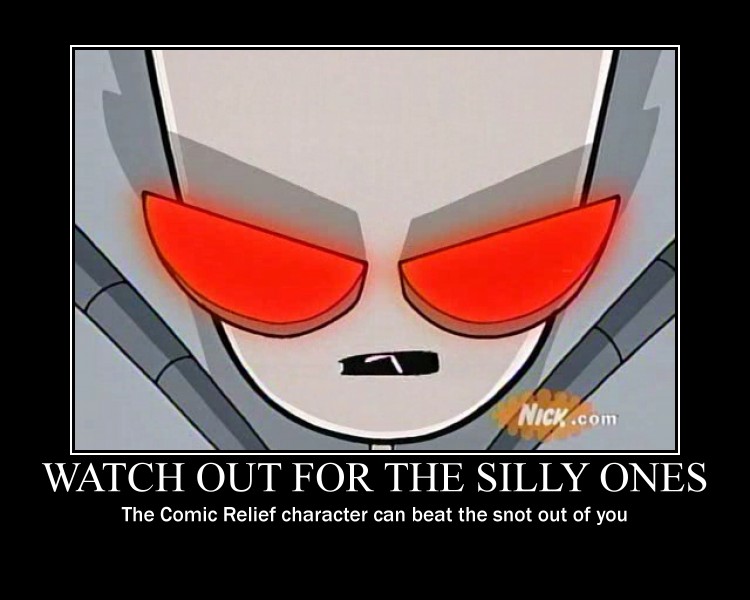 Click Here to Get a Better idea of what you're up aginst
So you've got a person who might fulfill the role of comedic relief. For the most part, both the fans and the characters in-story see them as just a great big doofus. Possibly, they spend more time acting ridiculous or laughing in the face of Serious Business than getting dangerous. Sure, they might rant up and down about how they're going to conquer the world in the name of Evil with a capital E or drive the villains NUTS through bad jokes, but in the end they seem to pose little threat to all present.
There's just one thing most people forget: acting silly does not mean you aren't a One-Man Army. It could be a façade. It could be that they just do it for the lulz. A rarely-pressed Berserk Button can be pressed. Either way you don't want to be around when this happens.
The Best example in any form of media would be Dr. Eggman From Sonic the Hedgehog:
Dr. Eggman gets injured or in some situations NEARLY KILLED by his own world domonation plans backfiring, along with having an unfortunate habit of trying to harness the power of Cosmic Abominations that are far beyond his control.
Considering how useless he seems to be, you almost start to feel sorry for him. And then you turn around and take a look at his track record which is quiet scary in terms of effectiveness.
His original plans of sealing animals inside his robot minions, either to provide power or AI or just plain For the Evulz (or some combination of these reasons) already has him TIGHTROPE WALKING ON THE LINE, and has demonstrated enough Infinite Supplies of energy to to construct his very own Death Star knock-off, as well as two Airborne Aircraft Carriers in the same game. Consider also that one game starts off with Sonic tearing his way through Eggman's space fleet.
YOU HEARD CORRECTLY EGGMAN HAS ENOUGH RESOURCES FOR A ENTIRE SPACE FLEET
He also starts off the plot by personally destroying a big chunk of a top secret military installation and hacking the computer security system surrounding the Sealed Evil in a Can. And the first thing he did after getting the ARK and the Chaos Emeralds was BLOW UP HALF OF THE MOON (apparently the moon somehow recovered) and give the entire world a 24 hour "surrender-or-die" demand. Eggman is over confident, but his track record kind of warrants it.
And in his latest apperance Dr. Eggman has not only managed to be the Big Bad for the entirety of the game without his power source backfiring on him, but also managed to enslave three planets and an inhabited Asteroid belt as well as build the largest space fleet seen yet, completely under Sonic's nose, and covered much of the land on all of the planets and asteroids with his own metal facilities. He would've completely snuffed Planet Wisp of life as well had Sonic not caught on in time, and he may have succeeded with one of the planets. Heck, had it not been for a broken piece of a robot damaging a vital component of his latest weapon, he would've succeeded in his ultimate plan to mind-control the entire population of Earth with Sonic and Tails none the wiser.
Oh Yeah did I forget to mention he behaves like
this
It's not that Eggman stinks as a villain; it's that Sonic is just that good as a Hero
Well this type of character isn't as scary as Dr. Eggman though.