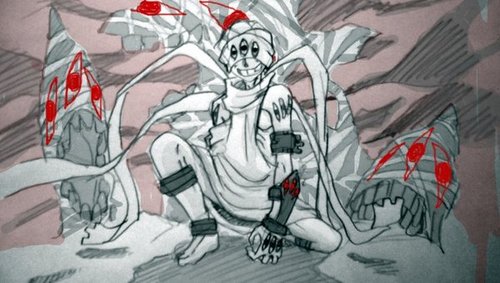 Music that might give you a picture of how crazy were talking about
This god isn't Evil in either sense, or even a Jerk. It is simply Crazy to a dangerous extent. Its mad throes create and destroy in equal measure, leading to untold chaos. That there is a universe at all is usually due to it being Sealed in a Vessel, dormant, or so random that it's been less destructive over the past few aeons.
It might even be posing as a sane and good god because it has momentarily grown Bored With to the point of going crazy. Of course, that doesn't usually last, as sanity tends to bore it greatly as well.
You just gaze into the abyss of madness long enough. If especially mad and powerful, it may also be a Cosmic Abomination. It may not cause Madness or revulsion to observers.
Heck, it could be a God who went mad with fear and infects the world with his Madness merely by existing, therefore he is Anthropomorphic Personification of Madness.
He also might be the Anthropomorphic Personification of Fear or Mass Hysteria and described as every fear that ever has, does, or ever will exist personified.
Did I forget to mention this Mad God might be strong enough to EAT other gods.