Valentine's Day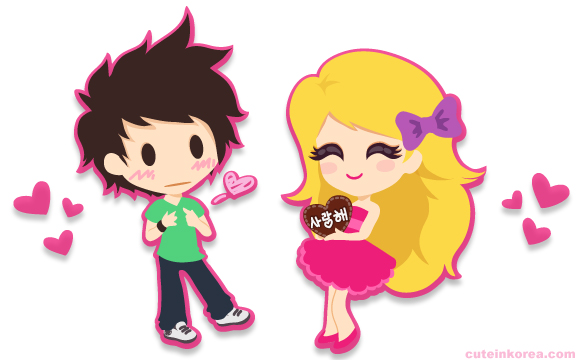 Due to a concentrated marketing effort, Valentine's Day is celebrated in some Asian countries with Singaporeans, Chinese and South Koreans spending the most money on Valentine's gifts.
In South Korea, similar to Japan, women give chocolate to men on February 14, and men give non-chocolate candy to women on March 14 (White Day). On April 14 (Black Day), those who did not receive anything on the 14th of Feb or March go to a Korean restaurant to eat black noodles and "mourn" their single life. Koreans also celebrate Pepero Day on November 11, when young couples give each other Pepero cookies. The date '11/11' is intended to resemble the long shape of the cookie. The 14th of every month marks a love-related day in Korea, although most of them are obscure. From January to December: Candle Day, Valentine's Day, White Day, Black Day, Rose Day, Kiss Day, Silver Day, Green Day, Music Day, Wine Day, Movie Day, and Hug Day. Korean women give a much higher amount of chocolate than Japanese women.
In China, the common situation is the man gives chocolate, flowers or both to the woman that he loves. In Chinese, Valentine's Day is called. The so-called "Chinese Valentine's Day" is the Qixi Festival, celebrated on the seventh day of the seventh month of the lunar calendar. It commemorates a day on which a legendary cowherder and weaving maid are allowed to be together. Modern Valentine's Day is also celebrated on February 14 of the solar calendar each year.
In Taiwan the situation is the reverse of Japan's. Men give gifts to women on Valentine's Day, and women return them on White Day.
In the Philippines, Valentine's Day is called "Araw ng mga Puso" or "Hearts Day". It is usually marked by a steep increase in the prices of flowers.
In Japan, Morozoff Ltd. introduced the holiday for the first time in 1936, when it ran an advertisement aimed at foreigners. Later in 1953 it began promoting the giving of heart-shaped chocolates; other Japanese confectionery companies followed suit thereafter. In 1958 the Isetan department store ran a "Valentine sale". Further campaigns during the 1960s popularized the american custom.
The custom that only women give chocolates to men appears to have originated from the translation error of a chocolate-company executive during the initial campaigns. In particular, office ladies give chocolate to their co-workers. Unlike western countries, gifts such as greeting cards, candies, flowers, or dinner dates are uncommon, and most of the activity about the gifts is about giving the right amount of chocolate to each person. Japanese chocolate companies make half their annual sales during this time of the year.
Many women feel obliged to give chocolates to all male co-workers, except when the day falls on a Sunday, a holiday. This is known as giri-choko, from giri ("obligation") and choko, ("chocolate"), with unpopular co-workers receiving only "ultra-obligatory" chō-giri choko cheap chocolate. This contrasts with honmei-choko, chocolate given to a loved one. Friends, especially girls, may exchange chocolate referred to as tomo-choko; from tomo meaning "friend".
In the 1980s the Japanese National Confectionery Industry Association launched a successful campaign to make March 14 a "reply day", where men are expected to return the favour to those who gave them chocolates on Valentine's Day, calling it White Day for the color of the chocolates being offered. A previous failed attempt to popularize this celebration had been done by a marshmallow manufacturer who wanted men to return marshmallows to women.
Men are expected to return gifts that are at least two or three times more valuable than the gifts received in Valentine's Day. Not returning the gift is perceived as the man placing himself in a position of superiority, even if excuses are given. Returning a present of equal value is considered as a way to say that you are cutting the relationship. Originally only chocolate was given, but now the gifts of jewelry, accessories, clothing and lingerie are usual. According to the official website of White Day, the color white was chosen because it's the color of purity, evoking "pure, sweet teen love", and because it's also the color of sugar. The initial name was "Ai ni Kotaeru White Day" (Answer Love on White Day).
In Japan, the romantic "date night" associated to Valentine's Day is celebrated on Christmas Eve.
In a 2006 survey of people between 10 and 49 years of age in Japan, Oricon Style found the 1986 Sayuri Kokushō single, Valentine Kiss, to be the most popular Valentine's Day song, even though it sold only 317,000 copies. The singles it beat in the ranking were number one selling Love Love Love from Dreams Come True (2,488,630 copies) and Valentine's Radio from Yumi Matsutoya (1,606,780 copies). The final song in the top five was My Funny Valentine by Miles Davis.
If you want to see a 11 minute animated segment to give you a break click here
https://www.youtube.com/watch?v=BwBO-q9p9kw
White Day
White Day is a day that is marked in Japan, South Korea, Taiwan and China on March 14, one month after Valentine's Day.
White Day was first celebrated in 1978 in Japan. It was started by the National Confectionery Industry Association as an "answer day" to Valentine's Day on the grounds that men should pay back the women who gave them chocolate and other gifts on Valentine's Day. In 1977, a Fukuoka-based confectionery company, Ishimuramanseido, marketed marshmallows to men on March 14, calling it Marshmallow Day.
Soon thereafter, confectionery companies began marketing white chocolate. Now, men give both white and dark chocolate, as well as other edible and non-edible gifts, such as jewellery or objects of sentimental value, or white clothing like lingerie, to women from whom they received chocolate on Valentine's Day one month earlier. If the chocolate given to him was Giri choco, the man likewise may not be expressing actual romantic interest, but rather a social obligation.
In Japan, Valentine's Day is typically observed by girls and women presenting chocolate gifts (either store-bought or handmade), usually to boys or men, as an expression of love, courtesy, or social obligation. Handmade chocolate is usually preferred by the recipient because of the perception of sincerity, effort, and emotion put into a home-made confection. On White Day, the reverse happens: men who received a honmei-choco or "chocolate of love" or giri-choco or "courtesy chocolate" on Valentine's Day are expected to return the favor by giving gifts. Traditionally, popular White Day gifts are cookies, jewellery, white chocolate, white lingerie and marshmallows. Sometimes the term sanbai gaeshi or "triple the return" is used to describe the generally recited rule that the return gift should be two to three times the cost of the Valentine's gift.
if you want to see the rest of the 11 minute segment click here
https://www.youtube.com/watch?v=14yK6OZiBHg&feature=relmfu