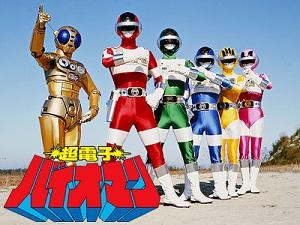 Chōdenshi Bioman (Super Electronic Bioman) is the eighth Super Sentai and aired from 1984 to 1985.
500 years ago the Bio Robo traveled to Earth from the Bio Star and showered five people it discovered with Bio Particles. In the present day, Doctor Man tries to take over Earth with his mechanized followers, Neo Empire Gear. Now the robot Peebo must gather the people whose ancestors were infused with the Bio Particles to become Bioman and save the world.
.Shirō Gō /Red One: The Hero. The pilot of Japan's first space shuttle before becoming the leader of Bioman. His Bio powers include being able to understand the speech of animals. Descended from a samurai.
.Shingo Takasugi/Green Two: The Number 2. A race car driver. The tough guy of the group. Descended from a hunter.
. Ryūta Nambara/Blue Three: A water sportsman and the youngest member of the team. Descended from a fisherman.
.Mika Koizumi/Yellow Four I: A photographer. Descended from a Kunoichi (Female Ninja). She is killed by a monster in Episode 10.
.Jun Yabuki/Yellow Four II: An Olympic archer who replaces Mika in Episode 11. Presumably shares the same ancestor as Mika. Very much an Action Girl; her actress is an experienced stuntwoman, and she did lots of her own stunts in the show.
.Hikaru Katsuragi/Pink Five: The Load and mother-like figure, A flutist descended from a noblewoman.
The Main Villians are The Neo Empire Gear was founded and led by the cyborg Doctor Man, from his Neo Grad fortress at the South Pole. Gear's forces believe themselves to be a technologically advanced society with the right to rule Earth.
The Members are:
.Doctor Man: The supreme ruler of Gear, Doctor Man was actually a human named Dr. Hideo Kageyama who experimented on himself to accelerate his intelligence, only to have his body rapidly age in the process. To extend his life, Kageyama converted himself into a cyborg with a deep disgust for humanity, planning to conquer the world with his army of Mecha Clones while remaining alive long enough to find a worthy heir to his empire. When his true origins are revealed, Doctor Man countered the coup with a Mecha Clone copy of himself and later reprogrammed the Big Three and reorganized the empire. With his empire dying, he goes and fights the Biomen with King Megas only to be defeated. He activated the Neo Bomb but he ended up stopping it when his son and the Biomen prodded him eventually resulting in his death. He has a massive army of robots.