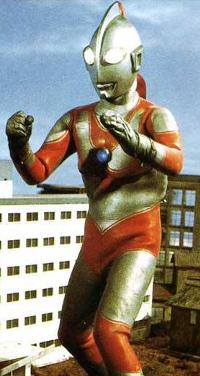 Real Name: Ultraman Jack
Height: 40 Meters
Return of Ultraman was a 1971 series produced by Tsuburaya Productions, part of the Ultra Series.
After 3 years without an Ultra warrior to defend Earth, the Monster Attack Team is commissioned to battle various giant creatures, and has achieved limited success, but with an ever growing array of opponents, the human race is getting overwhelmed in a new "Second Age of Monsters".
Suddenly, an Ultra warrior appears that looks similar to the original Ultraman, which leads people to believe that the original has returned to help Earth. In reality, this Ultra warrior's containment suit has some subtle differences, and is a whole new Ultra, whose name is Jack, which is unbeknownst to everyone. The Japanese public and M.A.T. simply call him "Ultraman" or "New Man".
Jack battles one of the creatures rampaging and during his battle, race car driver Goh Hideki heroically rescues some innocents from the destruction, but is killed doing so. After Jack defeats the monster, Jack feels remorse about Goh's death and merges with him, leading to a recovery and a subconscious command to join M.A.T. in order to help out the brave humans who came to aid him during his first fight on Earth.
With a new purpose in his life, Goh balances his life in three ways—to be a heroic member of M.A.T., a race car driver who loves his girlfriend very much, and a human guide for Jack to ease his mission on Earth against the hordes of evil monsters and alien invaders.
Members of M.A.T are:
Captain Katsushiro Kato: No-nonsense at times, while other times he tends to joke around with his crew. All the same, he is very protective of his small MAT team, and sometimes disregards orders if he feels the circumstances warrant it. He leaves about halfway through the series, replaced by Captain Ryu Ibuki.
Takeshi Minami: He hints that he grew up on a farm, and tends to watch over the other officers, especially the new member Gô.
Ippei Ueno: Sometimes superstitious, and loose in his methods when compared to Officer Kishida.
Fumio Kishida: He comes from an old military family, and tends to have connections still with the higher-level officers who oversee MAT. He lives with his mother, but his father is deceased.
Yuriko Oka: The only female in the team, but she is very capable, having saved the team by flying the planes or even from being brainwashed. She also serves as communications officer.