Manhchild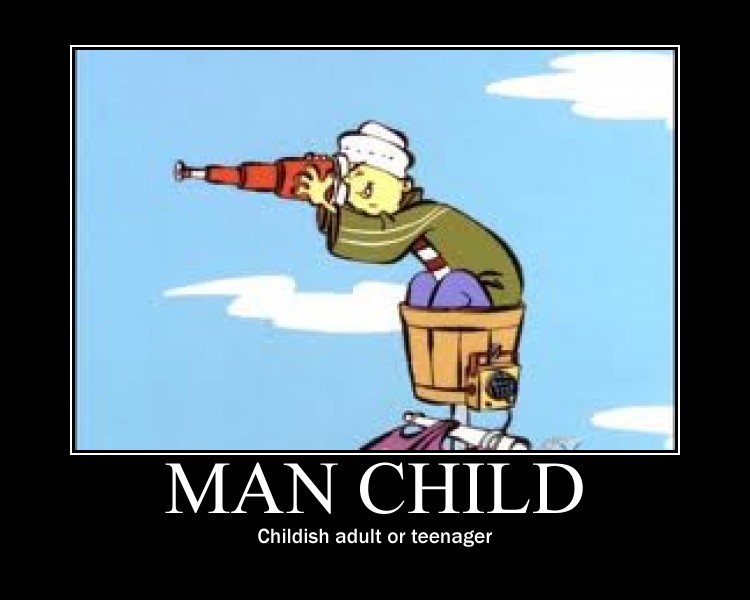 Sometimes people just fail to develop into social or intellectual maturity. Maybe it's due to a very loving but confining mother or father. Or maybe they just didn't want to leave the nest. Maybe they've been intentionally secluded from learning about the world.  Eaither way this guy is way too connected to his innerchildhood.
Although the causes might not be clear, the effects are. The Manchild, a term invented by William Faulkner, is usually an adult who possesses a very childlike or childish demeanor. He's emotionally both simple and fragile; he prefers (although does not always need) to have a parent figure to look after him. He usually isn't very worldly and is typically pretty gullible. The Man Child's interests are usually what most people consider to be immature or childish, even in comparison to actual children (Things like toys and candy nothing harmful).
In the vast majority of cases, the character is Always Male. This is to contrast the differences between him and "normal men" with the normal responsibilities and wisdom of adulthood. The female version is usually split between The Innocent, but may cause trouble, the cheerful Girl, or other things which highlight an adult woman's child-like attributes rather than her grown-up persona. Manchild has many more negative connotations than Innocent but may cause trouble; the manchild's immaturity and lack of outward adult behavior is emphasized as being a bad thing versu being and emphasized good thing like The Ingénue's purity and idealism. On the Brain Chain, the Man Child occupies a space between Crayz and Ditzy, but without necessarily becoming Foolish. He usually does not have The Fool's luck, but he doesn't necessarily play the role of the Butt of a joke either.
All and all he is nice person.
Psychopathic Manchild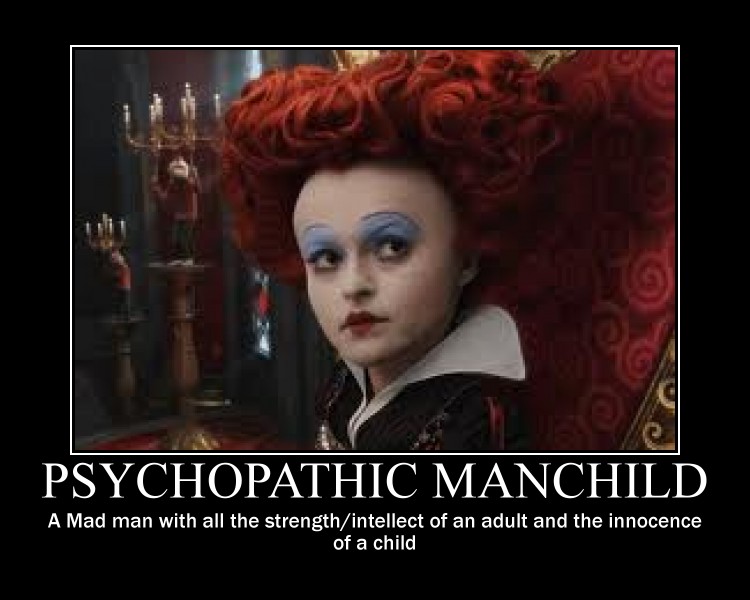 A dangerous villain, either a teenager or an adult, with a childlike nature, which creates a dissonance between innocence and creepy.  Such characters can become repositories for Uneasyness, especially if their childishness is never explained. Contrary to the term, many examples are not necessarily psychopaths in the clinical sense.
They Come In several Varaitions:
1: Be big Dumb Muscle, frequently mentally-challenged, that operates under someone else's direction. This type may be the most famous, and also the most likely to play to the audience's sympathy. Expect him/her to try to Pet the Dog, often with disastrous results. Could be a subversion of Dumb Is Good.
2: Seem superficially powerful and cruel, but have very childish or simplistic goals or motivations. May overlap with a Normal Man Child.
3: Actually possess a lot of power, intelligence, and/or prestige, but also have some childish qualities or behaviors, to fit in with a certain aspect of the story being told, or else advertise that there is something seriously wrong with him/her, to make him/her creepier. These are most likely to be a story's Main Villian.
4: Appear cute and harmless on the surface, but actually be this type of character. Especially common with female examples, because of the stereotype.
5: Be subject to a personal variation of Values Dissonance where violent, savage actions are viewed by the character in question in the same light as regular play is viewed by most real children. This variant is often an especially strong source of Nightmare Fuel due to the uncanny dissonance between his/her childish demeanor and the viciousness of his/her actions.
Whichever version these types of characters qualify as, often they are not fully aware of how nasty their actions actually are. In some cases (though not all), a Realization may cause the character to develop into a better person. A more innocent or well-intentioned Psychopathic Manchild may be a Noble Villian.