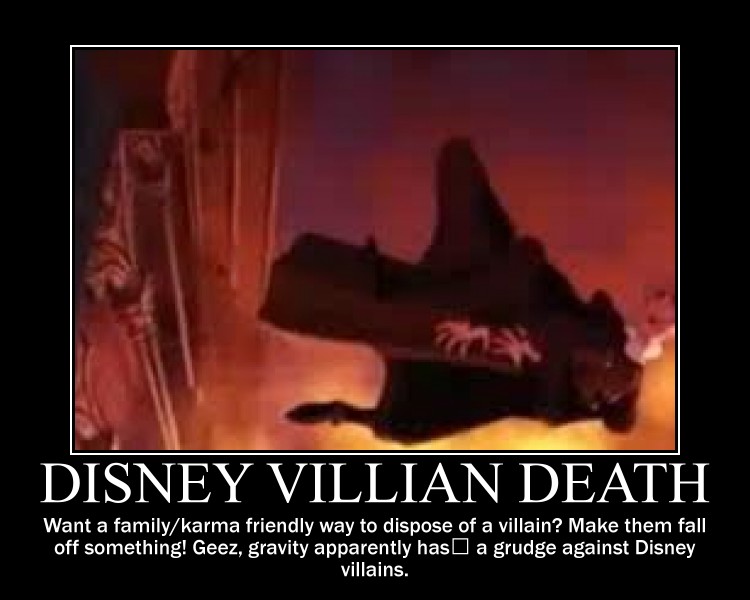 It appears that villains in the Disney Animated Canon have an especially curious tendency to exit the film by falling off or out of things. Unfortunately for them, even though they are animated characters, they cannot defy gravity.
The varied list of things to fall from includes cliffs, over waterfalls, out of trees, and off the tops of buildings. There is at least one case of a Disney villain meeting his end by falling up (off a space ship and into space....weird), once sideways (off the Chinese Imperial Palace by aid of a rocket......ouch), and another where a villain falls "out" by being dragged to his doom by demons.......ok
Note that none of these cases have to involve a huge Climax, though it may involve a One-Winged Angel transformation beforehand (which is by far the second-favorite trope of Disney villains).
Sometimes, a fatal wound will be inflicted upon the villain just before taking the plunge (whether caused by the hero or by the villain's own actions it kind of varrys) just to ensure that he or she is definitely dead. Or, they could have a boulder or similar heavy object falling down with them, or fall into a deadly substance like lava, molten bronze, or even flesh-eating green acid, as water alone won't always do it.
This is usually invoked in order to dispatch the villain without resorting to a messier and more visible end which might upset the kids. Please ignore the uncomfortable realization that having the villain meet his or her end as an unquestionably ghastly mess on the floor isn't any less violent than any of the alternatives.........you really need to come up with better idea Disney.