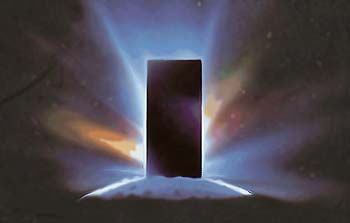 Also known as "ancients." They are a standard fixture of much science fiction and fantasy: an ancient race whose culture and knowledge rose to its pinnacle in ages long past but which is now extinct or Ascended to a Higher Plane of Existence. In science fiction settings, they are usually considered the first race to have gained sentience in the universe or galaxy, giving them a noticeable leg up on everybody else; in fantasy settings, they will usually be the original, pinnacle sentient species created by the gods/God. At their height, they are usually rumored to have been capable of doing (and have done) just about anything, up to and including creating intelligent species and reworking entire worlds with a snap of a finger, and almost any strange and persistent mystery in the story's 'verse is usually laid at their feet. They may have been sufficiently advanced, or just much better than everyone else with technology/magic, but either way they left their mark, a mark that remains to this day. In some cases they have discovered time travel
However they come in 3 different flavors:
Benevolent Precursor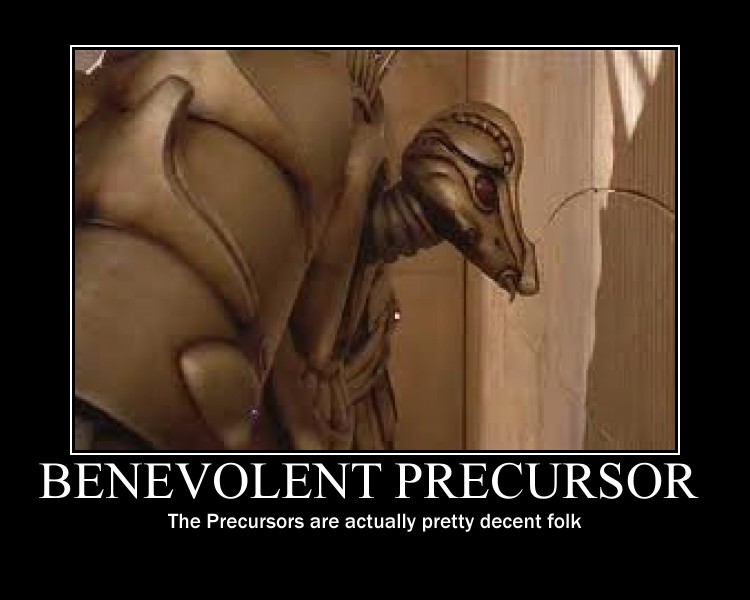 The Sealed Anchient Evil is clearly locked and labeled in every language they could think of, complete with handy pictures showing stupid mortals getting killed by said Sealed Anchient Evil, just to make sure the message gets through. And even if you DO manage to get through the five thousand doors locked with The Power of Love and release the demon god, don't worry—they had a fail-safe in place where the seals on the one weapon capable of destroying it would be unlocked at the same time. Sure, these guys died out millennia ago, but at least they did their best to keep us from following them to the grave.
Neglectful Precursor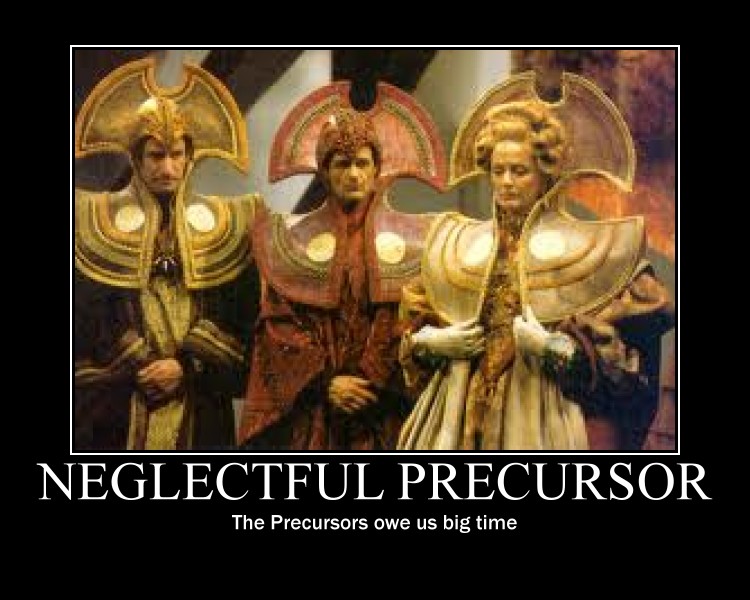 The Adventurer Archaeologist claims that the Neglectful Precursor has left this galaxy and not provided a proper means of child support. He further alleges that the abundance of sealed evils with flimsy seals and easily found keys, the leaving of outstanding debts with ancient enemies bent on collecting from humanity, and the presence of civilization-shattering plagues are clear signs of neglect. The plaintiff demands that the ancients stop leaving dangerous weapons lying about for villains to acquire, or else make access to them morality-sensitive, so only heroes can use them to pay off previous debts.
However, the Precursors claims that since they've become Energy Beings thousands of years ago, they have evolved past conventional morality but are nonetheless caring for humanity or "testing it", evidenced by their "wise" decisions to hold back Lost Technology until we're ready to use it, and scatter the keys to important technology so it can be used again. They defend their "long distance parenting" as character building, making sure the threats humanity faces are in line with its skill, and that there's always one more Lost Superweapon around for each. They assure the court they "always knew we would win." And finally, the defendant argues that there needs to be a cutoff point where their actions, inaction, and remaining artifacts stop being the excuse for everything bad that happens in the universe— that they did the best they could under circumstances beyond our comprehension— and where the younger races start realizing that they are responsible for their own mistakes. Eaither way that is the MOST STUPID execuse ever Precursors!
Evil Precursor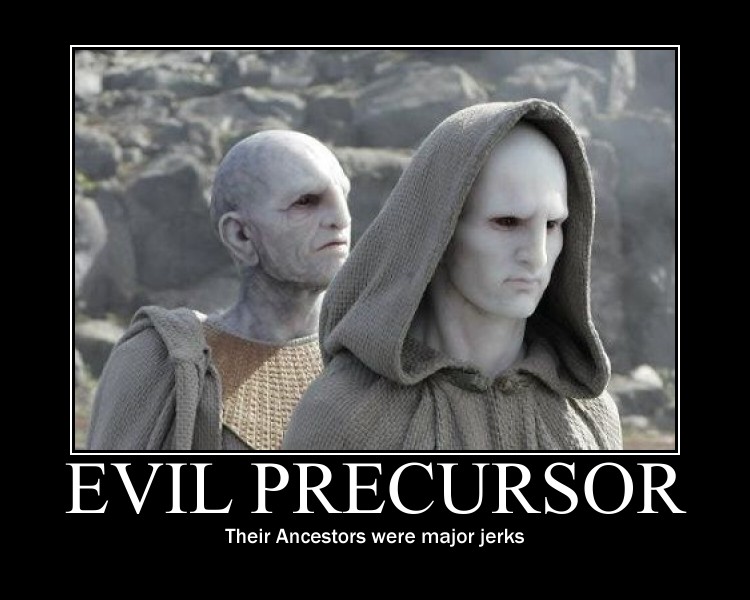 Abundance of Sealed Evil in a Vessel with flimsy seals and easily found keys? They did it on purpose. They even labeled the can as Happy Fun Time For All! to make sure you'd open it - or "Evil Inside!!" just relying on humanity's inability to ignore Bait. There's even some odds that THEY are the evil in the can. Plagues? Oh, they made it. Then even stored it with crates of candy to make sure you'd catch it. They did not just leave a Lost Super Weapon for villains to acquire; they gave the villain a manual, tech support and a 10,000 millenium powertrain warranty for the superweapon.
In short, the Evil Precursors cause problems through more direct acts than their neglectful equivalent, with the clear intent of doing so. To make it worse, it's likely they are still around and powerful enough that you can't do a thing about it. If a setting has both Neglectful and Evil Precursors, expect them to have been at war, and that the Evil Precursors either won or ended up as Sealed Evil in a Vessel or Mostly Dead. Now that their sworn enemies have become Energy Beings and moved to another plane of existence they might be ready to come back. Also, there are very good odds that both types of precursors share origins somehow, with either one race creating the other, both races being offshoots of one another or of a third race, or both being different cultures of the same race. Just to compound the problem, while other surviving Precursors are likely to be Energy Beings as mentionned these are more likely to be Cosmic Abominations.
When this advanced race responsible for seeding life on Earth awakens from slumber they will immediately try to destroy humanity.
These Precursors created horrifying monsters, in an effort to achieve immortality. Naturally, they didn't want to use themselves as test subjects, so instead they used humans. Then tried to exterminate their failed test subjects.
These monstrous primal entities ruled the Earth with an iron fist for untold millennia until humanity eventually supplanted them.
they deliberately left Lost Technology around for future species to find to encourage them to evolve along the lines they want, thus making it easier to completely obliterate them when they return to "reap" what they have sown and have planned this 37 million years ago.
They also mutated Human Beings beyond recognition and forced into mindless, torturous servitude, a deadly-to-everything-but-humans plague, gained
Mind Control abilities, and used it to enslave the rest of the galaxy and for them to worship them as gods.