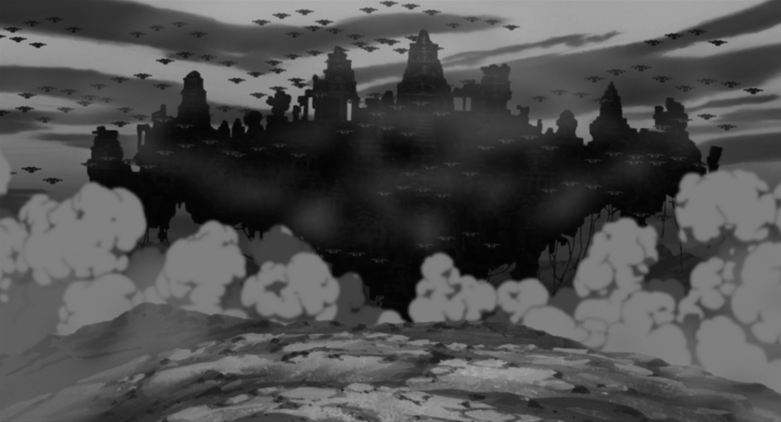 An otherwise-normal place that's floating in the sky, often for no adequately-explored reason.
This is an extremely common trope in fantasy and video games. Nothing says "exotic" or "Weird" like a city floating in the sky.
One thing's for sure, though: If you've got a Floating Landmass, it's VERY significant. There's no chance that it's just some random village. Even if it's not The Very Final place visited by the heroes, something portentous is definitely going to happen there. These places tend to have a higher-than-normal failure rate as a result of this, often becoming more of a Falling Landmass.
Waterfalls are often expected to fall from the continent. Even if there's an explanation for how the place stays in the air in the first place, how they can possibly not run out of water is pretty much never explored in the entire story. Huh? Weird..........
Often times these civilizations are often in ruins and are completely unihabated by man.
However, it is intresting to point out that these places in their prime were perhaps some of the most adanced cultures. Often containing some form of doomsday weapons in this Landmass.
Strangely enough, many such places go unnoticed by the common man, even though they should be perfectly obvious floating there in the sky. Sometimes they're cloaked by clouds, mist, but other times... well, you have to wonder how people can be so sure that the Floating Landmass is mythical and nonexistant.
In rare cases these landmasses can rather than being a flat strip of land with a definite surface and bottom, it is actually a miniature Dyson sphere and even has it's own robot sun and moon. They will look like this.
Lastly these Landmasses can eaither be the size of an Island , a Continent, or the Size of a Moon